---
history of: harle, richard edward
family and social relationships of: harle, richard edward
ancestor and descendent family tree of: harle, richard edward
date of birth: 1946/12/28
place of birth:

date of death: 2012/07/12
cause of death:
place of death:
place interred:

acquaintance: bristow, roy duane - m 1947/08/29 - 1967/--/-- to 1968/05/-- - friends -

1st wife melanie


               
richard edward harle jr, 65, of athens, ga passed away thursday, july 12, 
2012. 

a native of trenton, new jersey, mr. harle was the son of richard edward harle 
sr and connie carson harle of las vegas, nv. he served in the united states 
army during vietnam and was an auto repairman. 

survivors in addition to his parents, include daughter, amy arnett and 
husband, michael of roswell, ga; sister, karen patzer of state college, pa, 
and grandchildren, gavin and sadie arnett. 


july 26, 2012 

i feel deep sadness at the passing of rick..my deepest sympathy to amy and 
i feel deep sadness at the passing of rick..my deepest sympathy to amy and 

family. sleep well my friend, in peace. margie ~ margie trigg, oak ridge, 

tennessee 



 july 23, 2012 rest in peace, rick. i am sad. rest easy. ~ melanie 



gary l causby 



home (706) 549-4957 



238 chalfont ln 



athens, ga 30606-2004 



richard e harle 



home (702) 616-3267 



8351 huxley st 



las vegas, nv 89123-2380 age: 87 


las vegas, nv 89123-2380 age: 87 
associated: constance e harle 

the journal and constitution, atlanta, ga, 7/19/81 athens, ga., 

auto repairmen rick harle and steve tingle were sick and tired of car break-
ins at their shop, so they armed themselves with a 12-ga. shotgun and a .45 
automatic and waited after dark. their stakeout quickly paid off as they 
apprehended a pair of youthful thieves. 

amy katherine arnett 
amy katherine harle 
roswell, ga snellville, ga athens, ga 
portland, or edgewater, md atlanta, ga

amy katherine arnett was born in 1970. amy currently lives in roswell, 
georgia. before that, amy lived in athens, ga from 1988 to 2003. before that, 
amy lived in snellville, ga in 2003. 

amy katherine arnett is related to michael arnett, who is 40 years old and 
lives in roswell, ga. amy katherine arnett is also related to melanie causby, 
who is 63 years old and lives in athens, ga. amy katherine arnett is also 
related to richard harle, who is 65 years old and lives in athens, ga. amy 
katherine arnett is also related to richard hale, who is 46 years old and 
lives in gainesville, ga. 


1999

hi duane, 

man, that is the most amazing web site! i have spent several hours there and 
don't think i have scratched the surface. you must have hundreds of hours 
invested in it. 

well, yup i am in athens. i think you left school before me. i was married in 
sept '68, drafted in june, '69. sent to asmara, ethiopia, brought wife over. 
daughter, amy born there, she was just married the end of aug to a good guy. 
she is in grad school at portland state univ in or. i finished and went to 
grad school here in outdoor rec....never quite finished. did my internship in 
winder, ga at ft yargo st park. lived for a short time with folks in 
connecticut(bad idea) and job hunted. no good. no jobs. 

came back to athens to work for a friend in his father's iron work business. i 
was out of money, needed to do something. in 1976 i started my own business, a 
car repair business. car craft. i took in a partner and that turned out to 
turn my life upside down as of about 2 years ago. due to religion, greed, 
power and control issues he pushed for a split. i was afraid to go in debt at 
my age...almost 53 now, i sold to him and have been working there since. 
bummer. hindsight is 20/20 i know, but i never realized how much a part of me 
the business was. nothing has really turned up, i have tried to be patient and 
hoped for some new opportunity to present itself...not yet. 

i was married to my first wife for about 17 yrs, one child only. i was single 
about 7 yrs, been remarried for about 5 yrs. my second(and final) wife is a 
jewish woman originally from ny city. she is on her second life, she just 
completed her master's degree in psycho education and is teaching at a school 
here for emotionally disturbed kids. she had worked at uga as a computer 
graphics artist. her folks own a bagel bakery in scottsdale, az. 

unfortunately for me, i began having panic attacks. actually started while i 
was in the army. i went to a succession of docs, shrinks and nobody could 
figure out what was up. i was beginning to believe i really was crazy. i went 
until about 1987 until i got a proper diagnosis. agoraphobia. actually ptsd, 
not from the military but from my childhood. we both came from very 
dysfunctional families. i have done a lot of therapy, workshops, men's groups 
etc in my quest for my sanity. 

i am a fan of john bradshaw, robert bly, joseph campbell, alice miller and 
more. my wife and i actually have a good relationship. i need to work another 
8-10 years, if my investments do well maybe less. i made some risky internet 
plays that did well but the markets are pretty volatile now.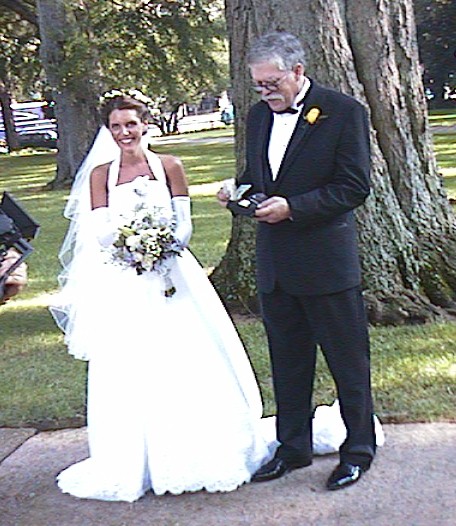 rick and his daughter, amy, at her wedding in 1999
002f
---
please use the email address below to send me corrections or additions for this page. i will add it when i have time and regenerate new web pages.

duane bristow (duane@kyphilom.com)
please send comments.
---