Worm Hole
This is a Worm Hole in the Internet.
Use it to burrow through the fabric of the net
to surprising places, near or far away.
Just click on something on this page and see
where you go.
If the new page opens in a new browser window, just close that window to return, otherwise use the back arrow.
click to play background music


---
Last revised March 5, 2015.
URL: http://www.kyphilom.com/www/wormhole.html
Go to Top Menu..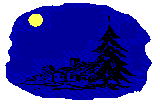 ..of Duane & Eva's Old Kentucky Home Page
Duane Bristow (duane@kyphilom.com)
Please send comments.
All contents copyright (C) 1998-2015, Duane Bristow. All rights reserved.