by Duane Bristow
copyright 1995 by Duane Bristow

Duane Bristow's original poems and Duane Bristow's favorite poetry from the public domain.
Contents

Duane Bristow's Favorite Poems

Poets
Henry David Thoreau
Carl Sandburg
Robert Frost
Hamlin Garland
Emily Dickenson
Lord Byron
Henry Wadsworth Longfellow
Edna St. Vincent Millay
William Cullen Bryant
Edgar Allan Poe
Robert Service
Vachel Lindsay
William Wordsworth
W. S. Gilbert
Stephen Vincent Benet
Rudyard Kipling
Samuel Taylor Coleridge
Alfred Tennyson
John Greenleaf Whittier
Solomon

by Henry David Thoreau
Light-winged Smoke, Icarian bird,
Melting thy pinions in thy upward flight,
Lark without song, and messenger of dawn
Circling above the hamlets as they nest;
Or else, departing dream, and shadowy form
Of midnight vision, gathering up thy skirts;
By night star-veiling, and by day
Darkening the light and blotting out the sun;
Go thou my incense upward from this hearth,
And ask the gods to pardon this clear flame.

by Henry David Thoreau
Low-anchored cloud,
Newfoundland air,
Fountain head and source of rivers,
Dew-cloth, dream drapery,
And napkin spread by fays;
Drifting meadow of the air,
Where bloom the dasied banks and violets,
And in whose fenny labyrinth
The bittern booms and heron wades;
Spirit of the lake and seas and rivers,
Bear only purfumes and the scent
Of healing herbs to just men's fields!

by Carl Sandburg
The fog comes
on little cat feet.

It sits looking
over harbor and city
on silent haunches
and then moves on.

By Robert Frost

Whose woods these are I think I know,
His house is in the village though.
He will not see me stopping here,
To watch his woods fill up with snow.

My little horse must think it queer,
To stop without a farmhouse near,
Between the woods and frozen lake,
The darkest evening of the year.

He gives his harness bells a shake,
To ask if there is some mistake.
The only other sound's the sweep,
Of easy wind and downy flake.

The woods are lovely, dark and deep,
But I have promises to keep,
And miles to go before I sleep,
And miles to go before I sleep.

By Hamlin Garland

Do you fear the force of the wind,
The slash of the rain?
Go face them and fight them,
Be savage again.
Go hungry and cold like the wolf.
Go wade like the crane.
The palms of your hands will thicken.
The skin of your cheek will tan.
You'll grow ragged and weary and swarthy.
But you'll walk like a man!

By Emily Dickenson

Apparently with no surprise,
To any happy flower,
The frost beheads it at its play,
In accidental power.
The blond assassin passes on.
The sun proceeds unmoved,
To measure off another day,
For an approving God.

By Emily Dickenson

The day came slow, till five o'clock,
Then sprang before the hills,
Like hindered rubies, or the light,
A sudden musket spills.

The purple could not keep the east.
The sunrise shook from fold.
Like breadths of topaz, packed a night,
The lady just unrolled.

The happy winds their timbrels took;
The birds in docile rows,
Arranged themselves around their prince.
(The wind is prince of those.)

The orchard sparkled like a Jew,---
How mighty 'twas to stay,
A guest in this stupendous place,
The parlor of the day.

By Lord Byron

The isles of Greece, the isles of Greece!
Where burning Sappho loved and sung,
Where grew the arts of war and peace,
Where Delos rose, and Phoebus
sprung!
Eternal summer gilds them yet,
But all, except their sun, is set...

The mountains look on Marathon--
And Marathon looks on the sea;
And musing there an hour alone,
I dreamed that Greece might still be free;
For standing on the Persians' grave,
I could not deem myself a slave.

A king sat on the rocky brow
Which looks o'er sea-born Salamis;
And ships, by thousands, lay below,
And men in nations--all were his!
He counted them at break of day--
And when the sun set, where were they?

And where are they? And where art thou?
My country? On thy voiceless shore
The heroic lay is tuneless now--
The heroic bosom beats no more!
And must thy lyre, so long divine,
Degenerate into hands like mine?

'Tis something, in the dearth of fame,
Though linked among a fettered race,
To feel at least a patriot's shame,
Even as I sing, suffuse my face;
For what is left the poet here?
For Greeks a blush--for Greece a tear....

Fill high the bowl with Samian wine!
Our virgins dance beneath the shade--
I see their glorious black eyes shine;
But gazing on each glowing maid,
My own the burning teardrop laves,
To think such breasts must suckle slaves.

Place me on Sunium's marbled steep,
Where nothing, save the waves and I,
May hear our mutual murmurs sweep;
There, swanlike, let me sing and die:
A land of slaves shall ne'er be mine--
Dash down yon cup of Samian wine!

By Henry Wadsworth Longfellow

The day is done, and the darkness
Falls from the wing of Night,
As a feather is wafted downward
From an eagle in its flight.

I see the lights of the village
Gleam through the rain and mist,
And a feeling of sadness comes o'er me,
That my soul cannot resist.

A feeling of sadness and longing,
That is not akin to pain,
And resembles sorrow only
As the mist resembles rain.

Come, read to me some poem,
Some simple and heartfelt lay,
That shall soothe this restless feeling
And banish the thoughts of day....

Not from the grand old masters,
Not from the bards sublime,
Whose distant footsteps echo
Through the corridors of Time.

For, like strains of martial music,
Their mighty thoughts suggest
Life's endless toil and endeavor;
And to-night I long for rest.

Read from some humbler poet,
Whose songs gush'd from his heart,
As showers from the clouds of summer,
Or tears from the eyelids start,

Who, through long days of labor,
And nights devoid of ease,
Still heard in his soul the music
Of wonderful melodies.

Such songs have power to quiet
The restless pulse of care,
And come like the benediction
That follows after prayer.

Then read from the treasured volume
The poem of thy choice;
And lend to the rhyme of the poet
The beauty of thy voice.

And the night shall be filled with music,
And the cares that infest the day,
Shall fold their tents like the Arabs,
And as silently steal away.

by Edna St. Vincent Millay

My candle burns at both ends,
It will not last the night,
But ah my foes and oh my friends
It gives a lovely light.

By William Cullen Bryant

To him who in the love of nature holds
Communion with her visible forms, she speaks
A various language; for his gayer hours
She has a voice of gladness, and a smile
And eloquence of beauty, and she glides
Into his darker musings, with a mild
And healing sympathy, that steals away
Their sharpness, ere he is aware. When thoughts
Of the last bitter hour come like a blight
Over thy spirit, and sad images
Of the stern agony, and shroud, and pall,
And breathless darkness, and the narrow house,
Make thee to shudder and grow sick at heart-
Go forth, under the open sky, and list
To nature's teachings, while from all around-
Earth and her waters, and the depths of air-
Comes a still voice-yet a few days, and thee
The all-beholding sun shall see no more
In all his course; nor yet in the cold ground,
Where thy pale form was laid, with many tears,
Nor in the embrace of ocean, shall exist
Thy images. Earth, that nourished thee, shall claim
Thy growth, to be resolved to earth again,
And, lost each human trace, surrending up
Thine individual being, shalt thou go
To mix forever with the elements,
To be a brother to the insensible rock
And to the sluggish clod, which the rude swain
Turns with his share, and treads upon. The oak
Shall send his roots a broad, and pierce thy mold.

Yet not to thine eternal resting place
Shalt thou retire alone, nor couldst thou wish
Couch more magnificent. Thou shalt lie down
With patriarchs of the infant world - with kings,
The powerful of the earth - the wise, the good,
Fair forms, and hoary seen of ages past,
All in one mighty sepulcher. The hills
Rock-ribbed and ancient as the sun - the vales
Stretching in pensive quietness between;
The venerable woods - rivers that move
In majesty, and the complaining brooks
That make the meadows green; and, poured round all,

Old ocean's gray and melancholy waste -
Are but the solemn decorations all
Of the great tomb of man. The golden sun,
The planets, all the infinite host of heaven,
Are shining on the sad abodes of death,
Through the still lapse of ages. All that tread
The globe are but a handful to the tribes
That slumber in its bosom. Take the wings
Of morning, pierce the Barcan wilderness,
Or lose thyself in the continuous woods
Where rolls the Oregon, and hears no sound,
Save his own dashings - yet the dead are there;
And millions in those solitudes, since first
The flight of years began, have laid them down
In their last sleep - the dead reign there alone.
So shalt thou rest, and what if thou withdraw
In silence from the living, and no friend
Take note of thy departure? All that breathe
Will share thy destiny. The gay will laugh
When thou art gone, the solemn broad of care
Plod on, and each one as before will chase
His favorite phantom; yet all these shall leave
Their mirth and their employments, and shall come
And make their bed with thee. As the long train
Of ages glides away, the sons of men,
The youth in life's green spring, and he who goes
In the full strength of years, matron and maid,
The speechless babe, and the gray-headed man -
Shall one by one be gathered to thy side,
By those who in their turn shall follow them.

So live, that when thy summons comes to join
The innumerable caravan, which moves
To that mysterious realm where each shall take
His chamber in the silent halls of death,
Thou go not, like the quarry slave at night,
Scourged to his dungeon, but, sustained and soothed
By an unfaltering trust, approach thy grave,
Like one who wraps the drapery of his couch
About him, and lies down to pleasant dreams.

by Edgar Allan Poe

It was many and many a year ago,
In a kingdom by the sea
That a maiden there lived whom you may know
By the name of Annabel Lee--
And this maiden she lived with no other thought
Than to love and be loved by me.

*I* was a child and *she* was a child,
In this kingdom by the sea,
But we loved with a love that was more than love--
I and my Annabel Lee--
With a love that the winged seraphs of heaven
Coveted her and me.

And this was the reason that, long ago,
In this kingdom by the sea,
A wind blew out of a cloud, chilling
My beautiful Annabel Lee;
So that her highborn kinsmen came
And bore her away from me,
To shut her up in a sepulchre
In this kingdom by the sea.

The angels, not half so happy in heaven,
Went envying her and me--
Yes!--that was the reason (as all men know,
In this kingdom by the sea)
That the wind came out of the cloud by night,
Chilling and killing my Annabel Lee.

But our love it was stronger by far than the love
Of those who were older than we--
Of many far wiser than we--
And neither the angels in heaven above,
Nor the demons down under the sea,
Can ever dissever my soul from the soul
Of the beautiful Annabel Lee:

For the moon never beams, without bringing me dreams
Of the beautiful Annabel Lee:
And the stars never rise, but I feel the bright eyes
Of the beautiful Annabel Lee:
And so, all the night-tide, I lay down by the side
Of my darling--my darling--my life and my bride,
In the sepulchre there by the sea--
In her tomb by the sounding sea.

by Robert Service

There are strange things done in the midnight sun
By the men who moil for gold,
And the arctic trails have their secret tales
That would make your blood run cold.
The northern lights have seen queer sights,
But the queerest they ever did see
Was the night on the marge of Lake LaBarge
I cremated Sam McGee.

Now, Sam McGee was from Tennessee
Where the cotton blooms and blows.
Why he left his home in the south to roam
'Round the pole, God only knows.
He was always cold, but the land of gold
Seemed to hold him like a spell,
Though he'd often say, in his homely way,
He'd sooner live in hell.

On a Christmas day we were mushing our way
Over the Dawson Trail.
Talk of your cold--through the parka's fold
It stabbed like a driven nail.
If our eyes we'd close, then the lashes froze
'Till sometimes we couldn't see.
It wasn't much fun, but the only one
To whimper was Sam McGee.

And that very night as we lay packed tight
In our robes beneath the snow,
And the dogs were fed, and the stars o'erhead
Were dancing heel and toe,
He turned to me, and "Cap", says he,
"I'll cash in this trip, I guess,
And if I do, I'm asking that you
Won't refuse my last request."

Well, he seemed so low I couldn't say no,
And he says with a sort of moan,
"It's the cursed cold, and it's got right hold
'Till I'm chilled clean through to the bone.
Yet 'ta'int being dead, it's my awful dread
Of the icy grave that pains,
So I want you to swear that, foul or fair,
You'll cremate my last remains."

A pal's last need is a thing to heed,
And I swore that I would not fail.
We started on at the streak of dawn,
But, God, he looked ghastly pale.
He crouched on the sleigh, and he raved all day
Of his home in Tennessee,
And before nightfall, a corpse was all
That was left of Sam McGee.

There wasn't a breath in that land of death
As I hurried, horror driven,
With a corpse half hid that I couldn't get rid
Because of a promise given.
It was lashed to the sleigh, and it seemed to say,
"You may tax your brawn and brains,
But you promised true, and it's up to you
To cremate those last remains."

Now, a promise made is a debt unpaid,
And the trail has its own stern code.
In the days to come, 'though my lips were dumb,
In my heart, how I cursed the load.
In the long, long night by the lone firelight
While the huskies 'round in a ring
Howled out their woes to the homeless snows
Oh, God, how I loathed the thing.

And every day that quiet clay
Seemed to heavy and heavier grow.
And on I went, though the dogs were spent
And the grub was getting low.
The trail was bad, and I felt half mad,
But I swore I would not give in,
And often I'd sing to the hateful thing,
And it hearkened with a grin.

'Till I came to the marge of Lake LaBarge,
And a derelict there lay.
It was jammed in the ice, and I saw in a trice
It was called the "Alice May".
I looked at it, and I thought a bit,
And I looked at my frozen chum,
Then, "Here", said I, with a sudden cry,
"Is my crematorium."

Some planks I tore from the cabin floor
And lit the boiler fire.
Some coal I found that was lying around
And heaped the fuel higher.
The flames just soared, and the furnace roared,
Such a blaze you seldom see.
Then I burrowed a hole in the glowing coal
And I stuffed in Sam McGee.

Then I made a hike, for I didn't like
To hear him sizzle so.
And the heavens scowled, and the huskies howled,
And the wind began to blow.
It was icy cold, but the hot sweat rolled
Down my cheek, and I don't know why,
And the greasy smoke in an inky cloak
Went streaking down the sky.

I do not know how long in the snow
I wrestled with gristly fear.
But the stars came out, and they danced about
'Ere again I ventured near.
I was sick with dread, but I bravely said,
"I'll just take a peek inside.
I guess he's cooked, and it's time I looked",
And the door I opened wide.

And there sat Sam, looking calm and cool
In the heart of the furnace roar.
He wore a smile you could see a mile,
And he said, "Please close that door.
It's fine in here, but I greatly fear
You'll let in the cold and storm.
Since I left Plumbtree down in Tennessee
It's the first time I've been warm."

There are strange things done in the midnight sun
By the men who moil for gold,
And the arctic trails have their secret tales
That would make your blood run cold.
The northern lights have seen queer sights,
But the queerest they ever did see
Was the night on the marge of Lake LaBarge
I cremated Sam McGee.

by Vachel Lindsay

Oh, I have walked in Kansas
Through many a harvest field,
And piled the sheaves of glory there
And down the wild rows reeled:

Each sheaf a little yellow sun,
A heap of hot-rayed gold;
Each binder like Creation's hand
To mold suns, as of old.

Straight overhead the orb of noon
Beat down with brimstone breath:
The desert wind from south and west
Was blistering flame and death.

Yet it was gay in Kansas,
A-fighting that strong sun;
And I and many a fellow-tramp
Defied that wind and won.

And we felt free in Kansas
From any sort of fear,
For thirty thousand tramps like us
There harvest every year.

She stretches arms for them to come,
She roars for helpers then,
And so it is in Kansas
That tramps, one month, are men.

We sang in burning Kansas
The songs of Sabbath-school,
The "Day Star" flashing in the East,
The "Vale of Eden" cool.

We sang in splendid Kansas
"The flag that set us free"--
That march of fifty thousand men
With Sherman to the sea.

We feasted high in Kansas
And had much milk and meat.
The tables groaned to give us power
Wherewith to save the wheat.
Our beds were sweet alfalfa hay
Within the barn-loft wide.
The loft doors opened out upon
The endless wheat-field tide.

I loved to watch the windmills spin
And watch that big moon rise.
I dreamed and dreamed with lids half-shut,
The moonlight in my eyes.

For all men dream in Kansas
By noonday and by night,
By sunrise yellow, red and wild,
And moonrise wild and white.

The wind would drive the glittering clouds,
The cottonwoods would croon,
And past the sheaves and through the leaves
Came whispers from the moon.



1912-1913

by Henry Wadsworth Longfellow
The day is cold, and dark, and dreary;
It rains, and the wind is never weary;
The vine still clings to the mouldering wall,
But at every gust more dead leaves fall,.
And the day is dark and dreary.
My life is cold and dark and dreary.
It rains and the wind is never weary.
My thoughts still cling to the mouldering past.
And youth's fond hopes fall thick in the blast.
And my life is dark and dreary.
Be still, sad heart and cease repining
Behind the clouds is the sun still shining
Thy fate is the common fate of all
Into each life some rain must fall
Some days must be dark and dreary.

It was a marvelous night, the sort of night one only experiences when one is young. The sky was so bright, and there were so many stars that, gazing upward, one couldn't help wondering how so many whimsical, wicked people could live under such a sky. This too is a question that would only occur to the young, to the very young; but may God make you wonder like that as often as possible!

White Nights
Dostoevsky

by William Wordsworth

L I N E S Written a Few Miles Above
TINTERN ABBEY,
On revisiting the banks of the WYE during a tour, July 13, 1798.

Five years have passed; five summers, with the length
Of five long winters! and again I hear
These waters, rolling from their mountain-springs
With a sweet inland murmur. -- Once again
Do I behold these steep and lofty cliffs,
Which on a wild secluded scene impress
Thoughts of more deep seclusion; and connect
The landscape with the quiet of the sky.
The day is come when I again repose
Here, under this dark sycamore, and view
These plots of cottage-ground, these orchard-tufts,
Which, at this season, with their unripe fruits,
Among the woods and copses lose themselves,
Nor, with their green and simple hue, disturb
The wild green landscape. Once again I see
These hedge-rows, hardly hedge-rows, little lines
Of sportive wood run wild; these pastoral farms
Green to the very door; and wreathes of smoke
Sent up, in silence, from among the trees,
With some uncertain notice, as might seem,
Of vagrant dwellers in the houseless woods,
Or of some hermit's cave, where by his fire
The hermit sits alone.
Though absent long,
These forms of beauty have not been to me,
As is a landscape to a blind man's eye:
But oft, in lonely rooms, and mid the din
Of towns and cities, I have owed to them,
In hours of weariness, sensations sweet,
Felt in the blood, and felt along the heart,
And passing even into my purer mind
With tranquil restoration: -- feelings too
Of unremembered pleasure; such, perhaps,
As may have had no trivial influence
On that best portion of a good man's life;
His little, nameless, unremembered acts
Of kindness and of love. Nor less, I trust,
To them I may have owed another gift,
Of aspect more sublime; that blessed mood,
In which the burthen of the mystery,
In which the heavy and the weary weight
Of all this unintelligible world
Is lighten'd -- that serene and blessed mood,
In which the affections gently lead us on,
Until, the breath of this corporeal frame,
And even the motion of our human blood
Almost suspended, we are laid asleep
In body, and become a living soul:
While with an eye made quiet by the power
Of harmony, and the deep power of joy,
We see into the life of things. If this
Be but a vain belief, yet, oh! how oft,
In darkness, and amid the many shapes
Of joyless day-lights; when the fretful stir
Unprofitable, and the fever of the world,
Have hung upon the beatings of my heart,
How oft, in spirit, have I turned to thee
O sylvan Wye! Thou wanderer through the wood
How often has my spirit turned to thee!

And now, with gleams of half-extinguished thought,
With many recognitions dim and faint,
And somewhat of a sad perplexity,
The picture of the mind revives again:
While here I stand, not only with the sense
Of present pleasure, but with pleasing thoughts
That in this moment there is life and food
For future years. And so I dare to hope
Though changed, no doubt, from what I was, when first
I came among these hills; when like a roe
I bounded o'er the mountains, by the sides
Of the deep rivers, and the lonely streams,
Wherever nature led; more like a man
Flying from something that he dreads, than one
Who sought the thing he loved. For nature then
(The coarser pleasures of my boyish days,
And their glad animal movements all gone by,)
To me was all in all. -- I cannot paint
What then I was, The sounding cataract
Haunted me like a passion: the tall rock,
The mountain, and the deep and gloomy wood,
Their colours and their forms, were then to me
An appetite: a feeling and a love,
That had no need of a remoter charm,
By thought supplied, or any interest
Unborrowed from the eye. -- That time is past,
And all its aching joys are now no more,
And all its dizzy raptures. Not for this
Faint I, nor mourn nor murmur: other gifts
Have followed, for such loss, I would believe,
Abundant recompence. For I have learned
To look on nature, not as in the hour
Of thoughtless youth, but hearing oftentimes
The still, sad music of humanity,
Not harsh or grating, though of ample power
To chasten and subdue. And I have felt
A presence that disturbs me with the joy
Of elevated thoughts; a sense sublime
Of something far more deeply interfused,
Whose dwelling is the light of setting suns,
And the round ocean, and the living air,
And the blue sky, and in the mind of man,
A motion and a spirit, that impels
All thinking things, all objects of all thought,
And rolls through all things. Therefore am I still
A lover of the meadows and the woods,
And mountains; and of all that we behold
From this green earth; of all the mighty world
Of eye and ear, both what they half-create,
And what perceive; well pleased to recognize
In nature and the language of the sense,
The anchor of my purest thoughts, the nurse,
The guide, the guardian of my heart, and soul
Of all my moral being.

Nor, perchance,
If I were not thus taught, Should I the more
Suffer my genial spirits to decay:
For thou art with me, here, upon the banks
Of this fair river; thou, my dearest Friend,
My dear, dear Friend, and in thy voice I catch
The language of my former heart, and read
My former pleasures in the shooting lights
Of thy wild eyes. Oh! yet a little while
May I behold in thee what I was once,
My dear, dear Sister! And this prayer I make,
Knowing that Nature never did betray
The heart that loved her; 'tis her privilege,
Through all the years of this our life, to lead
From joy to joy: for she can so inform
The mind that is within us, so impress
With quietness and beauty, and so feed
With lofty thoughts, that neither evil tongues,
Rash judgments, nor the sneers of selfish men,
Nor greetings where no kindness is, nor all
The dreary intercourse of daily life,
Shall e'er prevail against us, or disturb
Our chearful faith that all which we behold
Is full of blessings. Therefore let the moon
Shine on thee in thy solitary walk;
And let the misty mountain winds be free
To blow against thee: and in after years,
When these wild ecstasies shall be matured
Into a sober pleasure, when thy mind
Shall be a mansion for all lovely forms,
Thy memory be as a dwelling-place
For all sweet sounds and harmonies; Oh! then,
If solitude, or fear, or pain, or grief,
Should be thy portion, with what healing thoughts
Of tender joy wilt thou remember me,
And these my exhortations! Nor, perchance,
If I should be, where I no more can hear
Thy voice, nor catch from thy wild eyes these gleams
Of past existence, wilt thou then forget
That on the banks of this delightful stream
We stood together; And that I, so long
A worshipper of Nature, hither came,
Unwearied in that service: rather say
With warmer love, oh! with far deeper zeal
Of holier love. Now wilt thou then forget,
That after many wanderings, many years
Of absence, these steep woods and lofty cliffs,
And this green pastoral landscape, were to me
More dear, both for themselves, and for thy sake.

by W. S. Gilbert

'Twas on the shores that round our coast
From Deal to Ramsgate span,
That I found alone on a piece of stone
An elderly naval man.

His hair was weedy, his beard was long,
And weedy and long was he,
And I heard this wight on the shore recite,
In a singular minor key:

"Oh, I am a cook and a captain bold,
And the mate of the Nancy brig,
And a bo'sun tight, and a midshipmite,
And the crew of the captain's gig."

And he shook his fists and he tore his hair,
Till I really felt afraid,
For I couldn't help thinking the man had been drinking,
And so I simply said:

"Oh, elderly man, it's little I know
Of the duties of men of the sea,
But I'll eat my hand if I understand
How you can possibly be

"At once a cook, and a captain bold,
And the mate of the Nancy brig,
And a bo'sun tight, and a midshipmite,
And the crew of the captain's gig."

Then he gave a hitch to his trousers, which
Is a trick all seamen larn,
And having got rid of a thumping quid,
He spun this painful yarn:

" 'Twas in the good ship Nancy Bell
That we sailed to the Indian sea,
And there on a reef we come to grief,
Which has often occurred to me.

"And pretty nigh all o' the crew was drowned
(There was seventy-seven o' soul),
And only ten of the Nancy's men
Said 'Here!' to the muster-roll.

"There was me and the cook and the captain bold,
And the mate of the Nancy brig,
And the bo'sun tight, and a midshipmite,
And the crew of the captain's gig.

"For a month we'd neither wittles nor drink,
Till a-hungry we did feel,
So we drawed a lot, and accordin' shot
The captain for our meal.

"The next lot fell to the Nancy's mate,
And a delicate dish he made;
Then our appetite with the midshipmite
We seven survivors stayed.

"And then we murdered the bo'sun tight,
And he much resembled pig;
Then we wittled free, did the cook and me,
On the crew of the captain's gig.

"Then only the cook and me was left,
And the delicate question, 'Which
Of us two goes to the kettle?' arose
And we argued it out as sich.

"For I loved that cook as a brother, I did,
And the cook he worshipped me;
But we'd both be blowed if we'd either be stowed
In the other chap's hold, you see.

" 'I'll be eat if you dines off me,' says Tom,
'Yes, that,' says I, 'you'll be,'--
'I'm boiled if I die, my friend,' quoth I,
And 'Exactly so,' quoth he.

'Says he,' Dear James, to murder me
Were a foolish thing to do,
For don't you see that you can't cook me,
While I can--and will--cook you!'

"So he boils the water, and takes the salt
And the pepper in portions true
(Which he never forgot), and some chopped shalot,
And some sage and parsley too.

" 'Come here,' says he, with a proper pride,
Which his smiling features tell,
' 'Twill soothing be if I let you see,
How extremely nice you'll smell.'

"And he stirred it round and round and round,
And he sniffed at the foaming froth;
When I ups with his heels, and smothers his squeals
In the scum of the boiling broth.

"And I eat that cook in a week or less,
And--as I eating be
The last of his chops, why, I almost drops,
For a wessel in sight I see!

* * * * * * *

"And I never grin, and I never smile,
And I never larf nor play,
But I sit and croak, and a single joke
I have--which is to say:

"Oh, I am a cook and a captain bold,
And the mate of the Nancy brig,
And a bo'sun tight, and a midshipmite,
And the crew of the captain's gig!"

(Or, How Hill-Billy Jim Won the Great Fiddlers' Prize)
By Stephen Vincent Benet
Up in the mountains, it's lonesome all the time,
(Sof' win' slewin' thu' the sweet-potato vine.)

Up in the mountains, it's lonesome for a child,
(Whippoorwills a-callin' when the sap runs wild.)

Up in the mountains, mountains in the fog,
Everythin's as lazy as an old houn' dog.

Born in the mountains, never raised a pet,
Don't want nuthin' an' never got it yet.

Born in the mountains, lonesome-born,
Raised runnin' ragged thu' the cockleburrs and corn.

Never knew my pappy, mebbe never should.
Think he was a fiddle made of mountain laurel-wood.

Never had a mammy to teach me pretty-please.
Think she was a whippoorwill, a-skittin' thu' the trees.

Never had a brother ner a whole pair of pants,
But when I start to fiddle, why, yuh got to start to dance!

Listen to my fiddle -- Kingdom Come -- Kingdom Come!
Hear the frogs a-chunkin' "Jug o' rum, Jug o' rum!"
Hear that mountain whippoorwill be lonesome in the air,
An' I'll tell yuh how I travelled to the Essex County Fair.

Essex County has a mighty pretty fair,
All the smarty fiddlers from the South come there.

Elbows flyin' as they rosin up the bow
For the First Prize Contest in the Georgia Fiddlers' Show.

Old Dan Wheeling, with his whiskers in his ears,
King-pin fiddler for nearly twenty years.

Big Tom Sargent, with his blue wall-eye,
An' Little Jimmy Weezer that can make a fiddle cry.

All sittin' roun', spittin' high an' struttin' proud,
(Listen, little whippoorwill, yuh better bug yore eyes!)
Tun-a-tun-a-tunin' while the jedges told the crowd
Them that got the mostest claps'd win the bestest prize.

Everybody waitin' for the first tweedle-dee,
When in comes a-stumblin' -- hill-billy me!

Bowed right pretty to the jedges an' the rest,
Took a silver dollar from a hole inside my vest,

Plunked it on the table an' said, "There's my callin' card!
An' anyone that licks me -- well, he's got to fiddle hard!"

Old Dan Wheeling, he was laughin' fit to holler,
Little Jimmy Weezer said, "There's one dead dollar!"

Big Tom Sargent had a yaller-toothy grin,
But I tucked my little whippoorwill spang underneath my chin,
An' petted it an' tuned it till the jedges said, "Begin!"

Big Tom Sargent was the first in line;
He could fiddle all the bugs off a sweet-potato vine.

He could fiddle down a possum from a mile-high tree,
He could fiddle up a whale from the bottom of the sea.

Yuh could hear hands spankin' till they spanked each other raw,
When he finished variations on "Turkey in the Straw."

Little Jimmy Weezer was the next to play;
He could fiddle all night, he could fiddle all day.

He could fiddle chills, he could fiddle fever,
He could make a fiddle rustle like a lowland river.

He could make a fiddle croon like a lovin' woman.
An' they clapped like thunder when he'd finished strummin'.

Then came the ruck of the bob-tailed fiddlers,
The let's-go-easies, the fair-to-middlers.

They got their claps an' they lost their bicker,
An' they all settled back for some more corn-licker.

An' the crowd was tired of their no-count squealing,
When out in the center steps Old Dan Wheeling.

He fiddled high and he fiddled low,
(Listen, little whippoorwill, yuh got to spread yore wings!)
He fiddled and fiddled with a cherrrywood bow,
(Old Dan Wheeling's got bee-honey in his strings).

He fiddled a wind by the lonesome moon,
He fiddled a most almighty tune.

He started fiddling like a ghost.
He ended fiddling like a host.

He fiddled north an' he fiddled south,
He fiddled the heart right out of yore mouth.

He fiddled here an' he fiddled there.
He fiddled salvation everywhere.

When he was finished, the crowd cut loose,
(Whippoorwill, they's rain on yore breast.)
An' I sat there wonderin' "What's the use?"
(Whippoorwill, fly home to yore nest.)

But I stood up pert an' I took my bow,
An' my fiddle went to my shoulder, so.

An' -- they wasn't no crowd to get me fazed --
But I was alone where I was raised.

Up in the mountains, so still it makes yuh skeered.
Where God lies sleepin' in his big white beard.

An' I heard the sound of the squirrel in the pine,
An' I heard the earth a-breathin' thu' the long night-time.

They've fiddled the rose, and they've fiddled the thorn,
But they haven't fiddled the mountain-corn.

They've fiddled sinful an' fiddled moral,
But they haven't fiddled the breshwood-laurel.

They've fiddled loud, and they've fiddled still,
But they haven't fiddled the whippoorwill.

I started off with a dump-diddle-dump,
(Oh, hell's broke loose in Georgia!)
Skunk-cabbage growin' by the bee-gum stump.
(Whippoorwill, yo're singin' now!)

My mother was a whippoorwill pert,
My father, he was lazy,
But I'm hell broke loose in a new store shirt
To fiddle all Georgia crazy.

Swing yore partners -- up an' down the middle!
Sashay now -- oh, listen to that fiddle!
Flapjacks flippin' on a red-hot griddle,
An' hell's broke loose,
Hell's broke loose,
Fire on the mountains -- snakes in the grass.
Satan's here a-bilin' -- oh, Lordy, let him pass!
Go down Moses, set my people free;
Pop goes the weasel thu' the old Red Sea!
Jonah sittin' on a hickory-bough,
Up jumps a whale -- an' where's yore prophet now?
Rabbit in the pea-patch, possum in the pot,
Try an' stop my fiddle, now my fiddle's gettin' hot!
Whippoorwill, singin' thu' the mountain hush,
Whippoorwill, shoutin' from the burnin' bush,
Whippoorwill, cryin' in the stable-door,
Sing tonight as yuh never sang before!
Hell's broke loose like a stompin' mountain-shoat,
Sing till yuh bust the gold in yore throat!
Hell's broke loose for forty miles aroun'
Bound to stop yore music if yuh don't sing it down.
Sing on the mountains, little whippoorwill,
Sing to the valleys, an' slap 'em with a hill,
For I'm struttin' high as an eagle's quill,
An' hell's broke loose,
Hell's broke loose,
Hell's broke loose in Georgia!

They wasn't a sound when I stopped bowin',
(Whippoorwill, yuh can sing no more.)
But, somewhere or other, the dawn was growin',
(Oh, mountain whippoorwill!)

An' I thought, "I've fiddled all night an' lost,
Yo're a good hill-billy, but yuh've been bossed."

So I went to congratulate old man Dan,
-- But he put his fiddle into my han' --
An' then the noise of the crowd began!

By Robert Frost

Two roads diverged in a yellow wood,
And sorry I could not travel both
And be one traveler, long I stood
And looked down one as far as I could
To where it bent in the undergrowth;

Then took the other, as just as fair,
And having perhaps the better claim,
Because it was grassy and wanted wear;
Though as for that, the passing there
Had worn them really about the same,

And both that morning equally lay
In leaves no step had trodden black.
Oh, I kept the first for another day!
Yet knowing how way leads on to way,
I doubted if I should ever come back.

I shall be telling this with a sigh
Somewhere ages and ages hence:
Two roads diverged in a wood, and I--
I took the one less traveled by,
And that has made all the difference.

By Rudyard Kipling

If you can keep your head when all about you
Are losing theirs and blaming it on you;
If you can trust yourself When all men doubt you,
But make allowance for their doubting too:
If you can wait and not be tired by waiting,
Or, being lied about, don't deal in lies,
Or being hated don't give way to hating,
And yet don't look too good, nor talk too wise;

If you can dream and not make dreams your master;
If you can think and not make thoughts your aim,
If you can meet with Triumph and Disaster
And treat those two impostors just the same:
If you can bear to hear the truth you've spoken
Twisted by knaves to make a trap for fools,
Or watch the things you gave your life to, broken,
And stoop and build 'em up with worn-out tools;

If you can make one heap of all your winnings
And risk it on one turn of pitch-and-toss,
And lose, and start again at your beginnings,
And never breathe a word about your loss:

If you can force your heart and nerve and sinew
To serve your turn long after they are gone,
And so hold on when there is nothing in you
Except the Will which says to them: "Hold on!

If you can talk with crowds and keep your virtue,
Or walk with Kings nor lose the common touch,
If neither foes nor loving friends can hurt you,
If all men count with you, but none too much:
If you can fill the unforgiving minute
With sixty seconds' worth of distance run,
Yours is the Earth and everything that's in it,
And -- which is more -- you'll be a Man, my son!

by Samuel Taylor Coleridge
PART ONE
IT IS an ancient Mariner,
And he stoppeth one of three.
'By thy long grey beard and glittering eye,
Now wherefore stopp'st thou me?

The Bridegroom's doors are opened wide,
And I am next of kin;
The guests are met, the feast is set:
May'st hear the merry din.'

He holds him with his skinny hand,
'There was a ship,' quoth he.
'Hold off! unhand me, grey-beard loon!'
Eftsoons his hand dropt he.

He holds him with his glittering eye--
The Wedding-Guest stood still,
And listens like a three years' child:
The Mariner hath his will.

The Wedding-Guest sat on a stone:
He cannot choose but hear;
And thus spake on that ancient man,
The bright-eyed Mariner.

'The ship was cheered, the harbour cleared,
Merrily did we drop
Below the kirk, below the hill,
Below the lighthouse top.

The Sun came up upon the left,
Out of the sea came he!
And he shone bright, and on the right
Went down into the sea.

Higher and higher every day,
Till over the mast at noon--'
The Wedding-Guest here beat his breast,
For he heard the loud bassoon.

The bride hath paced into the hall,
Red as a rose is she;
Nodding their heads before her goes
The merry minstrelsy.

The Wedding-Guest he beat his breast,
Yet he cannot choose but hear;
And thus spake on that ancient man,
The bright-eyed Mariner.

And now the Storm-blast came, and he
Was tyrannous and strong:
He struck with his o'ertaking wings,
And chased us south along.

With sloping masts and dipping prow,
As who pursued with yell and blow
Still treads the shadow of his foe,
And forward bends his head,
The ship drove fast, loud roared the blast,
And southward aye we fled.

And now there came both mist and snow,
And it grew wondrous cold:
And ice, mast-high, came floating by,
As green as emerald.

And through the drifts the snowy clifts
Did send a dismal sheen:
Nor shapes of men nor beasts we ken--
The ice was all between.

The ice was here, the ice was there,
The ice was all around:
It cracked and growled, and roared and howled,
Like noises in a swound!

At length did cross an Albatross,
Thorough the fog it came;
As if it had been a Christian soul,
We hailed it in God's name.

It ate the food it ne'er had eat,
And round and round it flew.
The ice did split with a thunder-fit;
The helmsman steered us through!

And a good south wind sprung up behind;
The Albatross did follow,
And every day, for food or play,
Came to the mariners' hollo!

In mist or cloud, on mast or shroud,
It perched for vespers nine;
Whiles all the night, through fog-smoke white,
Glimmered the white Moon-shine.'

'God save thee, ancient Mariner!
From the fiends, that plague thee thus!--
Why look'st thou so?'--'With my cross-bow
I shot the Albatross.'


PART TWO
THE Sun now rose upon the right:
Out of the sea came he,
Still hid in mist, and on the left
Went down into the sea.

And the good south wind still blew behind,
But no sweet bird did follow,
Nor any day for food or play
Came to the mariners' hollo!

And I had done a hellish thing,
And it would work 'em woe:
For all averred, I had killed the bird
That made the breeze to blow.
Ah wretch! said they, the bird to slay,
That made the breeze to blow!

Nor dim nor red like God's own head,
The glorious Sun uprist:
Then all averred, I had killed the bird
That brought the fog and mist.
'Twas right, said they, such birds to slay,
That bring the fog and mist.

The fair breeze blew, the white foam flew,
The furrow followed free;
We were the first that ever burst
Into that silent sea.

Down dropt the breeze, the sails dropt down,
'Twas sad as sad could be;
And we did speak only to break
The silence of the sea!

All in a hot and copper sky,
The bloody Sun, at noon,
Right up above the mast did stand,
No bigger than the Moon.

Day after day, day after day,
We stuck, nor breath nor motion;
As idle as a painted ship
Upon a painted ocean.

Water, water, every where,
And all the boards did shrink;
Water, water, every where,
Nor any drop to drink.

The very deep did rot: O Christ!
That ever this should be!
Yea, slimy things did crawl with legs
Upon the slimy sea.

About, about, in reel and rout
The death-fires danced at night;
The water, like a witch's oils,
Burnt green, and blue and white.

And some in dreams assur'ed were
Of the Spirit that plagued us so;
Nine fathom deep he had followed us
From the land of mist and snow.

And every tongue, through utter drought,
Was withered at the root;
We could not speak, no more than if
We had been choked with soot.

Ah! well a-day! what evil looks
Had I from old and young!
Instead of the cross, the Albatross
About my neck was hung.


PART THREE
THERE passed a weary time. Each throat
Was parched, and glazed each eye.
A weary time! a weary time!
How glazed each weary eye,
When looking westward, I beheld
A something in the sky.

At first it seemed a little speck,
And then it seemed a mist;
It moved and moved, and took at last
A certain shape, I wist.

A speck, a mist, a shape, I wist!
And still it neared and neared:
As if it dodged a water-sprite,
It plunged and tacked and veered.

With throats unslaked, with black lips baked,
We could nor laugh nor wail;
Through utter drought all dumb we stood!
I bit my arm, I sucked the blood,
And cried, A sail! a sail!

With throats unslaked, with black lips baked,
Agape they heard me call:
Gramercy! they for joy did grin
And all at once their breath drew in,
As they were drinking all.

See! see! (I cried) she tacks no more!
Hither to work us weal;
Without a breeze, without a tide,
She steadies with upright keel!

The western wave was all a-flame.
The day was well nigh done!
Almost upon the western wave
Rested the broad bright Sun;
When that strange shape drove suddenly
Betwixt us and the Sun.

And straight the Sun was flecked with bars,
(Heaven's Mother send us grace!)
As if through a dungeon-grate he peered
With broad and burning face.

Alas! (thought I, and my heart beat loud)
How fast she nears and nears!
Are those her sails that glance in the Sun,
Like restless gossameres?

Are those her ribs through which the Sun
Did peer, as through a grate?
And is that Woman all her crew?
Is that a DEATH? and are there two?
Is DEATH that woman's mate?

Her lips were red, her looks were free,
Her locks were yellow as gold:
Her skin was as white as leprosy,
The Night-mare Life-in-Death was she,
Who thicks man's blood with cold.

The naked hulk alongside came,
And the twain were casting dice;
'The game is done! I've won! I've won!'
Quoth she, and whistles thrice.

The Sun's rim dips; the stars rush out:
At one stride comes the dark;
With far-heard whisper, o'er the sea,
Off shot the spectre-bark.

We listened and looked sideways up!
Fear at my heart, as at a cup,
My life-blood seemed to sip!
The stars were dim, and thick the night,
The steersman's face by his lamp gleamed white;
From the sails the dew did drip--
Till clomb above the eastern bar
The horn'ed Moon, with one bright star
Within the nether tip.

One after one, by the star-dogged Moon,
Too quick for groan or sigh,
Each turned his face with a ghastly pang,
And cursed me with his eye.

Four times fifty living men,
(And I heard nor sigh nor groan)
With heavy thump, a lifeless lump,
They dropped down one by one.

The souls did from their bodies fly,--
They fled to bliss or woe!
And every soul, it passed me by,
Like the whizz of my cross-bow!

PART FOUR
'I FEAR thee, ancient Mariner!
I fear thy skinny hand!
And thou art long, and lank, and brown,
As is the ribbed sea-sand.

I fear thee and thy glittering eye,
And thy skinny hand, so brown.'--
Fear not, fear not, thou Wedding-Guest!
This body dropt not down.

Alone, alone, all, all alone,
Alone on a wide wide sea!
And never a saint took pity on
My soul in agony.

The many men, so beautiful!
And they all dead did lie:
And a thousand thousand slimy things
Lived on; and so did I.

I looked upon the rotting sea,
And drew my eyes away
I looked upon the rotting deck,
And there the dead men lay

I looked to Heaven, and tried to pray;
But or ever a prayer had gusht,
A wicked whisper came, and made
My heart as dry as dust.

I closed my lids, and kept them close,
And the balls like pulses beat;
For the sky and the sea, and the sea and the sky
Lay like a load on my weary eye,
And the dead were at my feet.

The cold sweat melted from their limbs,
Nor rot nor reek did they:
The look with which they looked on me
Had never passed away.

An orphan's curse would drag to hell
A spirit from on high;
But oh! more horrible than that
Is the curse in a dead man's eye!
Seven days, seven nights saw that curse,
And yet I could not die.

The moving Moon went up the sky,
And no where did abide:
Softly she was going up,
And a star or two beside--

Her beams bemocked the sultry main,
Like April hoar-frost spread;
But where the ship's huge shadow lay,
The charm'ed water burnt alway
A still and awful red.

Beyond the shadow of the ship,
I watched the water-snakes:
They moved in tracks of shining white
And when they reared, the elfish light
Fell off in hoary flakes.

Within the shadow of the ship
I watched their rich attire:
Blue, glossy green, and velvet black,
Then coiled and swam; and every track
Was a flash of golden fire.

O happy living things! no tongue
Their beauty might declare:
A spring of love gushed from my heart,
And I blessed them unaware:
Sure my kind saint took pity on me,
And I blessed them unaware.

The self-same moment I could pray;
And from my neck so free
The Albatross fell off, and sank
Like lead into the sea.

PART FIVE
OH sleep! it is a gentle thing,
Beloved from pole to pole!
To Mary Queen the praise be given!
She sent the gentle sleep from Heaven,
That slid into my soul.

The silly buckets on the deck,
That had so long remained,
I dreamt that they were filled with dew;
And when I awoke, it rained.

My lips were wet, my throat was cold,
My garments all were dank;
Sure I had drunken in my dreams,
And still my body drank.

I moved, and could not feel my limbs:
I was so light--almost
I thought that I had died in sleep,
And was a bless'ed ghost.

And soon I heard a roaring wind:
It did not come anear;
But with its sound it shook the sails,
That were so thin and sere.

The upper air burst into life!
And a hundred fire-flags sheen,
To and fro they were hurried about!
And to and fro, and in and out,
The wan stars danced between.

And the coming wind did roar more loud,
And the sails did sigh like sedge;
And the rain poured down from one black cloud;
The Moon was at its edge.

The thick black cloud was cleft, and still
The Moon was at its side:
Like waters shot from some high crag,
The lightning fell with never a jag,
A river steep and wide.

The loud wind never reached the ship,
Yet now the ship moved on!
Beneath the lightning and the Moon
The dead men gave a groan.

They groaned, they stirred, they all uprose,
Nor spake, nor moved their eyes;
It had been strange, even in a dream,
To have seen those dead men rise.

The helmsman steered, the ship moved on;
Yet never a breeze up-blew;
The mariners all 'gan work the ropes,
Where they were wont to do;
They raised their limbs like lifeless tools--
We were a ghastly crew.

The body of my brother's son
Stood by me, knee to knee:
The body and I pulled at one rope,
But he said nought to me.

'I fear thee, ancient Mariner!'
Be calm, thou Wedding-Guest!
'Twas not those souls that fled in pain,
Which to their corses came again,
But a troop of spirits blest:

For when it dawned--they dropped their arms,
And clustered round the mast;
Sweet sounds rose slowly through their mouths,
And from their bodies passed.

Around, around, flew each sweet sound,
Then darted to the Sun;
Slowly the sounds came back again,
Now mixed, now one by one.

Sometimes a-dropping from the sky
I heard the sky-lark sing;
Sometimes all little birds that are,
How they seemed to fill the sea and air
With their sweet jargoning!

And now 'twas like all instruments,
Now like a lonely flute;
And now it is an angel's song,
That makes the heavens be mute.

It ceased; yet still the sails made on
A pleasant noise till noon,
A noise like of a hidden brook
In the leafy month of June,
That to the sleeping woods all night
Singeth a quiet tune.

Till noon we quietly sailed on,
Yet never a breeze did breathe:
Slowly and smoothly went the Ship,
Moved onward from beneath.

Under the keel nine fathom deep,
From the land of mist and snow,
The spirit slid: and it was he
That made the ship to go.
The sails at noon left off their tune,
And the ship stood still also.

The Sun, right up above the mast,
Had fixed her to the ocean:
But in a minute she 'gan stir,
With a short uneasy motion--
Backwards and forwards half her length
With a short uneasy motion.

Then like a pawing horse let go,
She made a sudden bound:
It flung the blood into my head,
And I fell down in a swound.

How long in that same fit I lay,
I have not to declare;
But ere my living life returned,
I heard and in my soul discerned
Two voices in the air.

'Is it he?' quoth one, 'Is this the man?
By him who died on cross,
With his cruel bow he laid full low
The harmless Albatross.

The spirit who bideth by himself
In the land of mist and snow,
He loved the bird that loved the man
Who shot him with his bow.'

The other was a softer voice,
As soft as honey-dew:
Quoth he, 'The man hath penance done,
And penance more will do.'

PART SIX
First Voice

'BUT tell me, tell me! speak again,
They soft response renewing--
What makes that ship drive on so fast?
What is the ocean doing?'

Second Voice

'Still as a slave before his lord,
The ocean hath no blast;
His great bright eye most silently
Up to the Moon is cast--

If he may know which way to go;
For she guides him smooth or grim.
See, brother, see! how graciously
She looketh down on him.'

First Voice

'But why drives on that ship so fast,
Without or wave or wind?'

Second Voice
'The air is cut away before,
And closes from behind.

Fly, brother, fly! more high, more high!
Or we shall be belated:
For slow and slow that ship will go,
When the Mariner's trance is abated.'

I woke, and we were sailing on
As in a gentle weather:
'Twas night, calm night, the moon was high;
The dead men stood together.

All stood together on the deck,
For a charnel-dungeon fitter:
All fixed on me their stony eyes,
That in the Moon did glitter.

The pang, the curse, with which they died,
Had never passed away:
I could not draw my eyes from theirs,
Nor turn them up to pray.

And now this spell was snapt: once more
I viewed the ocean green,
And looked far forth, yet little saw
Of what had else been seen--

Like one, that on a lonesome road
Doth walk in fear and dread,
And having once turned round walks on,
And turns no more his head;
Because he knows, a frightful fiend
Doth close behind him tread.

But soon there breathed a wind on me,
Nor sound nor motion made:
Its path was not upon the sea,
In ripple or in shade.

It raised my hair, it fanned my cheek
Like a meadow-gale of spring--
It mingled strangely with my fears,
Yet it felt like a welcoming.

Swiftly, swiftly flew the ship,
Yet she sailed softly too:
Sweetly, sweetly blew the breeze--
On me alone it blew.

Oh! dream of joy! is this indeed
The light-house top I see?
Is this the hill? is this the kirk?
Is this mine own countree?

We drifted o'er the harbour-bar,
And I with sobs did pray--
O let me be awake, my God!
Or let me sleep alway.

The harbour-bay was clear as glass,
So smoothly it was strewn!
And on the bay, the moonlight lay,
And the shadow of the Moon.

The rock shone bright, the kirk no less,
That stands above the rock:
The moonlight steeped in silentness
The steady, weathercock.

And the bay was white with silent light,
Till rising from the same,
Full many shapes, that shadows were,
In crimson colours came.

A little distance from the prow
Those crimson shadows were:
I turned my eyes upon the deck--
Oh, Christ! what saw I there!

Each corse lay flat, lifeless and flat,
And, by the holy rood!
A man all light, a seraph-man,
On every corse there stood.

This seraph-band, each waved his hand:
It was a heavenly, sight!
They stood as signals to the land,
Each one a lovely light;

This seraph-band, each waved his hand,
No voice did they impart--
No voice; but oh! the silence sank
Like music on my heart.

But soon I heard the dash of oars,
I heard the Pilot's cheer;
My head was turned perforce away
And I saw a boat appear.

The Pilot and the Pilot's boy,
I heard them coming fast:
Dear Lord in Heaven! it was a joy
The dead men could not blast.

I saw a third-I heard his voice:
It is the Hermit good!
He singeth loud his godly hymns
That he makes in the wood.
He'll shrieve my soul he'll wash away
The Albatross's blood.

PART SEVEN
THIS Hermit good lives in that wood
Which slopes down to the sea.
How loudly his sweet voice he rears!
He loves to talk with marineres
That come from a far countree.

He kneels at morn, and noon, and eve--
He hath a cushion plump:
It is the moss that wholly hides
The rotted old oak-stump.

The skiff-boat neared: I heard them talk,
'Why, this is strange, I trow!
Where are those lights so many and fair,
That signal made but now?'

'Strange, by my faith!' the Hermit said--
'And they answered not our cheer!
The planks looked warped! and see those sails,
How thin they are and sere!
I never saw aught like to them,
Unless perchance it were

Brown skeletons of leaves that lag
My forest-brook along;
When the ivy-tod is heavy with snow,
And the owlet whoops to the wolf below,
That eats the she-wolf's young.'

'Dear Lord! it hath a fiendish look--
(The Pilot made reply)
I am a-feared'--'Push on, push on!'
Said the Hermit cheerily.

The boat came closer to the ship,
But I nor spake nor stirred;
The boat came close beneath the ship,
And straight a sound was heard.

Under the water it rumbled on,
Still louder and more dead:
It reached the ship, it split the bay;
The ship went down like lead.

Stunned by that loud and dreadful sound,
Which sky and ocean smote,
Like one that hath been seven days drowned
My body lay afloat;
But swift as dreams, myself I found
Within the Pilot's boat.

Upon the whirl, where sank the ship,
The boat spun round and round;
And all was still, save that the hill
Was telling of the sound.

I moved my lips--the Pilot shrieked
And fell down in a fit;
The holy Hermit raised his eyes,
And prayed where he did sit.

I took the oars: the Pilot's boy,
Who now doth crazy go,
Laughed loud and long, and all the while
His eyes went to and fro.
'Ha! ha!' quoth he, 'full plain I see,
The Devil knows how to row.'

And now, all in my own countree,
I stood on the firm land!
The Hermit stepped forth from the boat,
And scarcely he could stand.

'O shrieve me, shrieve me, holy man!'
The Hermit crossed his brow.
'Say quick,' quoth he, 'I bid thee say--
What manner of man art thou?

Forthwith this frame of mine was wrenched
With a woful agony,
Which forced me to begin my tale;
And then it left me free.

Since then, at an uncertain hour,
That agony returns:
And till my ghastly tale is told,
This heart within me burns.

I pass, like night, from land to land;
I have strange power of speech;
That moment that his face I see,
I know the man that must hear me:
To him my tale I teach.

What loud uproar bursts from that door!
The wedding-guests are there:
But in the garden-bower the bride
And bride-maids singing are:
And hark the little vesper bell,
Which biddeth me to prayer!

O Wedding-Guest! this soul hath been
Alone on a wide wide sea:
So lonely 'twas, that God himself
Scarce seem'ed there to be.

O sweeter than the marriage-feast,
'Tis sweeter far to me,
To walk together to the kirk
With a goodly company!--

To walk together to the kirk,
And all together pray,
While each to his great Father bends,
Old men, and babes, and loving friends
And youths and maidens gay!

Farewell, farewell! but this I tell
To thee, thou Wedding-Guest!
He prayeth well, who loveth well
Both man and bird and beast.

He prayeth best, who loveth best
All things both great and small;
For the dear God who loveth us,
He made and loveth all.

The Mariner, whose eye is bright,
Whose beard with age is hoar,
Is gone: and now the Wedding-Guest
Turned from the bridegroom's door.

He went like one that hath been stunned,
And is of sense forlorn:
A sadder and a wiser man,
He rose the morrow morn. -THE END-

by Samuel Taylor Coleridge

In Xanadu did Kubla Khan
A stately pleasure dome decree:
Where Alph, the sacred river, ran
Through caverns measureless to man
Down to a sunless sea.

So twice five miles of fertile ground
With walls and toweres were girdled round:
And here were gardens bright with sinuous rills,
Where blossomed many an incense-bearing tree,
And here were forests ancient as the hills,
Enfolding sunny spots of greenery.

But oh! that deep romantic chasm which slanted
Down the green hill athwart a cedarn cover!
A savage place; as holy and enchanted
As e'er beneath a waning moon was haunted
By woman wailing for her demon-lover!
And from this chasm, with ceaseless turmoil seething,
As if this earth in fast thick pants were breathing,
A mighty fountain momently was forced,
Amid whose swift half-intermitted burst
Huge fragments vaulted like rebounding hail,
Or chaffy grain beneath the thresher's flail:
And 'mid these dancing rocks at once and ever
It flung up momently the sacred river.
Five miles meandering with a mazy motion
Through wood and dale the sacred river ran,
Then reached the caverns measureless to man,
And sank in tumult to a lifeless ocean:
And 'mid this tumult Kubla heard from far
Ancestral voices prophesying war!

The shadow of the dome of pleasure
Floated midway on the waves;
Where was heard the mingled measure
From the fountain and the caves.
It was a miracle of rare device,
A sunny pleasure dome with caves of ice!

A damsel with a dulcimer
In a vision once I saw:
It was an Abyssinian maid,
And on her dulcimer she played,
Singing of Mount Abora.
Could I revive within me
Her symphony and song,

To such a deep delight 'twould win me,
That with music loud and long,
I would build that dome in air,
That sunny dome! Those caves of ice!
And all who heard should see them there,
And all should cry, Beware! Beware!
His flashing eyes, his floating hair!
Weave a circle round him thrice,
And close your eyes with holy dread,
For he on honey dew hath fed,
And drunk the milk of Paradise.

by Alfred Tennyson (1809 - 1892)

Half a league, half a league,
Half a league onward,
All in the valley of Death
Rode the six hundred.
"Forward, the Light Brigade!
Charge for the guns!" he said:
Into the valley of Death
Rode the six hundred.

"Forward, the Light Brigade!"
Was there a man dismayed?
Not tho' the soldiers knew
Someone had blundered:
Theirs was not to make reply,
Theirs was not to reason why,
Theirs was but to do and die:
Into the valley of Death
Rode the six hundred.

Cannon to the right of them,
Cannon to the left of them,
Cannon in front of them
Volleyed and thunder'd;
Storm'd at with shot and shell,
Boldly they rode and well,
Into the jaws of Death,
Into the mouth of Hell,
Rode the six hundred.

Flashed all their sabres bare,
Flashed as they turned in air,
Sab'ring the gunners there,
Charging and army, while
All the world wondered:
Plunging in the battery smoke,
Right through the line they broke;
Cossack and Russian
Reeled from the sabre-stroke
Shattered and sundered.
Then they rode back, but not--
Not the six hundred.

Cannon to the right of them,
Cannon to the left of them,
Cannon in front of them
Volleyed and thundered;
Stormed at with shot and shell,
While horse and hero fell,
They that fought so well,
Came thro' the jaws of Death,
Back from the mouth of Hell,
All that was left of them,
Left of the six hundred.

When can their glory fade?
Oh, the wild charge they made!
All the world wondered.
Honor the charge they made!
Honor the Light Brigade,
Noble Six Hundred!

By John Greenleaf Whittier, 1807-1892


From "Snow Bound"


The sun that brief December day
Rose cheerless over hills of gray,
And, darkly circled, gave at noon
A sadder light than waning moon.
Slow tracing down the thickening sky
Its mute and ominous prophecy,
A portent seeming less than threat,
It sank from sight before it set.
A chill no coat, however stout,
Of homespun stuff could quite shut out,
A hard, dull bitterness of cold,
That checked, mid-vein, the circling race
Of life-blood in the sharpened face,
The coming of the snow-storm told.
The wind blew east; we heard the roar
Of Ocean on his wintry shore,
And felt the strong pulse throbbing there
Beat with low rhythm our inland air.

Meanwhile we did our nightly chores,-
Brought in the wood from out of doors,
Littered the stalls, and from the mows
Raked down the herd's-grass for the cows:
Heard the horse whinnying for his corn;
And, sharply clashing horn on horn,
Impatient down the stanchion rows
The cattle shake their walnut bows;
While, peering from his early perch
Upon the scaffold's pole of birch,
The cock his crested helmet bent
And down his querulous challenge sent.

by Rudyard Kipling ( 1865-1936)


By the old Moulmein Pagoda, lookin' eastward to the sea,
There's a Burma girl a-settin', and I know she thinks o' me;
For the wind is in the palm-trees, and the temple-bells they say:
"Come you back, you British soldier; come you back to Mandalay!"
Come you back to Mandalay,
Where the old Flotilla lay:
Can't you 'ear their paddles chunkin' from Rangoon to Mandalay?
On the road to Mandalay,
Where the flyin'-fishes play,
An' the dawn comes up like thunder outer China 'crost the Bay!


'Er petticoat was yaller an' 'er little cap was green,
An' 'er name was Supi-yaw-lat -- jes' the same as Theebaw's Queen,
An' I seed her first a-smokin' of a whackin' white cheroot,
An' a-wastin' Christian kisses on an 'eathen idol's foot:
Bloomin' idol made o'mud --
Wot they called the Great Gawd Budd --
Plucky lot she cared for idols when I kissed 'er where she stud!
On the road to Mandalay . . .


When the mist was on the rice-fields an' the sun was droppin' slow,
She'd git 'er little banjo an' she'd sing "Kulla-lo-lo!"
With 'er arm upon my shoulder an' 'er cheek agin' my cheek
We useter watch the steamers an' the hathis pilin' teak.
Elephints a-pilin' teak
In the sludgy, squdgy creek,
Where the silence 'ung that 'eavy you was 'arf afraid to speak!
On the road to Mandalay . . .


But that's all shove be'ind me -- long ago an' fur away,
An' there ain't no 'busses runnin' from the Bank to Mandalay;
An' I'm learnin' 'ere in London what the ten-year soldier tells:
"If you've 'eard the East a-callin', you won't never 'eed naught else."
No! you won't 'eed nothin' else
But them spicy garlic smells,
An' the sunshine an' the palm-trees an' the tinkly temple-bells;
On the road to Mandalay . . .


I am sick o' wastin' leather on these gritty pavin'-stones,
An' the blasted Henglish drizzle wakes the fever in my bones;
Tho' I walks with fifty 'ousemaids outer Chelsea to the Strand,
An' they talks a lot o' lovin', but wot do they understand?
Beefy face an' grubby 'and --
Law! wot do they understand?
I've a neater, sweeter maiden in a cleaner, greener land!
On the road to Mandalay . . .


Ship me somewheres east of Suez, where the best is like the worst,
Where there aren't no Ten Commandments an' a man can raise a thirst;
For the temple-bells are callin', an' it's there that I would be --
By the old Moulmein Pagoda, looking lazy at the sea;
On the road to Mandalay,
Where the old Flotilla lay,
With our sick beneath the awnings when we went to Mandalay!
On the road to Mandalay,
Where the flyin'-fishes play,
An' the dawn comes up like thunder outer China 'crost the Bay!

by Lord Byron


When the moon is on the wave,
And the glow-worm in the grass,
And the meteor on the grave,
And the wisp on the morass;
When the falling stars are shooting,
And the answer'd owls are hooting,
And the silent leaves are still
In the shadow of the hill,
Shall my soul be upon thine,
With a power and with a sign.

Though thy slumber may be deep,
Yet thy spirit shall not sleep;
There are shades which will not vanish,
There are thoughts thou canst not banish;
By a power to thee unknown,
Thou canst never be alone;
Thou art wrapt as with a shroud,
Thou art gather'd in a cloud;
And for ever shalt thou dwell
In the spirit of this spell.

Though thou seest me not pass by,
Thou shalt feel me with thine eye
As a thing that, though unseen,
Must be near thee, and hath been;
And when in that secret dread
Thou hast turn'd around thy head,
Thou shalt marvel I am not
As thy shadow on the spot,
And the power which thou dost feel
Shall be what thou must conceal.

And a magic voice and verse
Hath baptiz'd thee with a curse;
And a spirit of the air
Hath begirt thee with a snare;
In the wind there is a voice
Shall forbid thee to rejoice;
And to thee shall night deny
All the quiet of her sky;
And the day shall have a sun,
Which shall make thee wish it done.

From thy false tears I did distil
An essence which hath strength to kill;
From thy own heart I then did wring
The black blood in its blackest spring;
From thy own smile I snatch'd the snake,
For there it coil'd as in a brake;
From thy own lip I drew the charm
Which gave all these their chiefest harm;
In proving every poison known,
I found the strongest was thine own.

By thy cold breast and serpent smile,
By thy unfathom'd gulfs of guile,
By that most seeming virtuous eye,
By thy shut soul's hypocrisy;
By the perfection of thine art
Which pass'd for human thine own heart;
By thy delight in others' pain,
And by thy brotherhood of Cain,
I call upon thee! and compel
Thyself to be thy proper Hell!

And on thy head I pour the vial
Which doth devote thee to this trial;
Nor to slumber, nor to die,
Shall be in thy destiny;
Though thy death shall still seem near
To thy wish, but as a fear;
Lo! the spell now works around thee,
And the clankless chain hath bound thee;
O'er thy heart and brain together
Hath the word been pass'd--now wither!

From my youth upwards
My spirit walk'd not with the souls of men,
Nor look'd upon the earth with human eyes;
The thirst of their ambition was not mine;
The aim of their existence was not mine;
My joys, my griefs, my passions, and my powers,
Made me a stranger; though I wore the form,
I had no sympathy with breathing flesh,
Nor midst the creatures of clay that girded me
Was there but one who- but of her anon.
I said with men, and with the thoughts of men,
I held but slight communion; but instead,
My joy was in the Wilderness, to breathe
The difficult air of the iced mountain's top,
Where the birds dare not build, nor insect's wing
Flit o'er the herbless granite; or to plunge
Into the torrent, and to roll along
On the swift whirl of the new breaking wave
Of river-stream, or ocean, in their flow.
In these my early strength exulted; or
To follow through the night the moving moon,
The stars and their development, or catch
The dazzling lightnings till my eyes grew dim;
Or to look, list'ning, on the scatter'd leaves,
While Autumn winds were at their evening song.
These were my pastimes, and to be alone;
For if the beings, of whom I was one,-
Hating to be so,- cross'd me in my path,
I felt myself degraded back to them,
And was all clay again.

From the Bible
Chapter 1
The song of songs, which is Solomon's.
Let him kiss me with the kisses of his mouth: for thy love is better than wine.
Because of the savour of thy good ointments thy name is as ointment poured forth, therefore do the virgins love thee.
Draw me, we will run after thee: the king hath brought me into his chambers: we will be glad and rejoice in thee, we will remember thy love more than wine: the upright love thee.
I am black, but comely, O ye daughters of Jerusalem, as the tents of Kedar, as the curtains of Solomon.
Look not upon me, because I am black, because the sun hath looked upon me: my mother's children were angry with me; they made me the keeper of the vineyards; but mine own vineyard have I not kept.
Tell me, O thou whom my soul loveth, where thou feedest, where thou makest thy flock to rest at noon: for why should I be as one that turneth aside by the flocks of thy companions?
If thou know not, O thou fairest among women, go thy way forth by the footsteps of the flock, and feed thy kids beside the shepherds' tents.
I have compared thee, O my love, to a company of horses in Pharaoh's chariots.
Thy cheeks are comely with rows of jewels, thy neck with chains of gold.
We will make thee borders of gold with studs of silver.
While the king sitteth at his table, my spikenard sendeth forth the smell thereof.
A bundle of myrrh is my well-beloved unto me; he shall lie all night betwixt my breasts.
My beloved is unto me as a cluster of camphire in the vineyards of Engedi.
Behold, thou art fair, my love; behold, thou art fair; thou hast doves' eyes.
Behold, thou art fair, my beloved, yea, pleasant: also our bed is green.
The beams of our house are cedar, and our rafters of fir.
Chapter 2
I am the rose of Sharon, and the lily of the valleys.
As the lily among thorns, so is my love among the daughters.
As the apple tree among the trees of the wood, so is my beloved among the sons. I sat down under his shadow with great delight, and his fruit was sweet to my taste.
He brought me to the banqueting house, and his banner over me was love.
Stay me with flagons, comfort me with apples: for I am sick of love.
His left hand is under my head, and his right hand doth embrace me.
I charge you, O ye daughters of Jerusalem, by the roes, and by the hinds of the field, that ye stir not up, nor awake my love, till he please.
The voice of my beloved! behold, he cometh leaping upon the mountains, skipping upon the hills.
My beloved is like a roe or a young hart: behold, he standeth behind our wall, he looketh forth at the windows, shewing himself through the lattice.
My beloved spake, and said unto me, Rise up, my love, my fair one, and come away.
For, lo, the winter is past, the rain is over and gone;
The flowers appear on the earth; the time of the singing of birds is come, and the voice of the turtle is heard in our land;
The fig tree putteth forth her green figs, and the vines with the tender grape give a good smell. Arise, my love, my fair one, and come away.
O my dove, that art in the clefts of the rock, in the secret places of the stairs, let me see thy countenance, let me hear thy voice; for sweet is thy voice, and thy countenance is comely.
Take us the foxes, the little foxes, that spoil the vines: for our vines have tender grapes.
My beloved is mine, and I am his: he feedeth among the lilies.
Until the day break, and the shadows flee away, turn, my beloved, and be thou like a roe or a young hart upon the mountains of Bether.
Chapter 3
By night on my bed I sought him whom my soul loveth: I sought him, but I found him not.
I will rise now, and go about the city in the streets, and in the broad ways I will seek him whom my soul loveth: I sought him, but I found him not.
The watchmen that go about the city found me: to whom I said, Saw ye him whom my soul loveth?
It was but a little that I passed from them, but I found him whom my soul loveth: I held him, and would not let him go, until I had brought him into my mother's house, and into the chamber of her that conceived me.
I charge you, O ye daughters of Jerusalem, by the roes, and by the hinds of the field, that ye stir not up, nor awake my love, till he please.
Who is this that cometh out of the wilderness like pillars of smoke, perfumed with myrrh and frankincense, with all powders of the merchant?
Behold his bed, which is Solomon's; threescore valiant men are about it, of the valiant of Israel.
They all hold swords, being expert in war: every man hath his sword upon his thigh because of fear in the night.
King Solomon made himself a chariot of the wood of Lebanon.
He made the pillars thereof of silver, the bottom thereof of gold, the covering of it of purple, the midst thereof being paved with love, for the daughters of Jerusalem.
Go forth, O ye daughters of Zion, and behold king Solomon with the crown wherewith his mother crowned him in the day of his espousals, and in the day of the gladness of his heart.
Chapter 4
Behold, thou art fair, my love; behold, thou art fair; thou hast doves' eyes within thy locks: thy hair is as a flock of goats, that appear from mount Gilead.
Thy teeth are like a flock of sheep that are even shorn, which came up from the washing; whereof every one bear twins, and none is barren among them.
Thy lips are like a thread of scarlet, and thy speech is comely: thy temples are like a piece of a pomegranate within thy locks.
Thy neck is like the tower of David builded for an armoury, whereon there hang a thousand bucklers, all shields of mighty men.
Thy two breasts are like two young roes that are twins, which feed among the lilies.
Until the day break, and the shadows flee away, I will get me to the mountain of myrrh, and to the hill of frankincense.
Thou art all fair, my love; there is no spot in thee.
Come with me from Lebanon, my spouse, with me from Lebanon: look from the top of Amana, from the top of Shenir and Hermon, from the lions' dens, from the mountains of the leopards.
Thou hast ravished my heart, my sister, my spouse; thou hast ravished my heart with one of thine eyes, with one chain of thy neck.
How fair is thy love, my sister, my spouse! how much better is thy love than wine! and the smell of thine ointments than all spices!
Thy lips, O my spouse, drop as the honeycomb: honey and milk are under thy tongue; and the smell of thy garments is like the smell of Lebanon.
A garden inclosed is my sister, my spouse; a spring shut up, a fountain sealed.
Thy plants are an orchard of pomegranates, with pleasant fruits; camphire, with spikenard,
Spikenard and saffron; calamus and cinnamon, with all trees of frankincense; myrrh and aloes, with all the chief spices:
A fountain of gardens, a well of living waters, and streams from Lebanon.
Awake, O north wind; and come, thou south; blow upon my garden, that the spices thereof may flow out. Let my beloved come into his garden, and eat his pleasant fruits.
Chapter 5
I am come into my garden, my sister, my spouse: I have gathered my myrrh with my spice; I have eaten my honeycomb with my honey; I have drunk my wine with my milk: eat, O friends; drink, yea, drink abundantly, O beloved.
I sleep, but my heart waketh: it is the voice of my beloved that knocketh, saying, Open to me, my sister, my love, my dove, my undefiled: for my head is filled with dew, and my locks with the drops of the night.
I have put off my coat; how shall I put it on? I have washed my feet; how shall I defile them?
My beloved put in his hand by the hole of the door, and my bowels were moved for him.
I rose up to open to my beloved; and my hands dropped with myrrh, and my fingers with sweet smelling myrrh, upon the handles of the lock.
I opened to my beloved; but my beloved had withdrawn himself, and was gone: my soul failed when he spake: I sought him, but I could not find him; I called him, but he gave me no answer.
The watchmen that went about the city found me, they smote me, they wounded me; the keepers of the walls took away my veil from me.
I charge you, O daughters of Jerusalem, if ye find my beloved, that ye tell him, that I am sick of love.
What is thy beloved more than another beloved, O thou fairest among women? what is thy beloved more than another beloved, that thou dost so charge us?
My beloved is white and ruddy, the chiefest among ten thousand.
His head is as the most fine gold, his locks are bushy, and black as a raven.
His eyes are as the eyes of doves by the rivers of waters, washed with milk, and fitly set.
His cheeks are as a bed of spices, as sweet flowers: his lips like lilies, dropping sweet smelling myrrh.
His hands are as gold rings set with the beryl: his belly is as bright ivory overlaid with sapphires.
His legs are as pillars of marble, set upon sockets of fine gold: his countenance is as Lebanon, excellent as the cedars.
His mouth is most sweet: yea, he is altogether lovely. This is my beloved, and this is my friend, O daughters of Jerusalem.
Chapter 6
Whither is thy beloved gone, O thou fairest among women? whither is thy beloved turned aside? that we may seek him with thee.
My beloved is gone down into his garden, to the beds of spices, to feed in the gardens, and to gather lilies.
I am my beloved's, and my beloved is mine: he feedeth among the lilies.
Thou art beautiful, O my love, as Tirzah, comely as Jerusalem, terrible as an army with banners.
Turn away thine eyes from me, for they have overcome me: thy hair is as a flock of goats that appear from Gilead.
Thy teeth are as a flock of sheep which go up from the washing, whereof every one beareth twins, and there is not one barren among them.
As a piece of a pomegranate are thy temples within thy locks.
There are threescore queens, and fourscore concubines, and virgins without number.
My dove, my undefiled is but one; she is the only one of her mother, she is the choice one of her that bare her. The daughters saw her, and blessed her; yea, the queens and the concubines, and they praised her.
Who is she that looketh forth as the morning, fair as the moon, clear as the sun, and terrible as an army with banners?
I went down into the garden of nuts to see the fruits of the valley, and to see whether the vine flourished and the pomegranates budded.
Or ever I was aware, my soul made me like the chariots of Amminadib.
Return, return, O Shulamite; return, return, that we may look upon thee. What will ye see in the Shulamite? As it were the company of two armies.
Chapter 7
How beautiful are thy feet with shoes, O prince's daughter! the joints of thy thighs are like jewels, the work of the hands of a cunning workman.
Thy navel is like a round goblet, which wanteth not liquor: thy belly is like an heap of wheat set about with lilies.
Thy two breasts are like two young roes that are twins.
Thy neck is as a tower of ivory; thine eyes like the fishpools in Heshbon, by the gate of Bathrabbim: thy nose is as the tower of Lebanon which looketh toward Damascus.
Thine head upon thee is like Carmel, and the hair of thine head like purple; the king is held in the galleries.
How fair and how pleasant art thou, O love, for delights!
This thy stature is like to a palm tree, and thy breasts to clusters of grapes.
I said, I will go up to the palm tree, I will take hold of the boughs thereof: now also thy breasts shall be as clusters of the vine, and the smell of thy nose like apples;
And the roof of thy mouth like the best wine for my beloved, that goeth down sweetly, causing the lips of those that are asleep to speak.
I am my beloved's, and his desire is toward me.
Come, my beloved, let us go forth into the field; let us lodge in the villages.
Let us get up early to the vineyards; let us see if the vine flourish, whether the tender grape appear, and the pomegranates bud forth: there will I give thee my loves.
The mandrakes give a smell, and at our gates are all manner of pleasant fruits, new and old, which I have laid up for thee, O my beloved.
Chapter 8
O that thou wert as my brother, that sucked the breasts of my mother! when I should find thee without, I would kiss thee; yea, I should not be despised.
I would lead thee, and bring thee into my mother's house, who would instruct me: I would cause thee to drink of spiced wine of the juice of my pomegranate.
His left hand should be under my head, and his right hand should embrace me.
I charge you, O daughters of Jerusalem, that ye stir not up, nor awake my love, until he please.
Who is this that cometh up from the wilderness, leaning upon her beloved? I raised thee up under the apple tree: there thy mother brought thee forth: there she brought thee forth that bare thee.
Set me as a seal upon thine heart, as a seal upon thine arm: for love is strong as death; jealousy is cruel as the grave: the coals thereof are coals of fire, which hath a most vehement flame.
Many waters cannot quench love, neither can the floods drown it: if a man would give all the substance of his house for love, it would utterly be contemned.
We have a little sister, and she hath no breasts: what shall we do for our sister in the day when she shall be spoken for?
If she be a wall, we will build upon her a palace of silver: and if she be a door, we will inclose her with boards of cedar.
I am a wall, and my breasts like towers: then was I in his eyes as one that found favour.
Solomon had a vineyard at Baalhamon; he let out the vineyard unto keepers; every one for the fruit thereof was to bring a thousand pieces of silver.
My vineyard, which is mine, is before me: thou, O Solomon, must have a thousand, and those that keep the fruit thereof two hundred.
Thou that dwellest in the gardens, the companions hearken to thy voice: cause me to hear it.
Make haste, my beloved, and be thou like to a roe or to a young hart upon the mountains of spices.

From the Bible
Chapter 1
The words of the Preacher, the son of David, king in Jerusalem.
Vanity of vanities, saith the Preacher, vanity of vanities; all is vanity.
What profit hath a man of all his labour which he taketh under the sun?
One generation passeth away, and another generation cometh: but the earth abideth for ever.
The sun also ariseth, and the sun goeth down, and hasteth to his place where he arose.
The wind goeth toward the south, and turneth about unto the north; it whirleth about continually, and the wind returneth again according to his circuits.
All the rivers run into the sea; yet the sea is not full; unto the place from whence the rivers come, thither they return again.
All things are full of labour; man cannot utter it: the eye is not satisfied with seeing, nor the ear filled with hearing.
The thing that hath been, it is that which shall be; and that which is done is that which shall be done: and there is no new thing under the sun.
Is there any thing whereof it may be said, See, this is new? it hath been already of old time, which was before us.
There is no remembrance of former things; neither shall there be any remembrance of things that are to come with those that shall come after.
I the Preacher was king over Israel in Jerusalem.
And I gave my heart to seek and search out by wisdom concerning all things that are done under heaven: this sore travail hath God given to the sons of man to be exercised therewith.
I have seen all the works that are done under the sun; and, behold, all is vanity and vexation of spirit.
That which is crooked cannot be made straight: and that which is wanting cannot be numbered.
I communed with mine own heart, saying, Lo, I am come to great estate, and have gotten more wisdom than all they that have been before me in Jerusalem: yea, my heart had great experience of wisdom and knowledge.
And I gave my heart to know wisdom, and to know madness and folly: I perceived that this also is vexation of spirit.
For in much wisdom is much grief: and he that increaseth knowledge increaseth sorrow.
Chapter 2
I said in mine heart, Go to now, I will prove thee with mirth, therefore enjoy pleasure: and, behold, this also is vanity.
I said of laughter, It is mad: and of mirth, What doeth it?
I sought in mine heart to give myself unto wine, yet acquainting mine heart with wisdom; and to lay hold on folly, till I might see what was that good for the sons of men, which they should do under the heaven all the days of their life.
I made me great works; I builded me houses; I planted me vineyards:
I made me gardens and orchards, and I planted trees in them of all kind of fruits:
I made me pools of water, to water therewith the wood that bringeth forth trees:
I got me servants and maidens, and had servants born in my house; also I had great possessions of great and small cattle above all that were in Jerusalem before me:
I gathered me also silver and gold, and the peculiar treasure of kings and of the provinces: I gat me men singers and women singers, and the delights of the sons of men, as musical instruments, and that of all sorts.
So I was great, and increased more than all that were before me in Jerusalem: also my wisdom remained with me.
And whatsoever mine eyes desired I kept not from them, I withheld not my heart from any joy; for my heart rejoiced in all my labour: and this was my portion of all my labour.
Then I looked on all the works that my hands had wrought, and on the labour that I had laboured to do: and, behold, all was vanity and vexation of spirit, and there was no profit under the sun.
And I turned myself to behold wisdom, and madness, and folly: for what can the man do that cometh after the king? even that which hath been already done.
Then I saw that wisdom excelleth folly, as far as light excelleth darkness.
The wise man's eyes are in his head; but the fool walketh in darkness: and I myself perceived also that one event happeneth to them all.
Then said I in my heart, As it happeneth to the fool, so it happeneth even to me; and why was I then more wise? Then I said in my heart, that this also is vanity.
For there is no remembrance of the wise more than of the fool for ever; seeing that which now is in the days to come shall all be forgotten. And how dieth the wise man? as the fool.
Therefore I hated life; because the work that is wrought under the sun is grievous unto me: for all is vanity and vexation of spirit.
Yea, I hated all my labour which I had taken under the sun: because I should leave it unto the man that shall be after me.
And who knoweth whether he shall be a wise man or a fool? yet shall he have rule over all my labour wherein I have laboured, and wherein I have shewed myself wise under the sun. This is also vanity.
Therefore I went about to cause my heart to despair of all the labour which I took under the sun.
For there is a man whose labour is in wisdom, and in knowledge, and in equity; yet to a man that hath not laboured therein shall he leave it for his portion. This also is vanity and a great evil.
For what hath man of all his labour, and of the vexation of his heart, wherein he hath laboured under the sun?
For all his days are sorrows, and his travail grief; yea, his heart taketh not rest in the night. This is also vanity.
There is nothing better for a man, than that he should eat and drink, and that he should make his soul enjoy good in his labour. This also I saw, that it was from the hand of God.
For who can eat, or who else can hasten hereunto, more than I?
For God giveth to a man that is good in his sight wisdom, and knowledge, and joy: but to the sinner he giveth travail, to gather and to heap up, that he may give to him that is good before God. This also is vanity and vexation of spirit.
Chapter 3
To every thing there is a season, and a time to every purpose under the heaven:
A time to be born, and a time to die; a time to plant, and a time to pluck up that which is planted;
A time to kill, and a time to heal; a time to break down, and a time to build up;
A time to weep, and a time to laugh; a time to mourn, and a time to dance;
A time to cast away stones, and a time to gather stones together; a time to embrace, and a time to refrain from embracing;
A time to get, and a time to lose; a time to keep, and a time to cast away;
A time to rend, and a time to sew; a time to keep silence, and a time to speak;
A time to love, and a time to hate; a time of war, and a time of peace.
What profit hath he that worketh in that wherein he laboureth?
I have seen the travail, which God hath given to the sons of men to be exercised in it.
He hath made every thing beautiful in his time: also he hath set the world in their heart, so that no man can find out the work that God maketh from the beginning to the end.
I know that there is no good in them, but for a man to rejoice, and to do good in his life.
And also that every man should eat and drink, and enjoy the good of all his labour, it is the gift of God.
I know that, whatsoever God doeth, it shall be for ever: nothing can be put to it, nor any thing taken from it: and God doeth it, that men should fear before him.
That which hath been is now; and that which is to be hath already been; and God requireth that which is past.
And moreover I saw under the sun the place of judgment, that wickedness was there; and the place of righteousness, that iniquity was there.
I said in mine heart, God shall judge the righteous and the wicked: for there is a time there for every purpose and for every work.
I said in mine heart concerning the estate of the sons of men, that God might manifest them, and that they might see that they themselves are beasts.
For that which befalleth the sons of men befalleth beasts; even one thing befalleth them: as the one dieth, so dieth the other; yea, they have all one breath; so that a man hath no preeminence above a beast: for all is vanity.
All go unto one place; all are of the dust, and all turn to dust again.
Who knoweth the spirit of man that goeth upward, and the spirit of the beast that goeth downward to the earth?
Wherefore I perceive that there is nothing better, than that a man should rejoice in his own works; for that is his portion: for who shall bring him to see what shall be after him?
Chapter 4
So I returned, and considered all the oppressions that are done under the sun: and behold the tears of such as were oppressed, and they had no comforter; and on the side of their oppressors there was power; but they had no comforter.
Wherefore I praised the dead which are already dead more than the living which are yet alive.
Yea, better is he than both they, which hath not yet been, who hath not seen the evil work that is done under the sun.
Again, I considered all travail, and every right work, that for this a man is envied of his neighbour. This is also vanity and vexation of spirit.
The fool foldeth his hands together, and eateth his own flesh.
Better is an handful with quietness, than both the hands full with travail and vexation of spirit.
Then I returned, and I saw vanity under the sun.
There is one alone, and there is not a second; yea, he hath neither child nor brother: yet is there no end of all his labour; neither is his eye satisfied with riches; neither saith he, For whom do I labour, and bereave my soul of good? This is also vanity, yea, it is a sore travail.
Two are better than one; because they have a good reward for their labour.
For if they fall, the one will lift up his fellow: but woe to him that is alone when he falleth; for he hath not another to help him up.
Again, if two lie together, then they have heat: but how can one be warm alone?
And if one prevail against him, two shall withstand him; and a threefold cord is not quickly broken.
Better is a poor and a wise child than an old and foolish king, who will no more be admonished.
For out of prison he cometh to reign; whereas also he that is born in his kingdom becometh poor.
I considered all the living which walk under the sun, with the second child that shall stand up in his stead.
There is no end of all the people, even of all that have been before them: they also that come after shall not rejoice in him. Surely this also is vanity and vexation of spirit.
Chapter 5
Keep thy foot when thou goest to the house of God, and be more ready to hear, than to give the sacrifice of fools: for they consider not that they do evil.
Be not rash with thy mouth, and let not thine heart be hasty to utter any thing before God: for God is in heaven, and thou upon earth: therefore let thy words be few.
For a dream cometh through the multitude of business; and a fool's voice is known by multitude of words.
When thou vowest a vow unto God, defer not to pay it; for he hath no pleasure in fools: pay that which thou hast vowed.
Better is it that thou shouldest not vow, than that thou shouldest vow and not pay.
Suffer not thy mouth to cause thy flesh to sin; neither say thou before the angel, that it was an error: wherefore should God be angry at thy voice, and destroy the work of thine hands?
For in the multitude of dreams and many words there are also divers vanities: but fear thou God.
If thou seest the oppression of the poor, and violent perverting of judgment and justice in a province, marvel not at the matter: for he that is higher than the highest regardeth; and there be higher than they.
Moreover the profit of the earth is for all: the king himself is served by the field.
He that loveth silver shall not be satisfied with silver; nor he that loveth abundance with increase: this is also vanity.
When goods increase, they are increased that eat them: and what good is there to the owners thereof, saving the beholding of them with their eyes?
The sleep of a labouring man is sweet, whether he eat little or much: but the abundance of the rich will not suffer him to sleep.
There is a sore evil which I have seen under the sun, namely, riches kept for the owners thereof to their hurt.
But those riches perish by evil travail: and he begetteth a son, and there is nothing in his hand.
As he came forth of his mother's womb, naked shall he return to go as he came, and shall take nothing of his labour, which he may carry away in his hand.
And this also is a sore evil, that in all points as he came, so shall he go: and what profit hath he that hath laboured for the wind?
All his days also he eateth in darkness, and he hath much sorrow and wrath with his sickness.
Behold that which I have seen: it is good and comely for one to eat and to drink, and to enjoy the good of all his labour that he taketh under the sun all the days of his life, which God giveth him: for it is his portion.
Every man also to whom God hath given riches and wealth, and hath given him power to eat thereof, and to take his portion, and to rejoice in his labour; this is the gift of God.
For he shall not much remember the days of his life; because God answereth him in the joy of his heart.
Chapter 6
There is an evil which I have seen under the sun, and it is common among men:
A man to whom God hath given riches, wealth, and honour, so that he wanteth nothing for his soul of all that he desireth, yet God giveth him not power to eat thereof, but a stranger eateth it: this is vanity, and it is an evil disease.
If a man beget an hundred children, and live many years, so that the days of his years be many, and his soul be not filled with good, and also that he have no burial; I say, that an untimely birth is better than he.
For he cometh in with vanity, and departeth in darkness, and his name shall be covered with darkness.
Moreover he hath not seen the sun, nor known any thing: this hath more rest than the other.
Yea, though he live a thousand years twice told, yet hath he seen no good: do not all go to one place?
All the labour of man is for his mouth, and yet the appetite is not filled.
For what hath the wise more than the fool? what hath the poor, that knoweth to walk before the living?
Better is the sight of the eyes than the wandering of the desire: this is also vanity and vexation of spirit.
That which hath been is named already, and it is known that it is man: neither may he contend with him that is mightier than he.
Seeing there be many things that increase vanity, what is man the better?
For who knoweth what is good for man in this life, all the days of his vain life which he spendeth as a shadow? for who can tell a man what shall be after him under the sun?
Chapter 7
A good name is better than precious ointment; and the day of death than the day of one's birth.
It is better to go to the house of mourning, than to go to the house of feasting: for that is the end of all men; and the living will lay it to his heart.
Sorrow is better than laughter: for by the sadness of the countenance the heart is made better.
The heart of the wise is in the house of mourning; but the heart of fools is in the house of mirth.
It is better to hear the rebuke of the wise, than for a man to hear the song of fools.
For as the crackling of thorns under a pot, so is the laughter of the fool: this also is vanity.
Surely oppression maketh a wise man mad; and a gift destroyeth the heart.
Better is the end of a thing than the beginning thereof: and the patient in spirit is better than the proud in spirit.
Be not hasty in thy spirit to be angry: for anger resteth in the bosom of fools.
Say not thou, What is the cause that the former days were better than these? for thou dost not enquire wisely concerning this.
Wisdom is good with an inheritance: and by it there is profit to them that see the sun.
For wisdom is a defence, and money is a defence: but the excellency of knowledge is, that wisdom giveth life to them that have it.
Consider the work of God: for who can make that straight, which he hath made crooked?
In the day of prosperity be joyful, but in the day of adversity consider: God also hath set the one over against the other, to the end that man should find nothing after him.
All things have I seen in the days of my vanity: there is a just man that perisheth in his righteousness, and there is a wicked man that prolongeth his life in his wickedness.
Be not righteous over much; neither make thyself over wise: why shouldest thou destroy thyself ?
Be not over much wicked, neither be thou foolish: why shouldest thou die before thy time?
It is good that thou shouldest take hold of this; yea, also from this withdraw not thine hand: for he that feareth God shall come forth of them all.
Wisdom strengtheneth the wise more than ten mighty men which are in the city.
For there is not a just man upon earth, that doeth good, and sinneth not.
Also take no heed unto all words that are spoken; lest thou hear thy servant curse thee:
For oftentimes also thine own heart knoweth that thou thyself likewise hast cursed others.
All this have I proved by wisdom: I said, I will be wise; but it was far from me.
That which is far off, and exceeding deep, who can find it out?
I applied mine heart to know, and to search, and to seek out wisdom, and the reason of things, and to know the wickedness of folly, even of foolishness and madness:
And I find more bitter than death the woman, whose heart is snares and nets, and her hands as bands: whoso pleaseth God shall escape from her; but the sinner shall be taken by her.
Behold, this have I found, saith the preacher, counting one by one, to find out the account:
Which yet my soul seeketh, but I find not: one man among a thousand have I found; but a woman among all those have I not found.
Lo, this only have I found, that God hath made man upright; but they have sought out many inventions.
Chapter 8
Who is as the wise man? and who knoweth the interpretation of a thing? a man's wisdom maketh his face to shine, and the boldness of his face shall be changed.
I counsel thee to keep the king's commandment, and that in regard of the oath of God.
Be not hasty to go out of his sight: stand not in an evil thing; for he doeth whatsoever pleaseth him.
Where the word of a king is, there is power: and who may say unto him, What doest thou?
Whoso keepeth the commandment shall feel no evil thing: and a wise man's heart discerneth both time and judgment.
Because to every purpose there is time and judgment, therefore the misery of man is great upon him.
For he knoweth not that which shall be: for who can tell him when it shall be?
There is no man that hath power over the spirit to retain the spirit; neither hath he power in the day of death: and there is no discharge in that war; neither shall wickedness deliver those that are given to it.
All this have I seen, and applied my heart unto every work that is done under the sun: there is a time wherein one man ruleth over another to his own hurt.
And so I saw the wicked buried, who had come and gone from the place of the holy, and they were forgotten in the city where they had so done: this is also vanity.
Because sentence against an evil work is not executed speedily, therefore the heart of the sons of men is fully set in them to do evil.
Though a sinner do evil an hundred times, and his days be prolonged, yet surely I know that it shall be well with them that fear God, which fear before him:
But it shall not be well with the wicked, neither shall he prolong his days, which are as a shadow; because he feareth not before God.
There is a vanity which is done upon the earth; that there be just men, unto whom it happeneth according to the work of the wicked; again, there be wicked men, to whom it happeneth according to the work of the righteous: I said that this also is vanity.
Then I commended mirth, because a man hath no better thing under the sun, than to eat, and to drink, and to be merry: for that shall abide with him of his labour the days of his life, which God giveth him under the sun.
When I applied mine heart to know wisdom, and to see the business that is done upon the earth: (for also there is that neither day nor night seeth sleep with his eyes:)
Then I beheld all the work of God, that a man cannot find out the work that is done under the sun: because though a man labour to seek it out, yet he shall not find it; yea farther; though a wise man think to know it, yet shall he not be able to find it.
Chapter 9
For all this I considered in my heart even to declare all this, that the righteous, and the wise, and their works, are in the hand of God: no man knoweth either love or hatred by all that is before them.
All things come alike to all: there is one event to the righteous, and to the wicked; to the good and to the clean, and to the unclean; to him that sacrificeth, and to him that sacrificeth not: as is the good, so is the sinner; and he that sweareth, as he that feareth an oath.
This is an evil among all things that are done under the sun, that there is one event unto all: yea, also the heart of the sons of men is full of evil, and madness is in their heart while they live, and after that they go to the dead.
For to him that is joined to all the living there is hope: for a living dog is better than a dead lion.
For the living know that they shall die: but the dead know not any thing, neither have they any more a reward; for the memory of them is forgotten.
Also their love, and their hatred, and their envy, is now perished; neither have they any more a portion for ever in any thing that is done under the sun.
Go thy way, eat thy bread with joy, and drink thy wine with a merry heart; for God now accepteth thy works.
Let thy garments be always white; and let thy head lack no ointment.
Live joyfully with the wife whom thou lovest all the days of the life of thy vanity, which he hath given thee under the sun, all the days of thy vanity: for that is thy portion in this life, and in thy labour which thou takest under the sun.
Whatsoever thy hand findeth to do, do it with thy might; for there is no work, nor device, nor knowledge, nor wisdom, in the grave, whither thou goest.
I returned, and saw under the sun, that the race is not to the swift, nor the battle to the strong, neither yet bread to the wise, nor yet riches to men of understanding, nor yet favour to men of skill; but time and chance happeneth to them all.
For man also knoweth not his time: as the fishes that are taken in an evil net, and as the birds that are caught in the snare; so are the sons of men snared in an evil time, when it falleth suddenly upon them.
This wisdom have I seen also under the sun, and it seemed great unto me:
There was a little city, and few men within it; and there came a great king against it, and besieged it, and built great bulwarks against it:
Now there was found in it a poor wise man, and he by his wisdom delivered the city; yet no man remembered that same poor man.
Then said I, Wisdom is better than strength: nevertheless the poor man's wisdom is despised, and his words are not heard.
The words of wise men are heard in quiet more than the cry of him that ruleth among fools.
Wisdom is better than weapons of war: but one sinner destroyeth much good.
Chapter 10
Dead flies cause the ointment of the apothecary to send forth a stinking savour: so doth a little folly him that is in reputation for wisdom and honour.
A wise man's heart is at his right hand; but a fool's heart at his left.
Yea also, when he that is a fool walketh by the way, his wisdom faileth him, and he saith to every one that he is a fool.
If the spirit of the ruler rise up against thee, leave not thy place; for yielding pacifieth great offences.
There is an evil which I have seen under the sun, as an error which proceedeth from the ruler:
Folly is set in great dignity, and the rich sit in low place.
I have seen servants upon horses, and princes walking as servants upon the earth.
He that diggeth a pit shall fall into it; and whoso breaketh an hedge, a serpent shall bite him.
Whoso removeth stones shall be hurt therewith; and he that cleaveth wood shall be endangered thereby.
If the iron be blunt, and he do not whet the edge, then must he put to more strength: but wisdom is profitable to direct.
Surely the serpent will bite without enchantment; and a babbler is no better.
The words of a wise man's mouth are gracious; but the lips of a fool will swallow up himself.
The beginning of the words of his mouth is foolishness: and the end of his talk is mischievous madness.
A fool also is full of words: a man cannot tell what shall be; and what shall be after him, who can tell him?
The labour of the foolish wearieth every one of them, because he knoweth not how to go to the city.
Woe to thee, O land, when thy king is a child, and thy princes eat in the morning!
Blessed art thou, O land, when thy king is the son of nobles, and thy princes eat in due season, for strength, and not for drunkenness!
By much slothfulness the building decayeth; and through idleness of the hands the house droppeth through.
A feast is made for laughter, and wine maketh merry: but money answereth all things.
Curse not the king, no not in thy thought; and curse not the rich in thy bedchamber: for a bird of the air shall carry the voice, and that which hath wings shall tell the matter.
Chapter 11
Cast thy bread upon the waters: for thou shalt find it after many days.
Give a portion to seven, and also to eight; for thou knowest not what evil shall be upon the earth.
If the clouds be full of rain, they empty themselves upon the earth: and if the tree fall toward the south, or toward the north, in the place where the tree falleth, there it shall be.
He that observeth the wind shall not sow; and he that regardeth the clouds shall not reap.
As thou knowest not what is the way of the spirit, nor how the bones do grow in the womb of her that is with child: even so thou knowest not the works of God who maketh all.
In the morning sow thy seed, and in the evening withhold not thine hand: for thou knowest not whether shall prosper, either this or that, or whether they both shall be alike good.
Truly the light is sweet, and a pleasant thing it is for the eyes to behold the sun:
But if a man live many years, and rejoice in them all; yet let him remember the days of darkness; for they shall be many. All that cometh is vanity.
Rejoice, O young man, in thy youth; and let thy heart cheer thee in the days of thy youth, and walk in the ways of thine heart, and in the sight of thine eyes: but know thou, that for all these things God will bring thee into judgment.
Therefore remove sorrow from thy heart, and put away evil from thy flesh: for childhood and youth are vanity.
Chapter 12
Remember now thy Creator in the days of thy youth, while the evil days come not, nor the years draw nigh, when thou shalt say, I have no pleasure in them;
While the sun, or the light, or the moon, or the stars, be not darkened, nor the clouds return after the rain:
In the day when the keepers of the house shall tremble, and the strong men shall bow themselves, and the grinders cease because they are few, and those that look out of the windows be darkened,
And the doors shall be shut in the streets, when the sound of the grinding is low, and he shall rise up at the voice of the bird, and all the daughters of musick shall be brought low;
Also when they shall be afraid of that which is high, and fears shall be in the way, and the almond tree shall flourish, and the grasshopper shall be a burden, and desire shall fail: because man goeth to his long home, and the mourners go about the streets:
Or ever the silver cord be loosed, or the golden bowl be broken, or the pitcher be broken at the fountain, or the wheel broken at the cistern.
Then shall the dust return to the earth as it was: and the spirit shall return unto God who gave it.
Vanity of vanities, saith the preacher; all is vanity.
And moreover, because the preacher was wise, he still taught the people knowledge; yea, he gave good heed, and sought out, and set in order many proverbs.
The preacher sought to find out acceptable words: and that which was written was upright, even words of truth.
The words of the wise are as goads, and as nails fastened by the masters of assemblies, which are given from one shepherd.
And further, by these, my son, be admonished: of making many books there is no end; and much study is a weariness of the flesh.
Let us hear the conclusion of the whole matter: Fear God, and keep his commandments: for this is the whole duty of man.
For God shall bring every work into judgment, with every secret thing, whether it be good, or whether it be evil.

Poems by Duane Bristow
Duane Bristow married Eva Harlan April 17, 1965. These are a few things he wrote in the years 1961 to 1966 when he was 14 to 18 years of age.
by Duane Bristow
September 4, 1962

The western mountains were yet to know,
The warmth of the sun,
And in the East the stratus hid,
The entrance of his majesty.

Yet, above them,
(They were so still),
The cirrus showed the white of silk.
(For from the sky and from the cloud,
The sun's glory reflected down.)

Silvery jewels, they were set,
Beneath a shroud of blue so pure.
And yet, could even God devise,
A blue so blue, A white so white?

And beneath in the valley where shadows lay,
From a hill I watched the morning unroll.
And the September air, it was chill,
At least chilly to one,
So long used to the summer sun.

The wind in the mountain,
You could hear it blow,
Foretelling of winter and snow.
And the white, it was pure,
And the blue, it was peace,
And hoping someday,
That all strife should cease,
Here what I saw, I set down,
That to him who could see,
It could be found.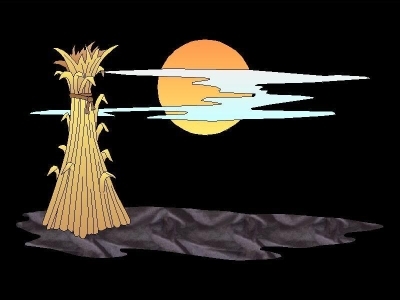 by Duane Bristow
October 31, 1962

The corn is in the shock.
The punkin's in the shed.
The lonely night wind blows away the day,
And summer.

It is cold.
It will frost tonight.
The cows low in the barn.
All is silent,
Save for the rustling of dead fall leaves.

It is a cold light the lonely moon spreads upon the scene.
It is a warm light from the home spreading out.
It is HALLOWEEN!

by Duane Bristow
November 8, 1962

The walls are mighty oaks and beeches towering to the sky,
The ceiling, the sky, is of purest blue.
The floor soft moss and rich dead leaf,
The light a sunbeam filtering through the deep green leaves above.
The Chapel of God!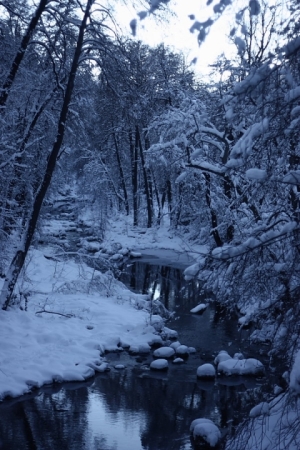 by Duane Bristow
November 1964

The stars in silent grandeur,
spanned a sleeping valley.
Their light in myriad points,
danced on ice-fringed creeks,
and made snow blanketed fields to glisten.

The silence was broken by a snap,
as sap-filled hardwood froze and burst.
A flitting shadow slipped from the wood,
as nocturnal hunter, wily and bold,
sought, his eternal hunger, to satisfy.

The darkness of mountains rose above,
crowned now by dawn's new light.
And in the sky straight o'er head,
the stars dimmed their winter light,
to pay homage to the day,
whose coming is heralded by the dawn.

by Duane Bristow

Let my roof be the sky,
and let the earth be the floor of my feet.
Let me drink the cold spring water,
as it gushes from the mountain caverns.
Let me eat the fresh killed game,
and the fruits and herbs of the meadows.
Let me sleep under the sparkling stars,
beside a campfire of fragrant forest wood.
Let me rise before the sun,
to roam the mountains and fields.
Let me climb the mountains and swim the lakes.
Let me race the deer and let my spirit soar like the eagle.
Let me work that I may live,
and let my body grow strong and clean.
Let me live for purity's sake that I may learn and obtain wisdom.
Let me be honest and fair in all my dealings with others.
Let me be always true and sincere.
Let me help the weak and share with those less fortunate than I.
Let me fight for what I believe is right.
And let me live out my days in peace.

by Duane Bristow

Day is gone and night is come,
And God in his heaven sits.
He watches over the world below,
And in his eye amusement glints.

One by One, he lights the stars on high.
To wondering humans in the world below,
He shows his glory in the sky.

Now all is well!

by Duane Bristow
May 23, 1963

Hot sun beating down.
Hot dust under bare feet.
Lizards hide beneath cool rocks.
The breeze is stilled.
Birds are silent.
Sleeping clouds hang above.
Work waits for dinner.
Cattle doze beside lazy streams.
Men shuffle back to the fields.
Afternoon begins.

by Duane Bristow
May 23, 1963

Dark clouds rising from the Southwest,
Hot sun obscured,
A cool wet breeze.
Gray wall in front of the mountain,
Giant missles pelt dry dust.
Rain beating, beating on the roof,
A wall of water swaying with the wind,
Slacking up, then thundering on,
Dark, green, wet world.

Cornwagons rumbling across the sky,
Jagged lightning streaking earthward,
Storm dwindling to a shower,
Sun shining through the clouds,
And a rainbow over the mountain.
Shafts of sunlight slanting downward,
From holes in the clouds.
Drops of water glistening on the leaves,
Sunlight spreading over all.
Water dripping from green trees,
Birds come out of hiding,
Flying and singing,
Tranquil peace.

God made the universe, a continuous working whole, a thing of beauty, and then he placed man in it to show him how he should divide and subdivide and classify it.

Silence is a virtue. A silent man is never wrong.

To understand what others have done is intelligence.
To do what others have not done is genius.

Softly the farmer tip-toed to the back door. The screen creaked on its rusting hinges as he closed the door behind him. Walking down the back porch steps he could hear a mocking bird welcoming the dawn from the top of an apple tree in the orchard behind the house. A big collie came out from under the porch and silently swung into step beside him. His milk bucket swinging at his side the farmer turned across the lawn, drenched with early morning dew. Over the hill on his left he could hear the babbling of the fog encased brook and somewhere across it the crow of a rooster signaled that another day had dawned. As he walked under the spreading branches of an old apple tree, he reached above his head and plucked one of the juicy red apples. He was promptly rewarded by a shower of dew from the heavily laden limbs above. Emerging from beneath the tree onto the open path the collie shook himself and unloaded his burden of water upon the farmer. The farmer walked on through the orchard path as a rabbit flushed from a clump of grass by the collie ran across his feet. His leather shoes wet on his feet, the farmer swung open the wooden gate at the end of the path and stepped into the dry dirt of the barnyard. A cow, seeing him coming, lowed softly and a horse neighed for his morning oats. The noise became an uproar as the awakened banties began to squawk and the other cows and horses took it upon themselves to join the fun. And the farmer walked into the barn.

............

The sun peeked from behind the mountains and spread its golden light upon all the world as the farmer, soaked with sweat after milking the last cow, emerged from the barn. He paused for a moment to watch the sun rise, then turned his steps toward home and the bacon and eggs awaiting him there.

by Duane Bristow
1962
I leaped across the stream made shallow by the lack of rain and stood for a moment on the island before jumping the branch of the stream on the other side of the island. It was cool here beneath the trees and a breeze blew softly as the creek babbled along its way. I jumped to the other bank and looked back. Beyond the trees the sun shone harshly down on the parched grass and a lonely buzzard sailed silently above the distant hills. Below me a small fish lay resting close to the bank away from the current of the water.
I turned and walked into the dark and cool shade of the mountain forest and began to climb. The air was fragrant with the scent of decaying leaves. A few squirrels chattered noisily overhead so absorbed in their play that they did not see me until I was below them. Then they silently disappeared into the tree tops. As if to disturb the silence a bird chirped and a hawk darted through the trees. A car horn blew somewhere below. Further up the mountain some bees flew lazily in and out of an old hollow tree.
Soon the forest broke away and I came to a field of grass stretching upward with occasional groups of trees offering shade from the hot sun. At the top of the field I looked back and saw the fields in the valley below with a few cattle here and there. A farmer was mowing hay seemingly beneath my feet. Aside from this there was no movement near the house below. The sun was slowly sinking behind a distant mountain as I turned by steps regretfully toward home and supper.

by Duane Bristow
November 21, 1962
How the message came I do not know. But I know that it came when all was gloomy. It said, "Rejoice and prepare for Spring is coming and following it will be Summer. Behold, Winter is dead." So the message came and the spell of Spring fell on all the forest.
And it seemed as if it were the rebirth of life on Earth. The birds sang as they had never sung before. The trees lost the sad air of Winter and began to dress in green, the color Summer likes most. The flowers peeped from the hiding places to be sure Winter was gone before they came forth to bloom and spread their blossoms in the path of Summer.
And so it was and again the message came. Only this time it said, "Cease your preparations and go forth and meet him for Summer is here." And so the birds, the trees, and the flowers went forth and met Summer and they circled themselves around him and he spread his warm smile over all. But alas, the could not spend all their time in rejoicing so they went about their work but they still found plenty of time to lie in the sun and enjoy Summer.
And again the message came and this time it saddened the hearts of all for it said, "Say goodbye to Summer and dress in your finest for Autumn is here." And because they knew they would not have long before the extended Winter, the herbs grew as they had not grown before and the herbs and the trees produced seeds, and the animals stored food for the Winter months. And then the herbs went back into their hiding places to escape the wrath of Winter. The trees put on bright colors to try to entice Summer to remain yet a while. Now it was time for that great ceremony which comes only once a year and which few see. All that vast forest stopped still in its tracks as if stopped by an invisible hand to look both ways before proceeding at such a great pace. And, looking backward, it paid a last tribute to summer and, looking ahead, it stopped to catch its breath before plunging into Winter.
And the brook settled into deep and mysterious pools and babbled over the rocks. And the bright leaves fell from the trees into the pools adding a touch of color to that darkness. And they fell on the floor of the forest to spread color over all. Through the holes in the dome of the forest left by the falling leaves the sun peeped and played with the bright colors. And in the trees the birds could be seen as could the squirrels and in the grass the rabbits were abundant for these creatures could not now hide behind the leaves of summer.
And so it was in that forest and Winter lay his spell over all. The Winter was beautiful many times when the frost would cling to the tree tops and the snow covered the ground. And the sun would come out and make the frost and the snow sparkle. But the creatures of the forest could not see this for it was cold and they were hungry. They patiently awaited the message that would again tell of the coming of Spring.
And so it was in that land and the mysterious messages would come and each time a message came nature would change her mood and a different spell would fall over all.

The land was flat in the valley but on two sides high hills rose steeply toward the sky. Near the center of the valley many dark humps showed faintly in the starlight. These were the Texas Longhorns which had traversed the miles of Chisholm dust. In a nearby clump of trees firelight flickered. A low hum of voices could be heard occasionally punctuated by the plaintive lowing of a steer.
It was a crisp cold night after the hot day. Overhead the stars were bright and lonely. Then the low sad cry of a harmonica shattered the night's loneliness into a thousand pieces. The music drifted over the valley and engulfed the hearts of all. For fifteen minutes the sound swelled on the breeze and brought back old, long forgotten, memories. Then as suddenly as it had begun the sound ceased and the stillness that descended on the valley was even deeper than before. In the camp no one spoke. The steers ceased their lowing and the only sound was the ripple of the breeze in the leaves. The hum of voices gradually resumed and seemed immensely louder after the preceding silence.
A little later the camp became quiet as the men sought their bedrolls. Two of them emerged from the trees to take their places beside the herd to await the distant dawn. Then after even the restless steers were asleep a giant golden ball rolled over the horizon and bathed the valley with a cold light. But none were there to see its beauty except the two lonely night herders. And so, outside the reaches of civilization, the life of the drover goes on.

The big black clouds in the southwest were fast approaching. As the grasshoppers in the stubble of the hay field hopped about them, the three men worked harder loading and placing the heavy bales of hay on the large wagon. A toad hopped out of the way just before a big wheel of the tractor rolled over his previous hiding place. There would be room on the wagon for the hay, but if they did not hurry, the men would have to take a good soaking to save the last few bales in the field.
There had been no rain for two weeks now but the skies had been threatening for days. This would probably just be a summer thundershower, wet enough to ruin the hay and stop all work for a few days but not wet enough to help the parched corn. But it would, maybe, tide the corn over until the next rain.
There were only a few more bales to go but already the tractor driver could feel a drop of rain on his bare chest now and then. As the rain began to pelt down the men worked faster. The rain was beginning to pour as the last bale hit the wagon bed. As the wagon set off for the hay shed at an unusually hurried pace the men had a chance to look about them.
The cool rain beat upon their bare chests and backs as the lightning flashed and the thunder roared in the sky.
They drove the tractor into the shed and stood in the doorway watching the rain. Close to the horizon a lone ray of sunlight streaked down from the golden edge of a cloud.
The rain beat down on the tin roof of the shed as they unloaded the hay and by the time they finished the rain had stopped. Their backs glistening with sweat they stood outside the shed and marveled at the scene before them. The clouds were broken now and tinged with the golden light of the sun. There was a fresh clean smell in the air. A buzzard floated lazily over the fields. Droplets of water dropped off the tree beside the shed and reflected the sun's light.
And these were the fruits of labor.

or a Voice Crying in the City
by Duane Bristow
October 1966
"I dream and dream with lids half shut,
the moonlight in my eyes"
As I sit in my cell of a hotel room I dream of days gone by and of a far land, a land of sunshine and babbling streams, of the cries of crows and the silent fall of giant flakes of snow, of a hundred million things of beauty far beyond the wildest imaginings of you city dwellers, you scurrying, restless, close-packed people in a never ending search for the peace you have lost.
Outside my window I hear the clashing of gears, the shouts of men, and the hum of air conditioners. This will continue through the night until the morning hours. And I dream of standing in a field of freshly mowed hay under the ethereal light of a full moon or under the mysteries of the ancient patterns of stars beyond number stretching into the beginning of time. I feel the coolness of the night. I smell the sharp sweetness of the hay. I am uplifted by the grandeur and the silence until I can sense the presence of God.
Oh, ye who call yourselves men and the sons of men, why do you so crowd yourselves together between walls of towering buildings which shut out the sun, the moon, the stars, and the open sky? Why do you live this artificial life with artificial lights? Why must you have wheels? Will not your legs work? Why do you breathe this dust, this smoke, and smog? What good are your white shirts and your ties, your gold-headed cane and your businesslike air? If this is happiness, then I beg of my God, "Please never let me be happy."
Yes, why am I here in this room? Why have I left the land of my birth, the land from which my strength comes? Here, indeed, is my job. Here I get the money which feeds and clothes me. Here is freedom from physical wants. And here my mind and soul will die as in a cage. Will I trade happiness for security? What good is it to me if my life is secure? What good is life without happiness?
Man was made to bake his bread, hunt his food, and live his life under an open sky. This city life is foreign. Its values are material and superficial. Man was made to stand tall in the storm while the lightning flashes around him to light the darkness of the night. He was made to step lightly along a forest trail amidst the slanting rays of the sun with his head held high and his shoulders back. He was made to breathe fresh mountain air and to drink clear, cold, spring water.
So in my hotel room I dream. Of a nest of young hawks on a high mountain cliff, of the flight of an eagle, of the howl of a wolf, of the early morning bite of frost in the air. Of a mountainside of autumn color, of a deep still pool hidden in a valley creek, of a deer testing the air currents. Of a fresh bucket of spring water, of a summer shower. Of cedars bending beneath the weight of last night's snow, of the warmth of a pot-bellied stove, of a garden free of weeds. Of the smell of wood smoke and frying bacon, of the ring of an ax on a fall morning, of quiet walks in a silent wood.
And tomorrow I will leave the city for a cabin on a hill. For the home of a man.

by Duane Bristow
1961
A soft breeze moved the yellow leaves of the big maple tree slowly to and fro. In the tall red and yellow zinnias growing beside the porch a bee droned lazily. Overhead small white clouds drifted as though pushed by a giant invisible hand. The green mountain was speckled with red and gold. A solitary hawk circled slowly over the fields which were covered with the blossoms promising seeds for many plants next year.
I walked back through the thirsty fields which had not had rain for over a month. The cattle grazed quietly on a field of green stretching like a blanket over the rolling hills. The sun slowly sank behind the western mountain and the clouds above the mountain's crest were like red fish scales scattered over the heavens.
The hawk had gone and in its place was a plane, its tail catching the last feeble rays of the setting sun. I drove the cattle slowly back to the barn and, after I had fed them, I stood for a moment on the hill where the old barn was silhouetted against the sky. The barn's electric lights tried vainly to compete with the millions of lanterns God had hung in the sky. The lights of a neighbor's house seemed like warm spots of friendliness in the darkness.
As I walked back into the barn my nostrils were assailed by the scent of new mown hay. Letting the cattle out of their stalls I thought of the hot supper awaiting me, and as I hastened my steps toward the house a falling star seemed to be waving good night.

by Duane Bristow
Summer 1966
A man once, in hurrying along his road, chanced to spy a bed of roses hidden under a bushel for his perception was keen. The man picked one of the roses and enjoyed its fragrance as he went along his way. Further along the road the man met a group of blind men hastening to find a thorn. In fear, lest the roses should be trampled by the blind in their haste, the man drew one of the blind men aside and described the rose to him letting him smell and feel it.
The blind man then asked the way to this bed of roses and, after being told, persuaded his companions to search with him for the roses and forget their thorn. But alas, the blind man, not having himself a clear picture of a rose, and his companions also being blind, was unable to describe the beauty of the rose nor could he tell them just where to find the roses. So they did not know when the came upon the bed of roses and they trampled them into the ground. After searching for a time the men found a thorn and, thinking it was a rose, were saddened because the thorn did not approach the beauty of the rose which had been described to them.
Thus, it is that only sadness can follow when the blind lead the blind.

by Duane Bristow
...and the greatest and most precious Gods of all are the Gods of Life and Love.
The close-cut grass made no sound as the soft moccasins of the man and the woman approached the brow of the hill. Below them, in the valley, their sacred home was flooded by the light of the full moon. On the top of the hill he slipped his shirt off revealing fine sun-bronzed muscles as if in contrast to his kind and simple face.
Slowly, one-by-one, she unfastened the buttons of her white blouse and let it fall beside his shirt. She stood there, her golden hair dancing in the moonlight and her proud face held upward as if reaching for the very stars. The mild spring wind caressed her bare breasts as she breathed the blossom laden air. Her strong brown arms were raised upward as if paying homage to a God only she could know. Her skirt billowed around her smooth, brown legs as she stood facing him under the starry universe.
They both walked forward and embraced each other as somewhere across the desert a coyote howled his lonely song. The could each feel the warmth of the other's bare breast as they stood alone and proud in the moonlight and as their lips met the mysteries and secrets of time itself were laid open before them.
...and indeed theirs was a love that was greater than love.

by Duane Bristow - 2011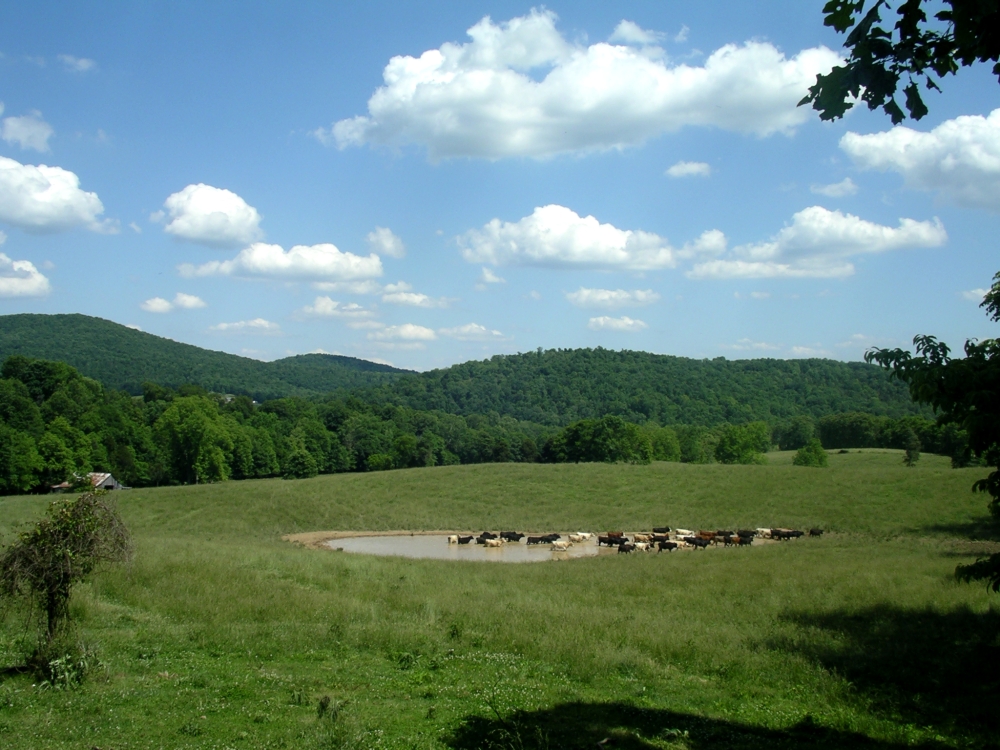 I have walked this land, this ancient land, in the footsteps of those who came before me.
I have loved this woman, this loving woman, and we made and raised a family.
I have created books and poems and pictures and computer programs and a philosophy.
I have learned all manner of things and became a Jack of many and a King of none.
I have worked and fought and made a living for my family and cared for them and produced many goods and services.
I have enjoyed living and had a lot of fun.
Death may come and take me but the fact that I existed can never be erased from the fabric of this universe and is an integral part of it.
So, There!

Song of Hiawatha by Longfellow
Don Juan by Lord Byron
The Iliad by Homer
The Bible - Esther
The Bible - Job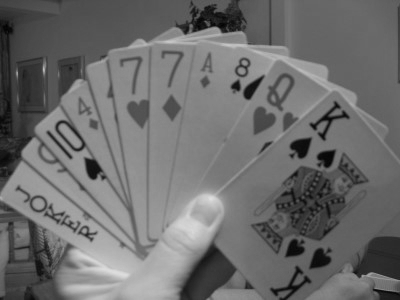 Players - from two to six each playing for himself or as partners. (see below.)

Cards - Three 52 card decks plus six jokers - 162 cards Aces rank high only. Twos and Jokers are wild. Cards other than wild cards are natural cards. Threes (and sometimes fours) are stoppers.

Deal - Draw for deal. Low card deals or winner of last game deals. Deal passes to the left. The dealer shuffles the cards, lets the player to his right cut the cards and deals one card at a time to each player beginning at his left until each player has the proper number from the table below. The remainder of the pack is the stock with one card turned face up to start the discard pile.


 # of                    cards    canastas 
Players  playing        on deal   to go out
   2     individually     15        4      
   3     individually     13        3      
   4     individually     11        2      
   5     individually      9        2      
   4     2 partnerships   11        5      
   6     2 partnerships    7        5      
   6     3 partnerships    7        3      

Play - Each player beginning with the player to the dealer's left draws, melds or lays off (optional) and discards. Discard is optional if going out. (see below) To meld is to play a set on the table in front of oneself. To lay off is to add to a set already melded. The discard is always one card from the hand placed face up on the discard pile. The discard pile is always fanned. Discarding ends a player's turn and play passes to the left.

Sets are three or more cards of the same rank called a group or three or more in sequence of the same suit. Wild cards can substitute for any natural card but wild cards are not declared and can be anything needed in the meld. For example in a 7, 8, wild card sequence, the wild card can take the place of either a 6 or a 9 and if a six is played it then becomes either a 5 or a 9. A set must have at least two natural cards and can never contain more than two wild cards unless it is a wild card set.

The draw may be two cards from the stock or a player may take from the discard pile instead as below:

If the top card of the discard pile cannot be layed off it may be taken alone.

However, if the top card can be layed off and he takes it the player must lay it off or use it in a new meld and take all cards in the discard pile as well.

Or, he can take any card below the top card in the discard pile and all above it, but the bottom card taken must be melded immediately. A card taken from within the discard pile can only be melded with at least two natural cards from the hand. In this case, the player should first lay down the natural cards from his hand, then play the bottom card taken from the discard pile before picking up the cards above it.

A canasta is at least seven cards in a set.

Stoppers cannot be played or taken from the top of the discard pile into the hand. They may be discarded. Two stoppers in the hand prevent a player going out.

Sets may be combined when they adjoin properly even across the table with a partner's set.

A joker played on the table may be exchanged for a card from the hand provided the card from the hand replaces the joker in the set.

Once played, a card (except jokers when replaced) may never be removed from a set.

A player may not lay off on another player's meld except in partnership play as below.

Three or more wild cards may be melded as a wild card set. A wild card set may contain any number of twos and jokers but its point score is doubled if they are not mixed in the same set.

Going out - A player may go out ending play for that hand only if he has at least the required number of canastas and plays or discards the last card in his hand. If a player, otherwise able to go out, discards his last card and does not say, "I'm out.", play continues.

If the stock is exhausted without any player going out, the discard pile except the top card is shuffled and turned over to form a new stock and play continues until only one card remains or only stoppers remain or a discarded card is taken and discarded completely around the table without being played or kept.

Partnership play - if four or six play, they may play in partnerships of two or three and a partner may play on his partner's sets. On his turn a player may ask his partner, "May I go out?" and he is bound by his partner's answer. Either partner of a partnership may go out if the partnership has the required number of canastas but not before. Partners may not discuss their hands or strategy during play.

Score - Cards played count plus point value. Cards in hand count minus point value. Canastas in hand count minus also. Canastas in hand must be counted as highest possible value. A game consists of seven hands or play until one player has accumulated at least 4 times the winning score of the first hand plus 1000 points or until the highest scoring player has a cumulative score of at least 1000 more than that of his closest opponent.


Card                  Points
4-7                      5  
8-10                    10  
Face cards              15  
Aces                    20  
Twos                    20  
Jokers                  50  
Threes                  50  
Fours (if stoppers)    100  
                            
Canasta:                    
      Mixed            100 with wild cards
   or Natural              no wild cards
         7 - 8 cards   200  
      or 9 - 10 cards  300  
      or 11 cards      400  
      or 12 cards      500  
                            
Going out              100  

Wild cards in an unmixed wild card set count double.
An unmixed wild card canasta counts double. (no jokers)


Albany Canasta Deluxe
Played like Albany Canasta with any combination of the following options:

1. Red 3's and 4's option - stoppers
Fours are played under the same rules as threes except that if caught in the hand fours count minus 100 points.

Three or more red threes or three or more red fours may be melded at any time. A three or four meld may not, however, contain any wild cards. Black threes or fours may not be melded. Melded threes count plus 50 points and melded fours count plus 100 points. No three or four may be taken from the top of the discard pile nor may they be taken as the bottom card from the discard pile to be melded immediately. They can only be taken with other cards. If an entire meld of threes or fours is of the same suit, it counts double.

2. Three of a kind option
If a group of the same suit other than stoppers or jokers are melded alone then they count 50 points each rather than their normal point value. These melds may, of course, be combined later if desired but they would then revert to their normal point value.

3. Take up option
If a player takes any card in the discard pile and all above it, the bottom card taken must be melded immediately. In this case, the player should lay on the table the bottom card taken, pick up the cards on the discard pile above it and then play at least two more cards with the bottom card to complete the meld. The meld must include at least two natural cards but can also include up to two wild cards. None of these cards have to be from the hand originally but can be.

4. Third Stock Card option
If a player declines to take from the discard pile but instead to draw from the stock, he first turns the top card of the stock face up and discards it to the top of the discard pile. He then draws his two cards from the stock, plays and discards. This option adds complexity to the game and less control by the players, particularly good in two player games.

5. Dead card option
If a player takes two cards from the stock, he then takes another card, turns it face up and places it aside on a fanned dead card pile. Cards in this pile are out of play for the remainder of the game. This variation is best for two player games or two partnership games. If this option is played 1 less canasta is needed to go out. It is optional whether the dead cards are shuffled in with the discard pile if the stock becomes exhausted.

6. Auction option
After he has drawn but before he plays any cards or discards a player may lay any number of cards from his hand face up toward the center of the table as an offering. Then each player who is not his partner beginning with the player to his left may pass or place any number of cards or no cards face up toward the center of the table as a bid. The offering player may then choose any bid and exchange the offering for the bid or he may reject all bids and put his offering back into his own hand. Only one offering may be made per player's turn.

7. Extra discard option
As soon as a player discards he turns up the top card from the stock and puts it on the discard pile completing his turn. This variation lends more chance to the game and less control by the players.

8. Odd man option
If there are 3 or 5 players, in any hand after the first the players with lowest scores may elect to play partners against the player with the highest score. If this is done the partners each get half the score made by the partnership at the end of the hand. If there are five players the 2nd highest score must partner with the lowest score and numbers 3 and 4 must partner. With 3 players partners must have 5 canastas to go out. With 5 players they must have three.

9. Money option
When the game is over each loser pays the winner or winning partnership 1 cent for each point difference between their score and the winner's score.

My favorite Albany Canasta includes options 1, 2, 3, and 9.
Also option 5 if there are only two players.


Game rules by Duane Bristow 
73 Old Cowan School Road    
Albany, Kentucky  42602     
(606) 387-5884              
http://www.kyphilom.com
Duane@kyphilom.com     
March 28, 1993         
     
                 Albany Canasta Score Sheet - Game/Date ________________
                                              Options:  ________________
Player:                      1       2       3       4       5       6
     
Hand number:
1  dealer 1
     Going out             _____   _____   _____   _____   _____   _____
   - In hand canastas      _____   _____   _____   _____   _____   _____
   - In hand cards         _____   _____   _____   _____   _____   _____
   + Canastas              _____   _____   _____   _____   _____   _____
   + Played cards          _____   _____   _____   _____   _____   _____
                play to:
   Hand Total    _____     _____   _____   _____   _____   _____   _____  _____

2  dealer 2
     Going out             _____   _____   _____   _____   _____   _____
   - In hand canastas      _____   _____   _____   _____   _____   _____
   - In hand cards         _____   _____   _____   _____   _____   _____
   + Canastas              _____   _____   _____   _____   _____   _____
   + Played cards          _____   _____   _____   _____   _____   _____

   Hand Total              _____   _____   _____   _____   _____   _____
   Game Total              _____   _____   _____   _____   _____   _____

3  dealer __
     Going out             _____   _____   _____   _____   _____   _____
   - In hand canastas      _____   _____   _____   _____   _____   _____
   - In hand cards         _____   _____   _____   _____   _____   _____
   + Canastas              _____   _____   _____   _____   _____   _____
   + Played cards          _____   _____   _____   _____   _____   _____

   Hand Total              _____   _____   _____   _____   _____   _____
   Game Total              _____   _____   _____   _____   _____   _____

4  dealer __
     Going out             _____   _____   _____   _____   _____   _____
   - In hand canastas      _____   _____   _____   _____   _____   _____
   - In hand cards         _____   _____   _____   _____   _____   _____
   + Canastas              _____   _____   _____   _____   _____   _____
   + Played cards          _____   _____   _____   _____   _____   _____

   Hand Total              _____   _____   _____   _____   _____   _____
   Game Total              _____   _____   _____   _____   _____   _____

5  dealer __
     Going out             _____   _____   _____   _____   _____   _____
   - In hand canastas      _____   _____   _____   _____   _____   _____
   - In hand cards         _____   _____   _____   _____   _____   _____
   + Canastas              _____   _____   _____   _____   _____   _____
   + Played cards          _____   _____   _____   _____   _____   _____

   Hand Total              _____   _____   _____   _____   _____   _____
   Game Total              _____   _____   _____   _____   _____   _____

6  dealer __
     Going out             _____   _____   _____   _____   _____   _____
   - In hand canastas      _____   _____   _____   _____   _____   _____
   - In hand cards         _____   _____   _____   _____   _____   _____
   + Canastas              _____   _____   _____   _____   _____   _____
   + Played cards          _____   _____   _____   _____   _____   _____

   Hand Total              _____   _____   _____   _____   _____   _____
   Game Total              _____   _____   _____   _____   _____   _____

7  dealer __
     Going out             _____   _____   _____   _____   _____   _____
   - In hand canastas      _____   _____   _____   _____   _____   _____
   - In hand cards         _____   _____   _____   _____   _____   _____
   + Canastas              _____   _____   _____   _____   _____   _____
   + Played cards          _____   _____   _____   _____   _____   _____

   Hand Total              _____   _____   _____   _____   _____   _____
   Game Total              _____   _____   _____   _____   _____   _____

   Difference from highest _____   _____   _____   _____   _____   _____
   Circle each winning hand.  Circle game winner's name or number.
   If playing partners write scores only in 1st two or three columns.
# of                    cards    canastas  
Players  playing        on deal   to go out
   2     individually     15        4      
   3     individually     13        3      
   4     individually     11        2      
   5     individually      9        2      
   4     2 partnerships   11        5      
   6     2 partnerships    7        5      
   6     3 partnerships    7        3      
                                           

Score - Cards played count plus point value. Cards in hand count minus point value. Canastas in hand count minus also. Canastas in hand must be counted as highest possible value. A game consists of seven hands or play until one player has accumulated at least 4 times the winning score of the first hand plus 1000 points or until the highest scoring player has a cumulative score of at least 1000 more than that of his closest opponent.

Card                  Points
4-7                      5  
8-10                    10  
Face cards              15  
Aces                    20  
Twos                    20  
Jokers                  50  
Threes                 -50  Fours (if stoppers) 100
Canasta:                                             
      Mixed             100 containing any wild cards
   or Natural               containing no wild cards 
         7 - 8 cards    200 
      or 9 - 10 cards   300 
      or 11 cards       400 
      or 12 cards       500 
Going out               100 
Wild cards in an unmixed wild card set count double.
An unmixed wild card canasta counts double. (no jokers)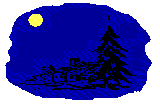 Last revised April 2011.
URL: http://www.kyphilom.com/www/sm/sm4.htm
Please send comments.
All contents copyright (C) 2011, Duane Bristow. All rights reserved.