---
history of: lafever, nora linnie (bristow)
family and social relationships of: lafever, nora linnie (bristow)
ancestor and descendent family tree of: lafever, nora linnie (bristow)

paternal grandfather: lafever, asher - m 1850/11/14
paternal grandmother: elrod, canzada (lafever) - f 1854/02/12
father: lafever, luke gilliam - m 1885/03/14

mother: goff, america alice (lafever) - f 1891/07/17
maternal grandfather: goff, james m. -jimmy- - m 1854/02/01
maternal grandmother: bozarth, mary elizabeth "betty" (goff) - f 1871/06/18






 





date of birth:  1922/03/14


place of birth:  baxter, tennessee






 





date of death:  1994/09/18


cause of death:  heart, diabetes, multiple sclerosis


place of death:  cookeville, tennessee                   


place interred:  gap creek cemetery, wayne county ky     






 





spouse:  how to make money on amazon 2022 - 1942/04/27 to ----/--/-- - married in albany, ky while jesse was awol from ww ii.






 








acquaintance: burchett, jimmie edith (maupin) - f 1925/06/04 - 1950/01/-- to ----/--/-- - friends - neighbors for over 40 years.

housekeeper, factory worker, farmer, housewife, invalid

1937/--/-- went to richmond, indiana and began working as a domestic servant.
1942/--/-- began work in a factory in richmond, indiana
1950/01/-- moved into new home near albany, kentucky and had seizures.
1974/--/-- multiple sclerosis caused loss of ability to walk. confined to a wheel chair.
1987/09/-- hospitalized for bed sores and spent the rest of her life in nursing homes
1988/04/30 admitted to master's health care center in algood, tn where she spent the rest of her life making latch hooks.

               
nora lafever and her twin sister, dora,  had six older brothers and sisters 
and four who where younger than them.  it was difficult living on a tennessee 
farm in the middle of the great depression.  nora's older brothers, charlie 
and herschel, had gone to indiana to find work and ended up as farm hands for 
a farmer named weaver.  when mr. weaver needed a housekeeper they suggested 
their younger sister, nora, and sent for her to come to indiana.  this was 
1937 and nora was fifteen years old.  by the time she was twenty she had 
worked as a housekeeper for the weavers and a nannie for madge reid, a school 
teacher in richmond who had two children, and then worked at perfect circle 
making piston rings.  by then her older sisters, myrtle and ada, were married 
and ada and her husband, amon, were living in michigan and myrtle and her 
husband, hose, lived on a farm in southern tennessee.  her sisters, dora and 
lorene, had also come north looking for work.  lorene stayed with nora for a 
while and worked with her at perfect circle.  then lorene moved on to michigan 
and probably stayed with ada and worked there.  eventually she married and 
moved back to tennessee to live on a farm with her husband, claborn, and work 
in a garment factory. 

in 1942 both nora and dora married. 

in 1943 ada had returned from michigan to her and amon's small farm in 
tennessee and nora's new husband, jesse, had been sent overseas in the army to 
fight in the pacific theatre.  ada was pregnant with her second daughter so 
nora stayed with her for a while on the farm to help out.  by 1944 ada had her 
baby and amon returned to tennessee to live for a while on the farm.  nora 
returned to richmond, indiana and worked at belden making wire and when 
jesse's unit was returned to the states temporarily to an army base in spokane 
washington, she and another army wife drove a 1939 buick she had purchased 
from indiana to washington where they stayed for a week or two with their 
husbands. 

in early 1945 the war was over and jesse returned to richmond to work at 
belden with nora.  in 1947 nora had her first child, a son she named roy 
duane.  later that year her brother, kenneth, returned from his army duty in 
the occupation of germany and came to richmond looking for factory work.  he 
stayed with jesse and nora and the new baby at first but soon bought an 
apartment house and moved into the attic of it so he could rent out all four 
apartments.  

in 1949 jesse's grandfather, dr. samuel w. bristow, sold jesse a farm near 
albany in southern kentucky and asked him to move there to help take care of 
him and his wife, jesse's grandmother, ellen, as they aged.  so jesse and 
nora, who was again pregnant, and their son moved to albany and stayed with 
the doctor and his wife while they built a house on the farm where they could 
live.  in january 1950 they had moved into the house on the farm and nora gave 
birth there to a daughter, karen.  during or after the birth she had a seizure 
and she continued having occasional seizures for the next thirty years.  
eventually she was diagnosed with multiple sclerosis.  by the early 1970s she 
was unable to walk and had to use a wheel chair for the rest of her life.  she 
worked hard with jesse on the farm as long as she could. 

in 1975 jesse died from lung cancer and karen, who had been teaching school in 
eastern kentucky, returned to the farm to care for her mother.  in 1979 duane 
who was a forester returned to the farm and built a house there and karen 
married and left.  by the late 1980s, nora had to go to a nursing home and 
eventually due to diabetes, both legs were amputated.  she died in a nursing 
home near cookeville, tennessee in 1994. 

jesse & nora & duane bristow - 1947
the bristow famiy and eva harlan 1950s
nora lafever bristow - 1942
the bristows
jesse, nora, & duane bristow
nora bristow
nora bristow
nora & dora lafever
movie of nora at the nursing home in algood, tn in the 1990s.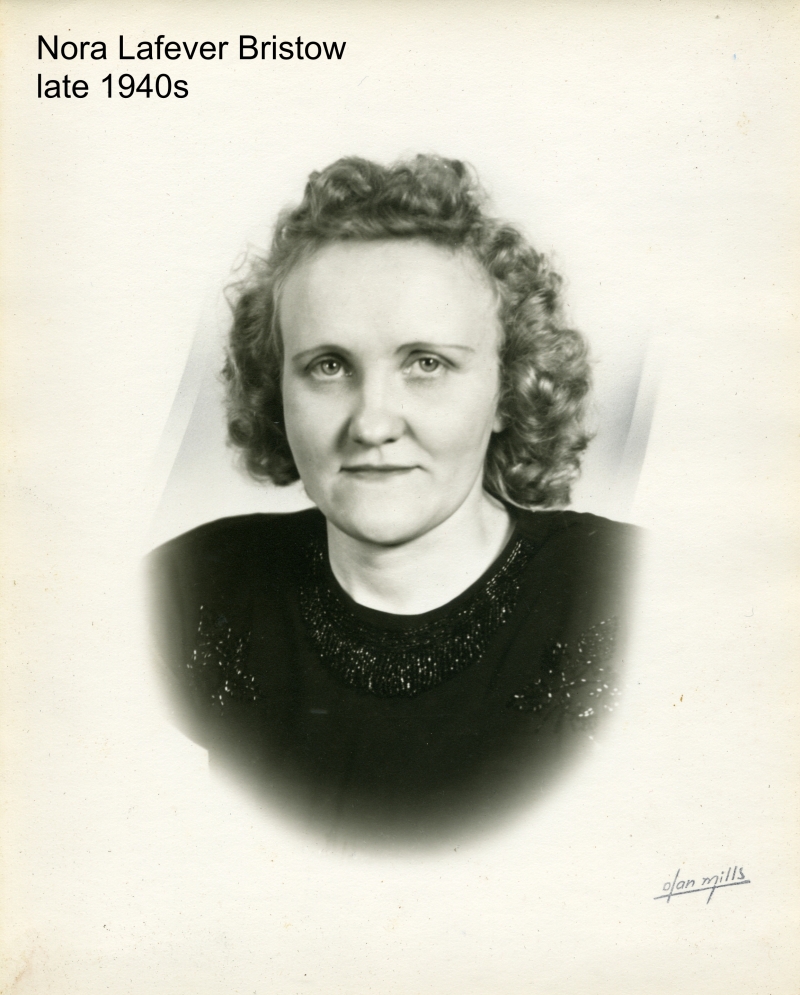 nora in the late 1940s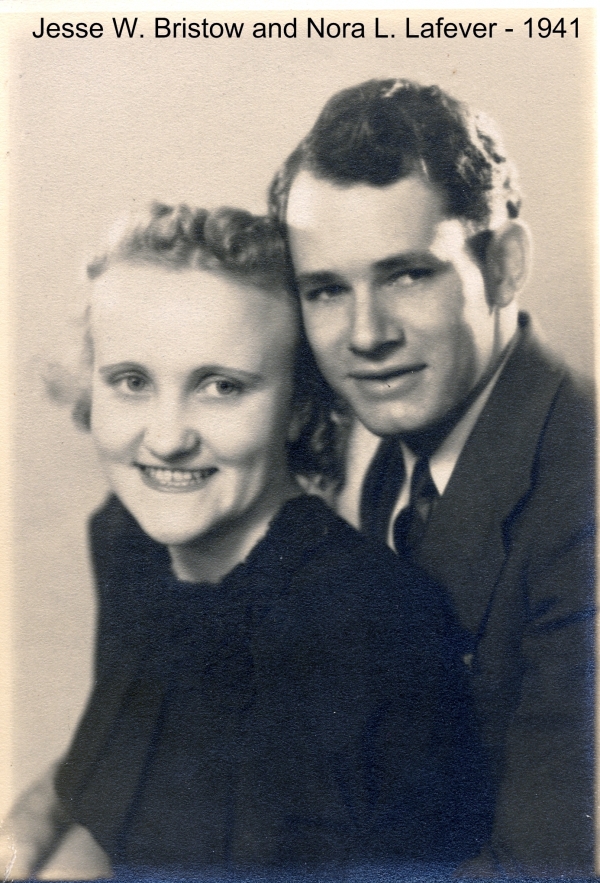 jesse bristow and nora lafever - 1941
nora and her grandmother, betty goff, holding duane with ada & linda
nora, kenneth, duane and karen at the farmhouse in kentucky - 1950.
nora bristow at glen miller park in 1943.
a phone call from duane in 1973
002a
---
please use the email address below to send me corrections or additions for this page. i will add it when i have time and regenerate new web pages.

duane bristow (duane@kyphilom.com)
please send comments.
---