---
history of: hopper, lillie (bristow, davis)
family and social relationships of: hopper, lillie (bristow, davis)
ancestor and descendent family tree of: hopper, lillie (bristow, davis)

paternal grandfather: hopper, john - m 1846/03/21
paternal grandmother: norfleet, sara (hopper) - f 1850/08/23
father: hopper, thomas - m 1878/12/06

mother: lyons, addie (hopper) - f 1885/04/20
maternal grandfather: lyons, john - m 1843/03/13
maternal grandmother: wood, mary jane (lyons) - f 1849/09/28

date of birth: 1902/04/27
place of birth: cooper, kentucky

date of death: 1988/08/30
cause of death: leukemia
place of death: richmond, indiana
place interred: gap creek cemetery wayne county ky

spouse: davis, daniel c. - m 1891/--/-- - ----/--/-- to ----/--/-- -
spouse: bristow, roy prentice - m 1892/12/25 - 1918/02/03 to ----/--/-- - married in byrdstown, tn

farmer, boarding house keeper, store clerk


               
the bristow family with roots in south central kentucky since the early 19th 
century was headed through the second quarter of the 20th century by dr. s.w. 
bristow, a widely known and honored country doctor in clinton, wayne, and 
cumberland counties. though always poor, dr. bristow saved money all his life 
cumberland counties. though always poor, dr. bristow saved money all his life 

and invested it in land. 



thomas hopper, a twenty-one year old fiddle player, married addie lyons, a 

sixteen year old daughter of a strait laced farm family in april of 1901.  a 

year later on april 27, 1902 they began their family which would by 1917 

include eight children, with the birth of a girl, lillie.  they lived at happy 

top near zula in wayne county, kentucky.  just down the road lived doctor sam 

bristow, a well known country doctor in that area, and his wife ellen and two 

sons, roy and mac.  the hopper family included six girls and two boys.  doctor 

bristow had to pass by the hopper house when he made housecalls and he was 

often seen riding by on horseback.  sometimes he would return late at night 

with a glowing coal oil (kerosene) lantern hanging from the horse's saddle. 



roy bristow was ten years older than lillie hopper, the oldest of the hopper 

children.  in february 1918 when lillie was fifteen years old and roy was 

twenty-five they decided to marry.  lillie knew that her father wouldn't let 

her marry and in kentucky she would have to have his permission.  she arranged 

with her mother to let her stay overnight saturday night with her uncle, 

addie's older brother, ike lyons.  ike lived on a farm at the foot of poplar 

mountain about five miles from the hopper's home.  his farm was just across 


mountain about five miles from the hopper's home.  his farm was just across 
the mountain from duvall valley and from there it was not too long a ride by 
horseback to tennessee.  lillie rode to her uncle ike's place in the afternoon 
and roy rode his horse and met her there.  they started out riding and rode 
all night.  they got to byrdstown tennessee about daylight sunday morning, 
february 3rd.  they found where a preacher lived and knocked on his door 
getting him and his wife out of bed and asked him to marry them.  he agreed.  
the preacher's wife had done her washing the night before and since it was 
winter she hung the laundry from clothlines stretched throughtout the house so 
that the heat from the stove would dry the laundry during the night.  lillie 
and roy were married standing among the laundry. 

they started housekeeping on a small farm on pott's creek that roy had bought 
just down the road from his parent's home.  they worked hard on the farm and 
in march 1920 lillie had her first child, a boy she named jesse.  they seemed 
unable to make a living farming and word came that there was a railroad strike 
in indiana and the railroads were scouting for kentuckians to come to work on 
the railroads to break the strike.  in about 1922 roy and lillie took their 
young son and moved to richmond, indiana.  

the people there were frugal german and central european stock unlike the 
anglo saxon and french people of kentucky and tennessee.  they resented the 
back country hicks moving in from the south and taking their jobs.  the 
general pattern was that the husband would go to the north and find a job and 
a place to live.  then he would send for or return and get his family.

as a result the southerners tended to move into areas where other southerners 
lived and when roy found work and a place to live he went for lillie and 
jesse. roy and lillie and jesse moved from house to house all over richmond 
and took in other kentuckians as boarders. eventually roy went into 
contruction work and traveled to louisville and chicago while lillie and jesse 
stayed in richmond. there was a continuous turnover as lillie's boarders would 
find a place to live and new arrivals would move in.  so roy worked while 
lillie ran a boarding house. 

when he returned to kentucky to get his family roy brought with him bill 
adler, a friend he had met in indiana. when he moved his family to indiana, 
lillie's two sisters, zella and ollie went there too. eventually ollie married 
bill adler. zella married bill gorsuch and they lived in dayton ohio.

in 1928 when she was 26 years old lillie had her second boy, larry.  the next 
year roy was injured in an automobile accident and became unable to work.  
they were forced to return to the farm in kentucky just at the beginning of 
the great depression.  

doctor bristow, roy's father, had a brother, prentice, who had moved to texas 
and was a doctor there.  prentice had begged sam and ellen to come visit him 
for a number of years.  in the summer of 1930 they decided to do that and were 
gone to texas for a period of time that was probably two weeks or more.  
during the time that they were gone, roy died from a bowel obstruction.  dr. 
sam returned and blamed himself for not being there.  he thought that he could 
have saved his son if he had not taken the only vacation he ever took.  he 
swore never to leave again. 

lillie was left to live on a farm with a ten year old boy as her only help and 
to care for a two year old child.  dr. sam told her he would pay roy's funeral 
expenses if she would sign a paper agreeing that she would never remarry.  she 
refused to do that and instead sold a twenty acre field off her farm to get 
money to pay for roy's funeral.  it was over twenty years later before she got 
enough money ahead to buy back that field.  because she would not agree not to 
remarry, dr. sam refused to furnish any support for lillie and her two 
children.

when roy died in 1930, lillie's younger sister, mae, moved in with her to help 
take care of the children. mae was 17 at the time. in 1933 she married elbert 
beck and they moved to indiana. 

dan davis was orphaned when his dad was killed in coal mines in duvall valley. 
this was at christmas when dan was small. his mother died shortly after. he 
lived with mean foster parents. he worked for a farmer named byers in the 
guinn valley of clinton county kentucky.  he came down with pneumonia and a 
doctor removed one lung on the kitchen table of the little shack where dan 
lived.  it took him two years to recover.  during his recovery the farmer's 
daughter cared for him and eventually he married geneva byers. they went to 
michigan where he hoped to do farm work but he heard there was work in 
richmond, indiana and they moved there and lived next door to roy and lillie 
bristow in the 1920's. jesse and lillie liked neva. geneva died from 
complications after an operation in 1934. dan, always shy and bashful, was 
overcome with grief. 

in 1935 lillie took her two children back to richmond and married dan davis 
who had been widowed from his wife geneva in 1934 and who had a son, don.  don 
was almost the same age as larry. 

jesse began high school in richmond but after he had gone two years world war 
ii started and he was drafted into the army in 1941.  he married in 1942 just 
before being sent overseas where he was gone for almost three years.

larry completed high school and joined the navy after the war.  he stayed in 
the navy until he retired in florida years later.

in 1947 dan and lillie bought a house at 421 south 9th street in richmond. dan 
worked for the richmond gas company and in 1962 dan committed suicide due to 
poor health. lillie worked at that time and until she retired as a clerk in 
two or three department stores on main street in richmond. 

in 1943 doctor sam bristow bought several adjoining tracts of land in the 
cowan community in the guinn valley of clinton county from leo sewell and 
lloyd (poore or parragin). in 1946 dr. bristow sold most of this farm in the 
parmley hollow to his two grandsons, jesse w. and larry e. bristow. jesse had 
returned from the war and he and his wife, nora, were doing factory work in 
richmond.  dr. sam asked jesse to return to kentucky to be available to help 
take care of him and ellen as they aged. 

in the fall of 1949 jesse bristow built a house on the farm and moved in that 
winter. for the next 15 years until he was unable to work due to poor health 
jesse and his wife worked to improve the farm and raise their two children. 

jesse died due to lung cancer in 1975 and his son, duane, and his family 
visited and cared for lillie until her death from leukemia in 1988 at age 86.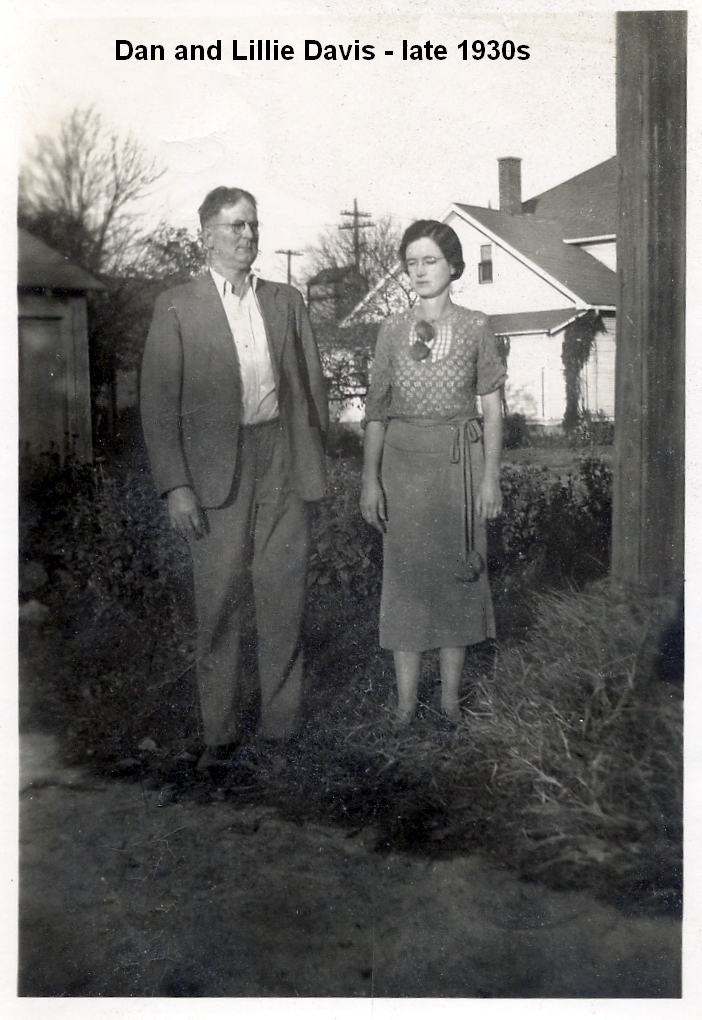 dan and lillie davis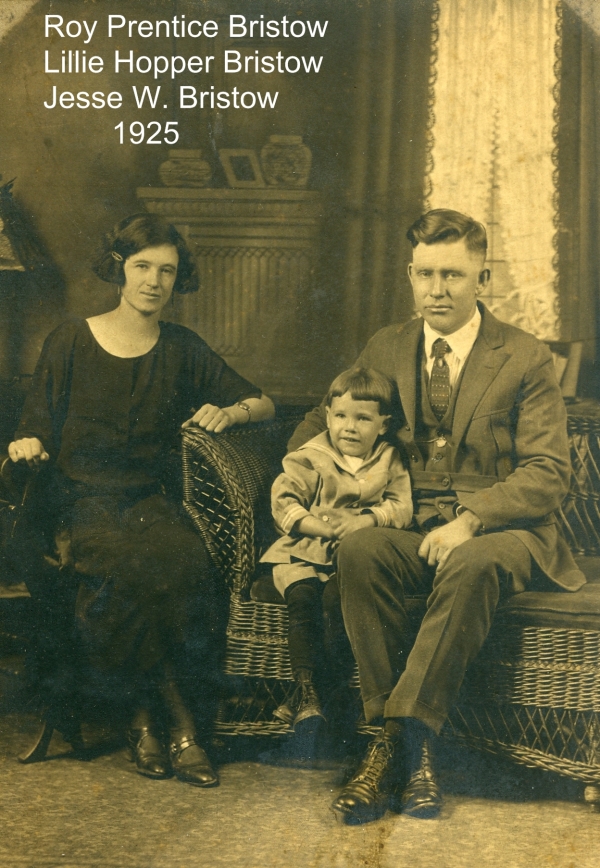 roy bristow's family - 1925
lillie davis - 1984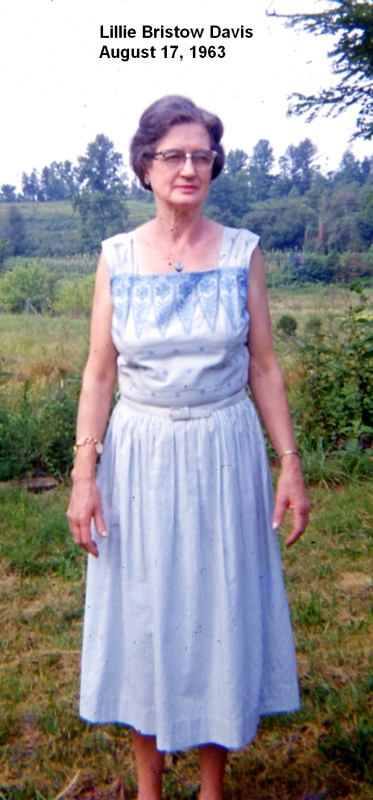 lillie
003a
---
please use the email address below to send me corrections or additions for this page. i will add it when i have time and regenerate new web pages.

duane bristow (duane@kyphilom.com)
please send comments.
---