Social, Family, and Historical Relationships
---
History of: Booher, Wellington Virgil
Family and Social Relationships of: Booher, Wellington Virgil
Ancestor and descendent family tree of: Booher, Wellington Virgil

Paternal Grandfather: Boils, Sevier - M 1828/--/--
Paternal Grandmother: Booher, Jane - F 1842/--/--
Father: Booher, George Washington - M 1860/08/18

Mother: Choate, Frelia Clementine - F 1868/05/30
Maternal Grandfather: Stephenson, Leander Jacob - M 1832/04/11
Maternal Grandmother: Franklin, Martha - F 1846/--/--

Date of birth: 1898/03/10
Place of birth:

Date of death: 1969/08/23
Cause of death:
Place of death: Jamestown, Fentress, TN.
Place interred: McWhorter (Crestlawn) Albany, KY

Spouse: Ewing, Mary (Booher) - F 1905/11/06 - 1921/05/01 to ----/--/-- - Married in Byrdstown, Pickett County, TN

Children: 9
Grandchildren: 13
Primary profession or occupation:
Pastor & Teacher


Important dates:
Notes:
               
 Nickname (Wellie) After Wellie & Mary married, his brother taught school at  
Hidalgo, KY and his sister, Bessie, took over the 1-room school & taught for  a 
little while.  When she left, Wellie was asked to come in and complete the  
school year.  A man named Belsh Dishman rented them a house for $1/mo.  Belsh 
later committed suicide & his gravestone was thrown into the grave &  buried 
with him.  Also at Hidalgo lived a terrific gunsmith, Wyatt Atkins,  whose 
gun-making tools are now in the Smithsonian in Washington.
  
Cemetery is at Peolia Methodist Church on Rte. 738 near Albany, KY
  

Physical Characteristics:
Contacts:
Pictures and videos: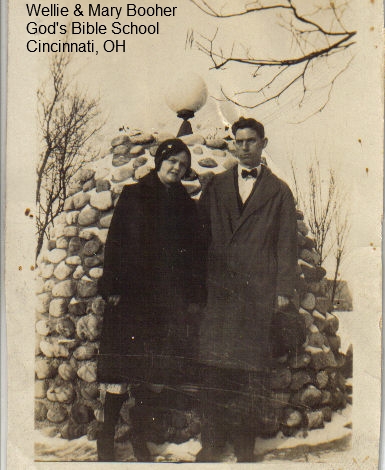 Wellie and Mary Booher at God's Bible School - Cincinnati, OH
Sounds:
006S
---
Please use the email address below to send me corrections or additions for this page. I will add it when I have time and regenerate new web pages.

Duane Bristow (duane@kyphilom.com)
Please send comments.
---
Last revised 2012/07/25.