Social, Family, and Historical Relationships
---
History of: Selvidge, Billy Roger
Family and Social Relationships of: Selvidge, Billy Roger
Date of birth: 1946/09/17
Place of birth:

Date of death: 2000/04/08
Cause of death: Heart attack
Place of death: Nashville, TN.
Place interred: Beech Bottom cem. Clinton county KY

Spouse: Guthrie, Maggie (Selvidge) - F 1947/12/11 - 1968/08/12 to ----/--/-- -

Social Relationships:
Acquaintance: Bristow, Roy Duane - M 1947/08/29 - 1960/--/-- to ----/--/-- - Friends - A friend from High School

Primary profession or occupation:
Artist, Teacher in Hopkinsville Kentucky


Important dates:
Notes:
               
		Fireflies at Dusk

In the tall grass on the hillside,
The fireflies begin a symphony of light.
Their silent ethereal music,
is played in waves across the grass.
In golden notes,
Against a darkening sky,
They play a soft summer nocturne.

by Roger Selvidge

Physical Characteristics:
Contacts:
Pictures and videos: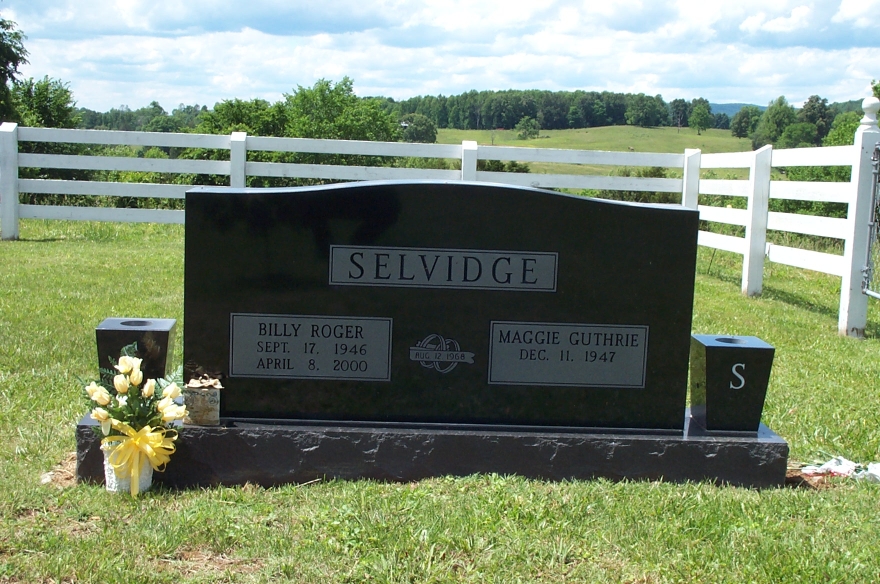 Roger Selvidge's grave at Beech Bottom Cemetery in Clinton County
Sounds:
002F
---
Please use the email address below to send me corrections or additions for this page. I will add it when I have time and regenerate new web pages.

Duane Bristow (duane@kyphilom.com)
Please send comments.
---
Last revised 2009/10/18.