---
history of: goff, america alice (lafever)
family and social relationships of: goff, america alice (lafever)
ancestor and descendent family tree of: goff, america alice (lafever)

paternal grandfather: goff, franklin - m 1830/--/--
paternal grandmother: childress, nancy (elrod, goff) - f 1829/04/12
father: goff, james m. -jimmy- - m 1854/02/01

mother: bozarth, mary elizabeth "betty" (goff) - f 1871/06/18
maternal grandfather: bozarth, james henry - m 1833/05/28
maternal grandmother: smith, mary ball (bozarth) - f 1835/02/23

date of birth: 1891/07/17
place of birth:

date of death: 1963/03/15
cause of death:
place of death: putnam county tn
place interred: boiling springs cem. putnam county tn

spouse: lafever, luke gilliam - m 1885/03/14 - 1908/02/02 to ----/--/-- -

housewife in putnam county, tennessee

1948/05/20 leg broken

               
america alice goff lafever

birth: 	jul. 17, 1891
dekalb county
tennessee, usa
death: 	mar. 15, 1963
putnam county
tennessee, usa

mrs. america alice lafever, 71, died march 15 at cookeville general hospital 
following a brief illness. funeral services were sunday at the boiling springs 
baptist church with rev willie huddleston officiating. burial was in the 
boiling springs cemetery. mrs. lafever was born in dekalb county, daughter of 
james and betty bozarth goff. she was a resident of baxter rt 2 and a member 
of the church of god. survivors are her husband, gillian lafever; sons charlie 
& hershel both of baxter; beecher, ringgold, ga.; kenneth, richmond, ind.; 
seven daughters: mrs. myrtle lowe, woodbury; mrs. ada dilldine, pontiac, mi.; 
mrs. dora sweet, indianapolis, in.; mrs. nora bristow, albany, ky; mrs. lorene 
allison, mrs. irena goodwin, both of sparta; mrs. betty cass, baxter; 4 
brothers: charlie, baxter; jimmie, fairport, ny; lanis, baxter; delbert, 
pontiac, mi; sisters: mrs. betty ann morris, mrs. nancy pullum, mrs. ida 
dilldine, mrs. ada jones, all of baxter; mrs. gertrude pullum, sparta. whitson 
funeral home in charge. 
 
family links: 
 parents:
  james madison goff (1854 - 1938)
  mary elizabeth bozarth goff (1871 - 1956)
 
 spouse:
  luke gillian lafever (1885 - 1980)*
 
 children:
  charlie c lafever (1910 - 1978)*
  hershel lafever (1912 - 1994)*
  nora l lafever bristow (1922 - 1994)*
  betty cass lafever mcdonald (1933 - 1994)*
 
*calculated relationship
 
burial:
boiling springs cemetery
baxter
putnam county
tennessee, usa

luke gilliam and america alice goff lafever
america lafever's family about 1920 or 1921.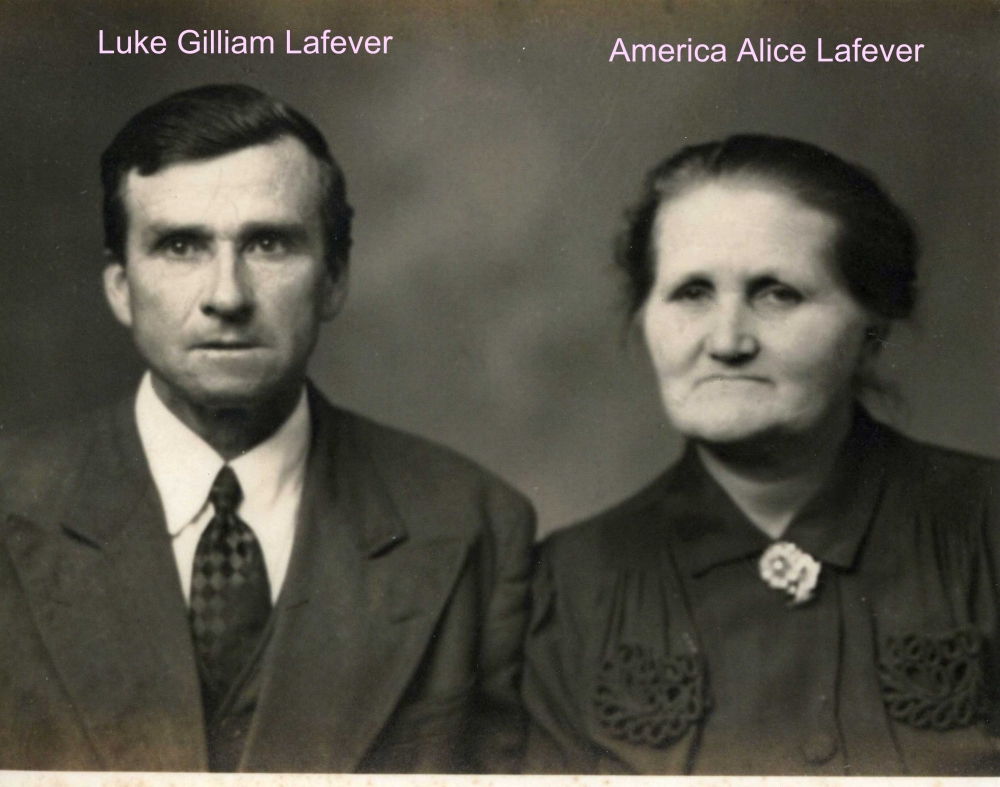 gilliam and america lafever
003a
---
please use the email address below to send me corrections or additions for this page. i will add it when i have time and regenerate new web pages.

duane bristow (duane@kyphilom.com)
please send comments.
---