---
history of: harlan, norman ewing
family and social relationships of: harlan, norman ewing
ancestor and descendent family tree of: harlan, norman ewing

paternal grandfather: harlan, john thomas - m 1882/10/07
paternal grandmother: griffin, ada ermon (harlan) - f 1886/03/01
father: harlan, arthur - m 1905/09/13

mother: ewing, annie (harlan) - f 1908/03/11
maternal grandfather: ewing, robert matthew - m 1859/09/14
maternal grandmother: bagby, mary (ewing) "mollie" - f 1861/--/--

date of birth: 1937/06/29
place of birth:

spouse: huber, doris mae (harlan) - f 1941/10/28 - 1959/06/13 to ----/--/-- -

factory worker at caterpillar in peoria, illinois

ht. wt. hair eyes race .

street address: .
city, state, zip: .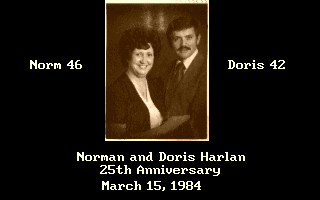 norman and doris harlan - 1984
004s
---
please use the email address below to send me corrections or additions for this page. i will add it when i have time and regenerate new web pages.

duane bristow (duane@kyphilom.com)
please send comments.
---