Social, Family, and Historical Relationships
---
History of: Hopper, Ella Mae (Beck)
Family and Social Relationships of: Hopper, Ella Mae (Beck)
Ancestor and descendent family tree of: Hopper, Ella Mae (Beck)

Paternal Grandfather: Hopper, John - M 1846/03/21
Paternal Grandmother: Norfleet, Sara (Hopper) - F 1850/08/23
Father: Hopper, Thomas - M 1878/12/06

Mother: Lyons, Addie (Hopper) - F 1885/04/20
Maternal Grandfather: Lyons, John - M 1843/03/13
Maternal Grandmother: Wood, Mary Jane (Lyons) - F 1849/09/28

Date of birth: 1913/06/24
Place of birth:

Date of death: 2008/09/21
Cause of death: dementia
Place of death: Straughn, Indiana
Place interred: Lewisville, Indiana

Spouse: Beck, Elbert Herman - M 1901/07/18 - 1933/05/20 to ----/--/-- - Married in Burkesville, Kentucky

Primary profession or occupation:
Factory worker in New Castle, Indiana


Important dates:
Notes:
               
Ella Mae Beck 

Birth:  Jun. 24, 1913 Monticello (Wayne County) Wayne County Kentucky, USA 
Death:  Sep. 21, 2008 Straughn Henry County Indiana, USA 

Ella Mae Beck, 95, passed away Sunday morning September 21, 2008 at A Home 
Nursing Home in rural Straughn, Indiana. 

A daughter of the late Thomas and Addie Lyons Hopper, Mae was born in 
Monticello, Kentucky on June 24, 1913. 

She has made her home in Straughn since 1950. She worked for Huntington 
Industries in New Castle where they manufactured ladies clothing. She retired 
from there in 1980 after 43 years of service. Mae had been a member of the 
Straughn Community Chapel for over 50 years and was a member and past Worthy 
Matron of the Lewisville Order of the Eastern Star #463 a member of the White 
Shrine of Jerusalem #14 of New Castle and received the Miriam Award in 1984. 

She is survived by several nieces and nephews. 

Mae was preceded in death by her husband Elbert H. Beck on May 11, 1980. They 
were married in Columbia, Kentucky on May 20, 1933; 2 brothers and 5 sisters. 

Funeral services will be at 11 a.m, on Thursday September 25, 2008 at the 
Marshall & Erlewein Funeral Home in Lewisville. 

Burial will follow at the Lewisville Cemetery. 

Visitation will be from 4 - 7 p.m. with Eastern Star Services to be held at 7 
p.m. on Wednesday September 24 at the funeral home. 

********************************* 

BECK, ELLA MAE DOB: 24 Jun 1913 DOD: 21 Sep 2008 Age: 95 
Last address of record: 47387 (Straughn, Henry, IN) 
 
 
Family links: 
 Parents: 
  Thomas Hopper (1878 - 1923) 
  Addie Lyons Hopper (1885 - 1974) 
 
 Spouse: 
  Elbert H. Beck (1901 - 1980) 
 
Burial: Lewisville Cemetery Lewisville (Henry County) Henry County Indiana, 
USA 
 


Physical Characteristics:
Contacts:
Pictures and videos: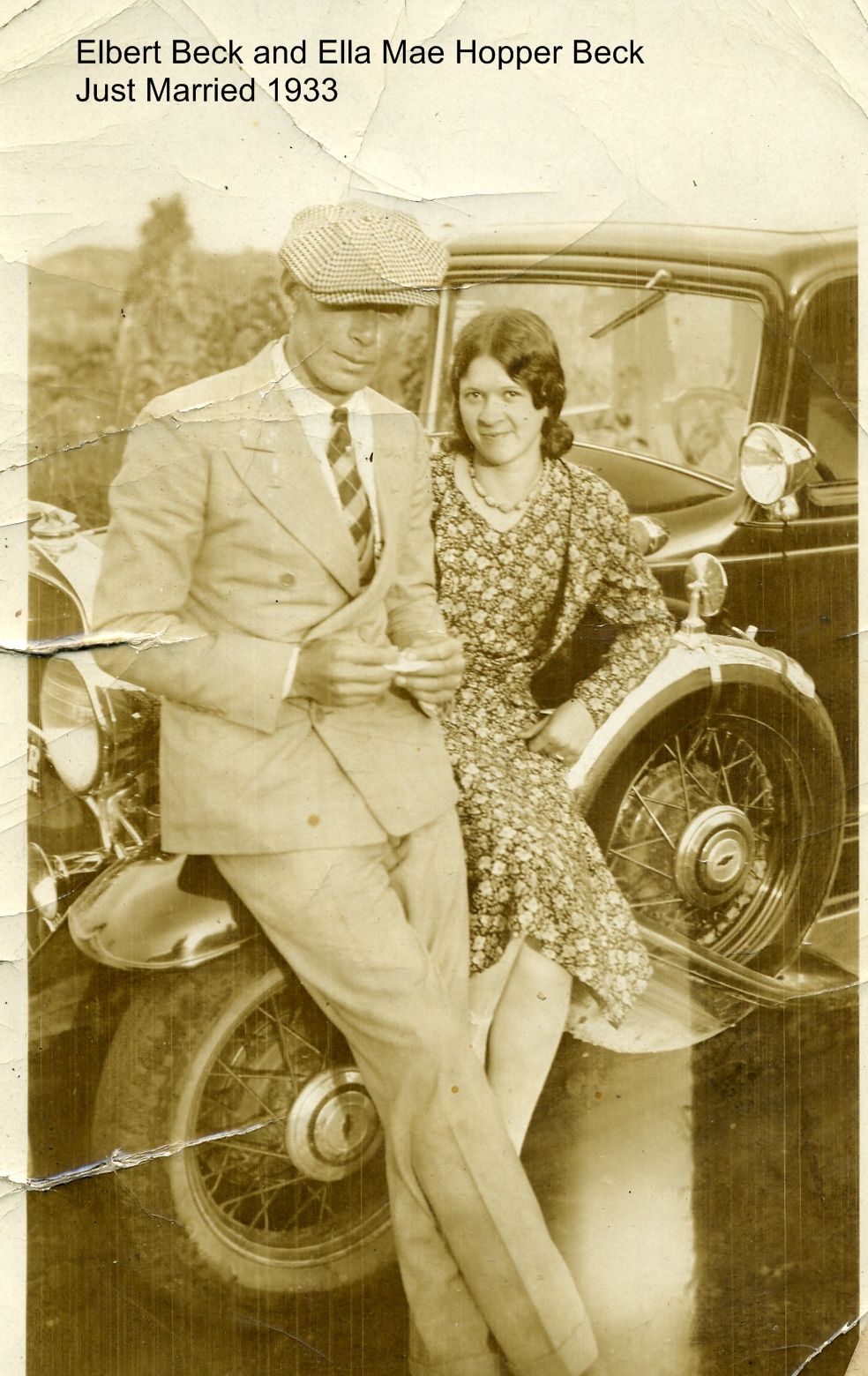 1933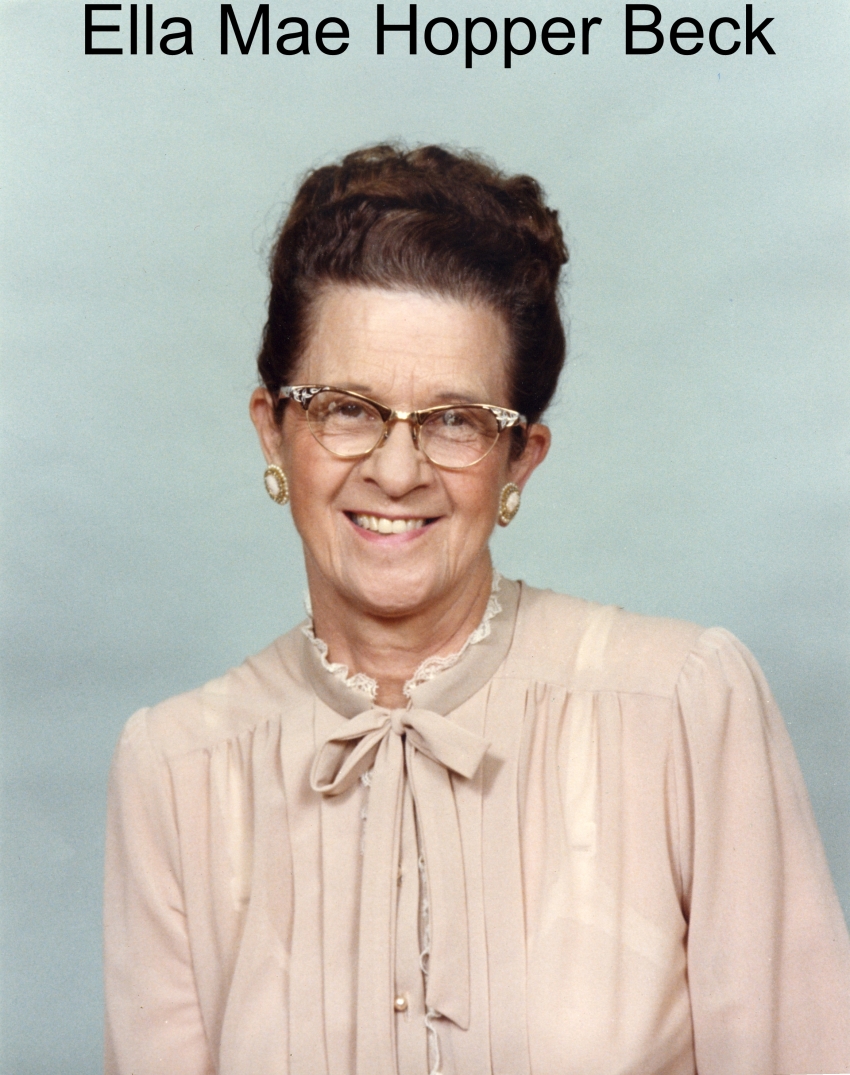 Mae Beck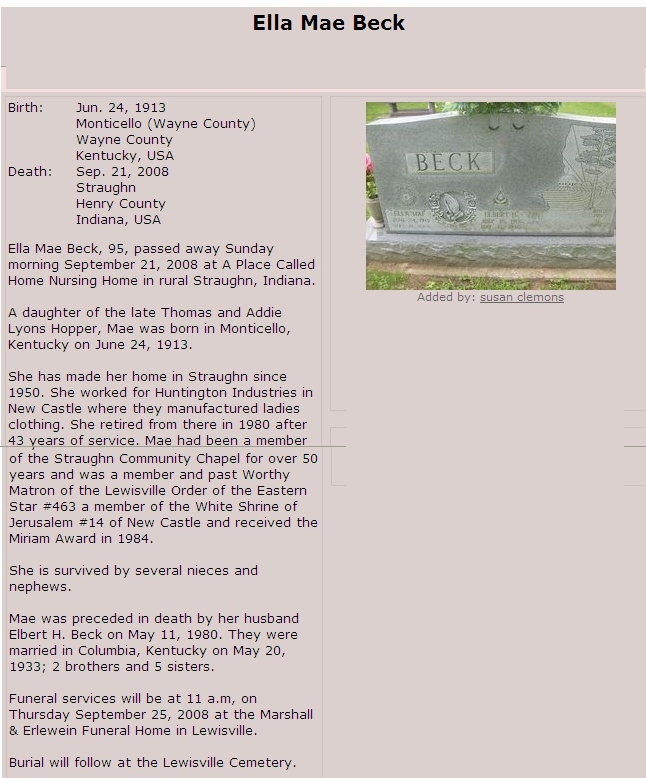 Obit.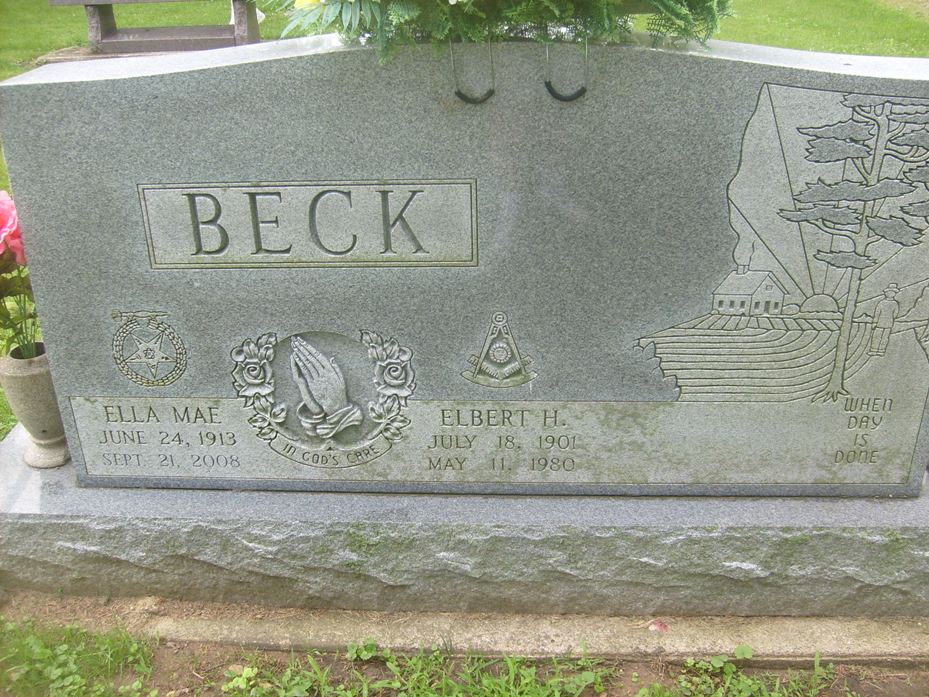 Mae and Elbert's gravestone at Lewisville Cemetery
Sounds:
005R
---
Please use the email address below to send me corrections or additions for this page. I will add it when I have time and regenerate new web pages.

Duane Bristow (duane@kyphilom.com)
Please send comments.
---
Last revised 2012/07/07.