Social, Family, and Historical Relationships
---
History of: Harlan, Arthur David
Family and Social Relationships of: Harlan, Arthur David
Ancestor and descendent family tree of: Harlan, Arthur David

Paternal Grandfather: Harlan, John Thomas - M 1882/10/07
Paternal Grandmother: Griffin, Ada Ermon (Harlan) - F 1886/03/01
Father: Harlan, Arthur - M 1905/09/13

Mother: Ewing, Annie (Harlan) - F 1908/03/11
Maternal Grandfather: Ewing, Robert Matthew - M 1859/09/14
Maternal Grandmother: Bagby, Mary (Ewing) "Mollie" - F 1861/--/--

Date of birth: 1926/09/27
Place of birth:

Date of death: 1991/06/09
Cause of death: Cancer
Place of death: Peoria Illinois
Place interred: Fon du Lac Township Cemetery East Peoria

Spouse: Armstrong, Wilma Jewell (Harlan) "Jay" - F 1929/11/29 - 1949/--/-- to ----/--/-- -

Children: 2
Grandchildren: 4
Primary profession or occupation:
Factory worker, store owner, builder, Peoria, Illinois


Important dates:
Notes:
               
 David also worked for International Harvestor in Illinois.  He enlisted in  
the Army Feb. 8, 1945 in Louisville, KY.  Served in Fort Sill, OK; Gifu,  
Japan; Texas; & California as a Message Center Clerk in Service Battery 8th  FA 
Battalion.  Discharged May 23, 1947 as a Corporal,  Received WWII Victory  
Medal; Asiatic-Pacific Campaign Medal; Expert Infantryman Badge
  

Physical Characteristics:
Contacts:
Pictures and videos: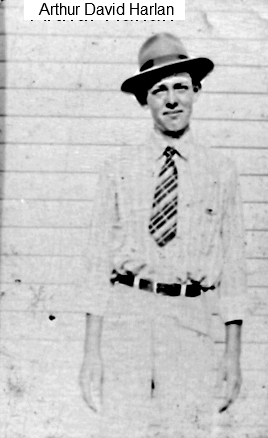 David Harlan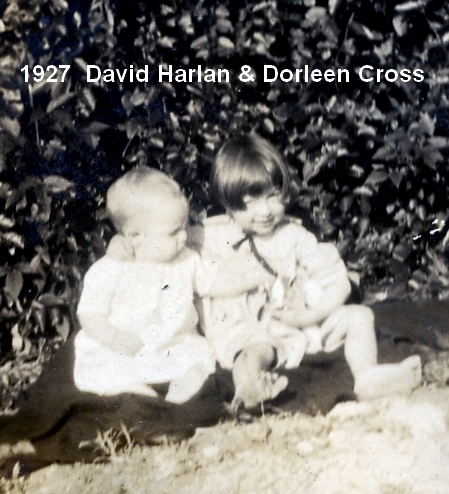 David Harlan and Dorleen Cross - 1927
Sounds:
004S
---
Please use the email address below to send me corrections or additions for this page. I will add it when I have time and regenerate new web pages.

Duane Bristow (duane@kyphilom.com)
Please send comments.
---
Last revised 2020/12/09.