Social, Family, and Historical Relationships
---
History of: Wood, Mariba (Ewing)
Family and Social Relationships of: Wood, Mariba (Ewing)
Ancestor and descendent family tree of: Wood, Mariba (Ewing)

Paternal Grandfather: Wood, Samuel - M 1737/05/02
Paternal Grandmother: Reives, Sarah (Wood) - F 1747/10/13
Father: Wood, Thomas - M 1779/08/25

Mother: Bayless, Mary (Wood) - F 1777/10/25
Maternal Grandfather: Bayless, Reuben - M 1754/--/--
Maternal Grandmother: Lucas, Margaret - F 1751/--/--

Date of birth: 1820/08/22
Place of birth:

Date of death: 1910/03/15
Cause of death:
Place of death: Clinton County, Kentucky
Place interred:

Spouse: Ewing, Jesse - M 1820/03/20 - 1850/03/20 to ----/--/-- -

Children: 6
Grandchildren: 12
Primary profession or occupation:
Housewife


Important dates:
Notes:
               
 Her name is pronounced Mar-eye' bee.  Source of info. was Mary (Ewing)   
Booher, grandaughter of Mariba Wood and sister of Mariba Ewing.  Mariba and   
Jesse lost their first 3 children to flux (dysentery) all in one week in the   
summer of 1856.  They were age 5 down through 6 months old.  They went on to   
have 3 more children.  The Ewing Schoolhouse near Albany, KY was named for  
Mariba (Wood) Ewing as she was the oldest person in the area when the school  
was built, about 1910.
  

Physical Characteristics:
Contacts:
Pictures and videos: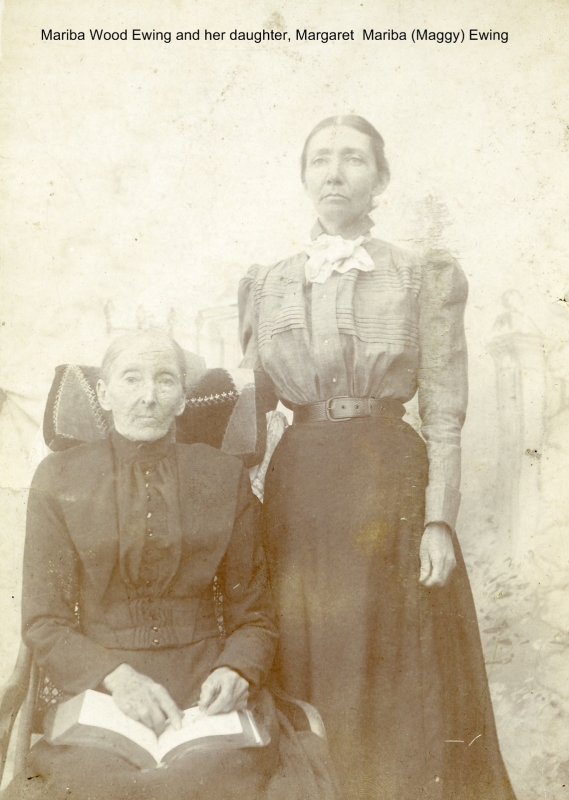 Mariba Wood Ewing and her daughter Margaret Mariba (Maggy) Ewing
Sounds:
005S
---
Please use the email address below to send me corrections or additions for this page. I will add it when I have time and regenerate new web pages.

Duane Bristow (duane@kyphilom.com)
Please send comments.
---
Last revised 2011/12/28.