Social, Family, and Historical Relationships
---
History of: Ewing, Nettie Irene
Family and Social Relationships of: Ewing, Nettie Irene
Ancestor and descendent family tree of: Ewing, Nettie Irene

Paternal Grandfather: Ewing, Jesse - M 1820/03/20
Paternal Grandmother: Wood, Mariba (Ewing) - F 1820/08/22
Father: Ewing, Robert Matthew - M 1859/09/14

Mother: Bagby, Mary (Ewing) "Mollie" - F 1861/--/--
Maternal Grandfather: Bagby, John Howard - M 1826/10/23
Maternal Grandmother: Smith, Sophia L. (Bagby) - F 1837/04/03

Date of birth: 1900/02/29
Place of birth:

Date of death: 1993/05/29
Cause of death: Danville, Boyle County, Kentucky
Place of death: Danville, Boyle County, Kentucky
Place interred: Peolia Cem - Clinton County KY

Primary profession or occupation:
Did great tatting


Important dates:
Notes:
               
 Called (Net)  She was born a blue baby & was not expected to live.  She  
expected & got preferential treatment.  She was eccentric and never married  
but took great pride in being able to recall all her sibling's and their  
children's birthdays.  She was always supported by members of the family  until 
able to get Social Security.  Her brother, John, promised to keep her  always, 
in return for inheriting the Ewing farm at Albany, Ky.  He sold the  farm, 
moved to Akron, OH and only kept Nettie a few years. She went to a home.
  

Physical Characteristics:
Contacts:
Pictures and videos:
Letter to Nettie from her Aunt Jenny - 1942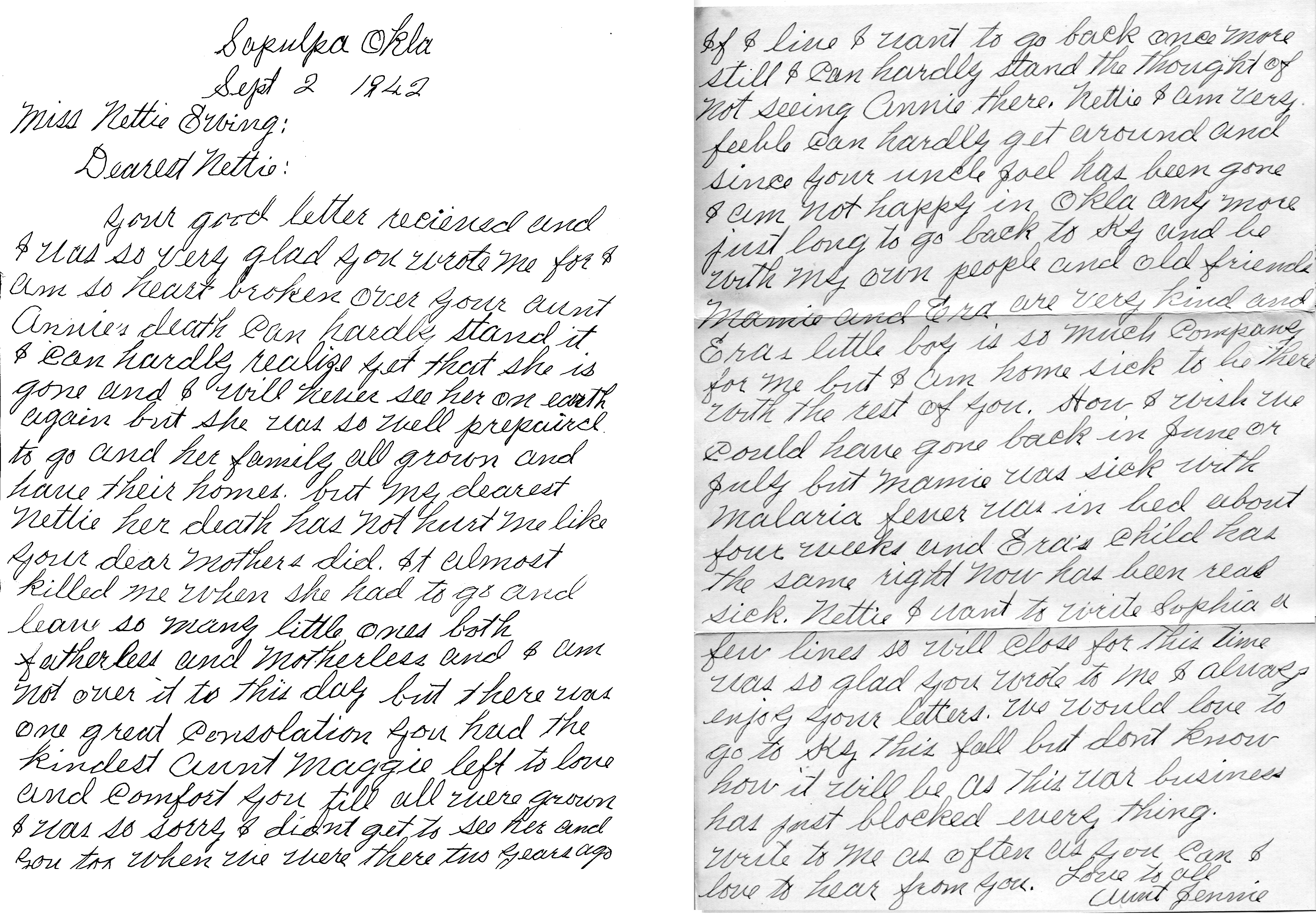 Letter to Nettie from her aunt Jenny - 1942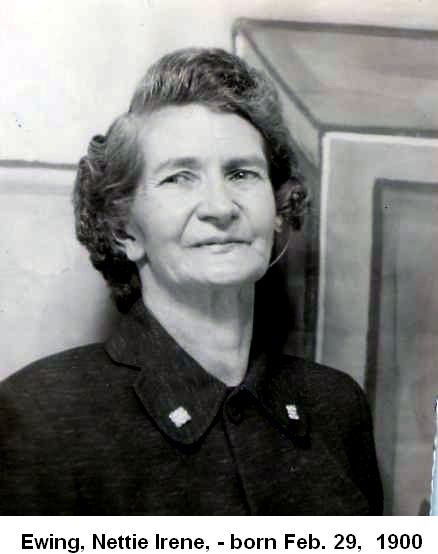 Nettie Irene Ewing
Sounds:
005S
---
Please use the email address below to send me corrections or additions for this page. I will add it when I have time and regenerate new web pages.

Duane Bristow (duane@kyphilom.com)
Please send comments.
---
Last revised 2015/07/07.