Social, Family, and Historical Relationships
---
History of: Ewing, Robert
Family and Social Relationships of: Ewing, Robert
Ancestor and descendent family tree of: Ewing, Robert

Paternal Grandfather: Ewing, Jesse - M 1820/03/20
Paternal Grandmother: Wood, Mariba (Ewing) - F 1820/08/22
Father: Ewing, Robert Matthew - M 1859/09/14

Mother: Bagby, Mary (Ewing) "Mollie" - F 1861/--/--
Maternal Grandfather: Bagby, John Howard - M 1826/10/23
Maternal Grandmother: Smith, Sophia L. (Bagby) - F 1837/04/03

Date of birth: 1905/11/06
Place of birth:

Date of death: 1938/09/28
Cause of death:
Place of death:
Place interred: Peolia Cemetery Clinton County KY

Primary profession or occupation:
Click name & see message


Important dates:
Notes:
               
 Called (Bob)  He was a twin and the twins were named for their parents but  
with no middle names.
  
 Date of death of Robert Ewing was checked by his niece, Evangeline  (Booher) 
Benson on April 20, 2005 and the date is September 28, 1938 on his  tombstone; 
Wellie had the date wrong.  His epitaph reads "Loved One, Farewell"
  

Physical Characteristics:
Contacts:
Pictures and videos: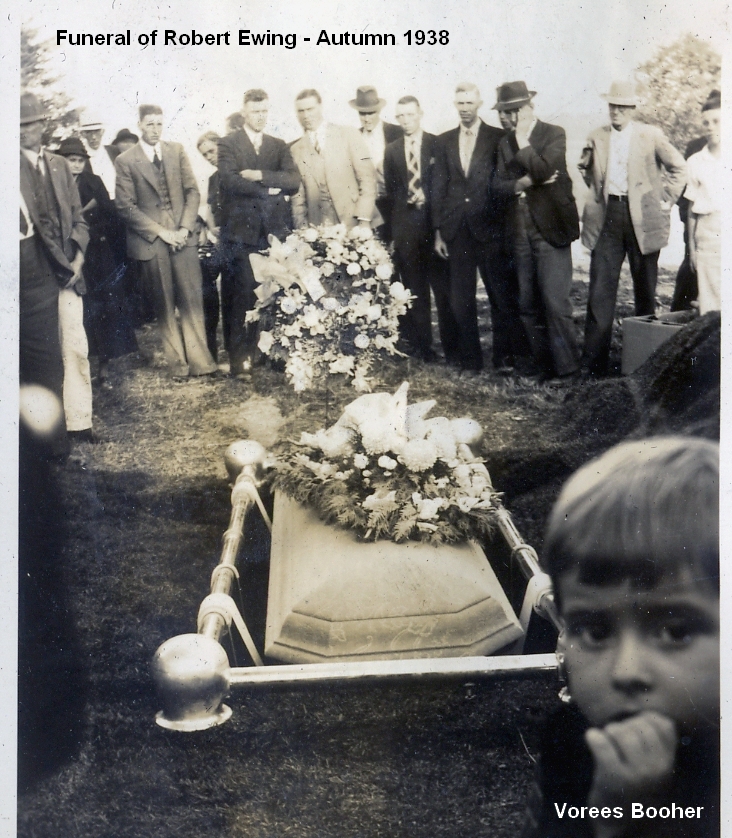 Funeral of Robert Ewing - 1938
Sounds:
005S
---
Please use the email address below to send me corrections or additions for this page. I will add it when I have time and regenerate new web pages.

Duane Bristow (duane@kyphilom.com)
Please send comments.
---
Last revised 2012/07/25.