---
history of: harlan, louisa jane (bray)
family and social relationships of: harlan, louisa jane (bray)
ancestor and descendent family tree of: harlan, louisa jane (bray)

paternal grandfather: harlan, george w. - m 1820/02/20
paternal grandmother: lawrence, elizabeth r. (harlan) - f 1820/--/--
father: harlan, george washington - m 1860/11/11

mother: bowman, martha (harlan) - f 1863/12/03
maternal grandfather: bowman, ozias denton - m 1842/04/30
maternal grandmother: copass, louisa j. (bowman) - f 1842/--/--

date of birth: 1878/09/15
place of birth:

date of death: 1946/06/23
cause of death:
place of death:
place interred: big meadow church cem. barren co. ky

spouse: bray, james ewel - m 1872/10/13 - ----/--/-- to ----/--/-- -

               

"alf bray killed as team runs away near summer shade



alf bray, 48 year-old farmer and part time minister of the summer shade 

community, was killed instantly on his farm monday afternoon, may 13, at 3:00 

p.m. when a team ran away throwing him from the wagon as he was hauling water. 

he suffered a broken neck. the son of the late jim and louiza harlin bray, 

both of monroe county, he was born july 18, 1908 in barren county. survivors 

include his wife, mrs. mahalie gilley bray; two sons, kenneth and gerald bray, 

both at home; four daughters, mrs. alma jane goode, summer shade; mrs. 

wandalane page, beaumont; and brenda sue and loretta gail bray,, both at home; 

five brothers, hobart bray, albany; otha bray, glasgow; walter bray, 

louisville; bubby bray, rt. 3 glasgow, and ossie bray, rt. 5 glasgow; a 

sister, mrs. florence gooden, randolph. mcmurtrey funeral home of summer shade 

has charge of arrangements and service will be held wednesday at 1:30 at the 

dripping springs church with interment in the big meadow cemetery. rev. joe 

richey will conduct services. the body will remain at the funeral home until 

time for services."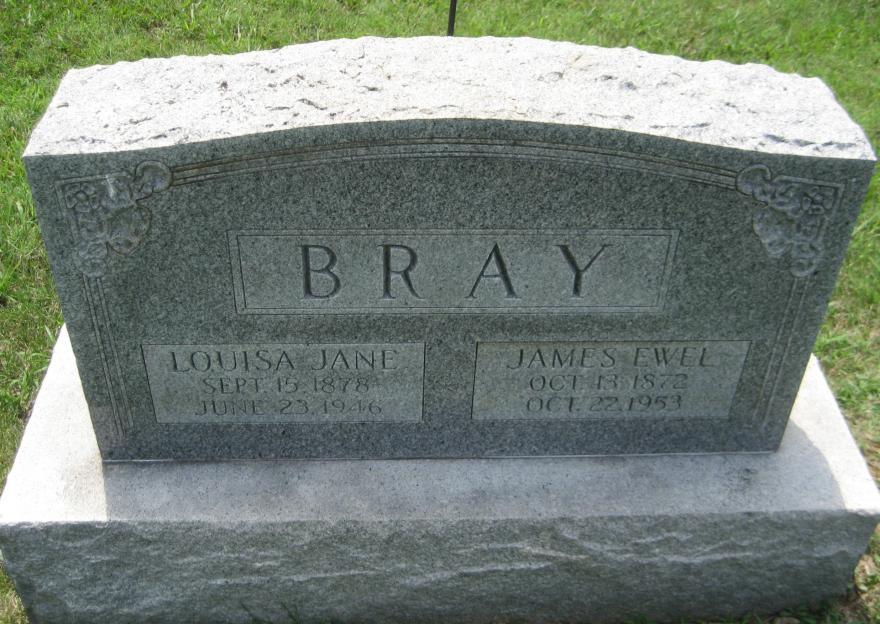 james and louisa bray gravestone
006s
---
please use the email address below to send me corrections or additions for this page. i will add it when i have time and regenerate new web pages.

duane bristow (duane@kyphilom.com)
please send comments.
---