Social, Family, and Historical Relationships
---
History of: Arnold, Lucian A.
Family and Social Relationships of: Arnold, Lucian A.
Ancestor and descendent family tree of: Arnold, Lucian A.

Father: Arnold, Elisha - M 1823/--/--

Mother: Poynter, Margaret A. (Arnold) - F 1834/03/27

Date of birth: 1868/02/10
Place of birth:

Date of death: 1938/05/02
Cause of death: Suicide by gunshot
Place of death:
Place interred: Randolph cem Hwy 640 metcalfe county KY

Spouse: Harlan, Mary Belle - F 1884/12/10 - ----/--/-- to ----/--/-- -
Spouse: Bowman, Martha (Harlan) - F 1863/12/03 - ----/--/-- to ----/--/-- -

Children: 8
Grandchildren: 4
Important dates:
Notes:
               
George Washington Harlan was born on November 11, 1860 On 
September 29, 1878 when he was 18 years old he married Martha 
Bowman.  She was born in 1863 so she was 14 years old at the 
time.  She had had a daughter, Louisa Jane, by him two weeks 
before their wedding.  They had seven children together. 

The Harlan family said that George Washington Harlan died young probably 
around his 40th year.  So far I have been able to find no record of his death 
or his burial place.  It is interesting that his son Quintice's gravestone 
says "son of Martha Harlan" but does not reference his father.  Quintice died 
in 1911. 

Later Martha Bowman Harlan married Lucian Arnold who was five years younger 
than she was.  At that time Martha had five boys and two girls:

Arthur 
Floyd
Louisa Jane
John Thomas
Mary Belle
Quintice
Eary

It is possible that she had two more girls named Annie and Lillie.

In 1903 Martha's daughter, Mary Belle, was 18 years old and her daughter, 
Louisa, was 25 and married.  That year both Martha and Mary Belle had babies 
by Lucian Arnold.   Lucian Arnold was 35 years old at that time and Martha was 
39.

Flora Belle Arnold, daughter of Mary Belle Harlan was born on April 26, 1903.
Luther Arnold, son of Martha Bowman was born on May 1, 1903.

During the next 24 years Lucian Arnold had six more children,  with 
Mary Belle Harlan. 

On May 2, 1938 Lucian Arnold was living separate from Mary Belle.  He went to 
her house and shot and killed her then walked back to his house and killed 
himself.  Lucian was 70 and Mary Bell was 53.  Martha was 74 and she died the 
next year.

When Lucian shot Mary Belle in 1938 two brothers (probably John Thomas and 
Eary) came from Albany with guns to kill Lucian according to Junior Bunch, son 
of John Bunch.  When they found he had already killed himself they stayed 
overnight with John Bunch and his family.  John Bunch's wife was Flora Belle 
Arnold, oldest child of Lucian Arnold and Mary Belle Harlan.  Junior Bunch as 
eight years old at the time.



Physical Characteristics:
Contacts:
Pictures and videos: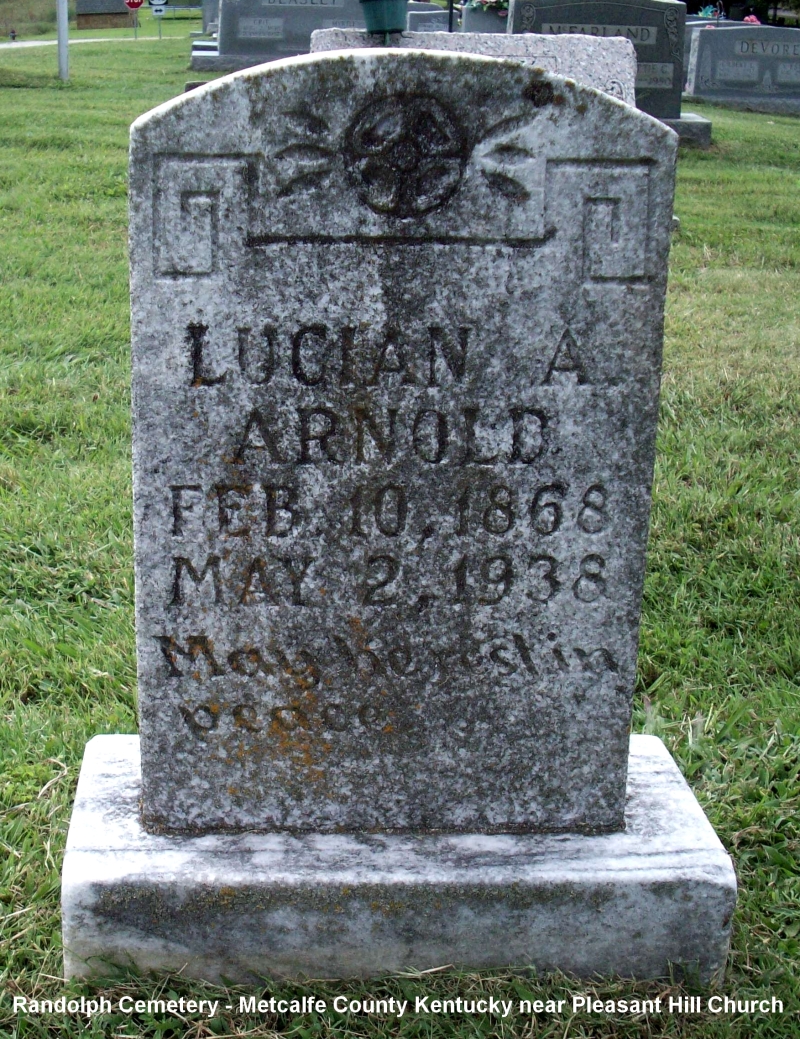 Lucian Arnold's gravestone at Randolph Cemetery
Newspaper article about Lucian's death
Sounds:
006S
---
Please use the email address below to send me corrections or additions for this page. I will add it when I have time and regenerate new web pages.

Duane Bristow (duane@kyphilom.com)
Please send comments.
---
Last revised 2012/11/16.