Social, Family, and Historical Relationships
---
History of: Goff, Charlie Clay
Family and Social Relationships of: Goff, Charlie Clay
Ancestor and descendent family tree of: Goff, Charlie Clay

Paternal Grandfather: Goff, Franklin - M 1830/--/--
Paternal Grandmother: Childress, Nancy (Elrod, Goff) - F 1829/04/12
Father: Goff, James M. -Jimmy- - M 1854/02/01

Mother: Bozarth, Mary Elizabeth "Betty" (Goff) - F 1871/06/18
Maternal Grandfather: Bozarth, James Henry - M 1833/05/28
Maternal Grandmother: Smith, Mary Ball (Bozarth) - F 1835/02/23

Date of birth: 1895/04/14
Place of birth: Silver Point, Dekalb county Tennessee

Date of death: 1979/06/25
Cause of death:
Place of death: Cookeville, Tennessee
Place interred: Goff Cem. Dekalb County TN.

Spouse: Lafever, Ella Odell (Goff) - F 1897/05/24 - 1913/12/25 to ----/--/-- - Married in Putnam County Tennessee

Children: 13
Grandchildren: 1
Important dates:
Notes:
Physical Characteristics:
Contacts:
Pictures and videos: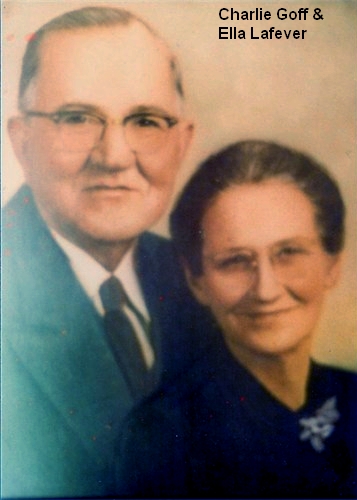 Charlie Clay Goff and Ella Odell Lafever Goff
Sounds:
005R
---
Please use the email address below to send me corrections or additions for this page. I will add it when I have time and regenerate new web pages.

Duane Bristow (duane@kyphilom.com)
Please send comments.
---
Last revised 2014/10/04.